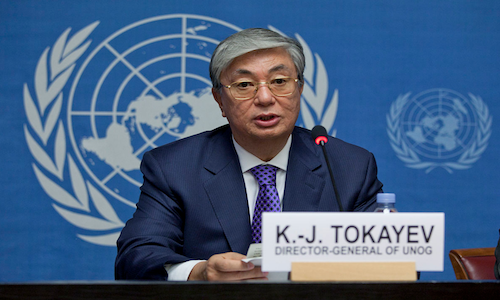 BACKGROUND: Xinjiang detention camps were first identified by Zenz in summer 2017. According to the most recent data, among 1.5 million detainees there are tens of thousands of prisoners of Kazakh and Kyrgyz ethnicity, who are either members of Xinjiang Central Asian communities or holders of Kazakh and Kyrgyz passports. A history of studying abroad, as well as having family in Kazakhstan and Kyrgyzstan, and connections with overseas appear to be the leading reasons for their incarceration.
The issue of ethnic Kazakh and Kyrgyz detainees in Xinjiang was first raised in summer 2018 by Central Asian activists who were members of the Almaty-based Atajurt Eriktileri (Atajurt) association. Under growing anti-Chinese grievances, in early 2019 Kyrgyz President Sooronbai Jeenbekov expressed that Kyrgyzstan could not interfere in the internal affairs of another country and that all matters considering Xinjiang detentions require "the most tactful diplomacy". Since then, Bishkek maintained its neutrality on the issue at the United Nations Human Rights Council – being neither a signatory of a letter condemning Chinese internment camps nor an advocate of Chinese "counter-extremist practices" in Xinjiang.
Kazakhstan's response to the problem of ethnic Kazakh detainees in Xinjiang seemed more assertive as it included diplomatic notes sent by Kazakh authorities to Beijing. However, it was also Kazakhstan that in March 2019 arrested the leader of Atajurt, Serikzhan Bilash, for six months. He was released on the condition of signing a plea deal that brought his activism against Xinjiang policy to an end.
These official, although modest reactions of Central Asian governments were mainly a result of a pressure from Kazakh and Kyrgyz activists raising the Xinjiang issue. Between July 2018 and September 2019 at least five waves of anti-Chinese protests took place in Kyrgyzstan (see April 16, CACI Analyst), and three other in Kazakhstan. Until March 2019 and the detention of Bilash, Almaty had been the hub of grassroots movements in Central Asia. The number of protesters in both Kazakhstan and Kyrgyzstan was usually modest, ranging from several dozen to a few hundred. Their demands were varied: from calls for actions aimed at helping Kazakh and Kyrgyz detainees in Xinjiang to a number of sinophobic, emotional statements on land-lease to China, economic overdependence on China, Chinese "invasion" of Central Asia, stealing Central Asian identity by marrying local women, and unwillingness of Central Asian governments to stand up for their people. These claims are very diverse and several of them are based on ethnic prejudices. Therefore the very issue of Xinjiang camps – one confirmed by independent sources – seems to have vanished among many others. Yet, the response of Kazakh security apparatus to the protesters has been harsh, including violent dispersion of rioting mobs, mass detentions, as well as warnings sent to Kazakh activists to stay away from people on the streets.
IMPLICATIONS: This crackdown on protesters in Kazakhstan over the past year primarily silenced Kyrgyz activists and Kyrgyz family members of Xinjiang detainees, who were supported by and organized around Atajurt. As for Atajurt, it has recently been registered as a GONGO (government-organized non-governmental organizations). It also appointed a new leader, Erbol Dauletbekuly, who backs Kazakhstan's official line on Xinjiang camps. Other minor organizations are warned not to take part in protests and are not recognized by the authorities in any way.
However, the most recent, harsh response to the protesters' demands during the demonstrations on September 21 also shows the dilemma that Kazakhstan is facing. On one hand, Kazakh authorities have been adopting an increasingly sensitive approach to its relationship with China and became anxious about jeopardizing it by interfering in the Xinjiang problem. Kazakhstan is one of the most important partners in China's Belt and Road Initiative. Kazakh politicians have been working on the country's "multi-vector policy" and on using its geopolitical assets to secure the best deals with its major neighbors for years. The choice of Kassym-Jomart Tokayev as the new president of the country had been long and strategically planned (see June 18, CACI Analyst). Tokayev lived in China for years, both as a student and as an employee of the Kazakh Ministry of Foreign Affairs. He is fluent in Chinese. During his first visit to China as the President of Kazakhstan, Tokayev upgraded the bilateral relations to "permanent comprehensive strategic partnership". While it is only a symbolic step which does not come with any particular policy change, its symbolism also triggers anti-Chinese sentiments. Tokayev's visit to China took place in early September 2019, amid protests organized by several different grassroots movements, which continued until the late September.
On the other hand, since the early 1990s Kazakhstan has been very committed to re-inventing its modern Kazakh identity. Means to reach this aim ranged from building a new capital (Astana) for the new country, investing in human capital through its Bolashak Scholars Mobility Program, to spending large sums on its ethnic diasporas (Oralman) worldwide to support and simplify their naturalization processes. Serikzhan Bilash, the former leader of Atajurt, was once an Oralman from China as well, who later obtained Kazakhstan citizenship as an adult. Taking the above into consideration, Kazakh authorities need to demonstrate their overall assistance and support for ethnic Kazakhs living abroad. While Nur-Sultan may not be keen to risk its relationship with China for a sake of the thousands of Kazakhs living in Xinjiang, for domestic and international audiences it is determined to maintain a clear continuity of its national strategy set up by Nazarbayev and carried forward by Tokayev.
CONCLUSIONS: Under the current political circumstances, a well-organized movement demanding concrete steps from the Kazakh government could achieve some goals. Over the past year, international pressure groups did manage to compel China to release a number of former detainees (however, their present status and forms of surveillance are not clear). The main problem of these Kazakh grassroots movements focused around the Xinjiang issue is, however, that their demands vanish among lists of emotional and sinophobic grievances. Such claims have been on and off for over a decade, regardless of whether they are based on facts and figures – as in case of land lease – or one's prejudices. This eventually leads to sidelining the Xinjiang issue and downsizing its importance, much to the relief of Kazakh authorities.
AUTHOR'S BIO:
Elzbieta Pron, PhD, is an Assistant Professor at the University of Silesia in Katowice (Poland), Faculty of Humanities. Her research is funded by National Science Centre (Poland) research grant nr 2018/31/D/HS5/03371. She can be contacted at This email address is being protected from spambots. You need JavaScript enabled to view it. . Emilie Szwajnoch, M.A. is a PhD Candidate at the University of Silesia in Katowice (Poland), Faculty of Social Sciences.
Image Source: Public Domain via Wikimedia Commons 10/31/19