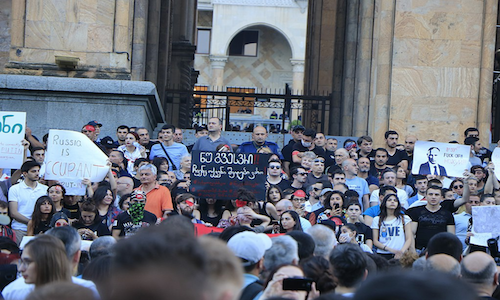 BACKGROUND: In the second half of June, Georgia's Parliament hosted a routine meeting of the Interparliamentary Assembly of Orthodoxy (IAO), which aims to foster ties between lawmakers from Orthodox Christian countries. The events took an unexpected turn on June 20 when Russian Duma deputy Sergey Gavrilov addressed the assembly from the parliamentary speaker's seat, sparking a furious reaction from Georgia's political opposition and many members of the Georgian public, who started to gather on the square in front of the parliament. Many Georgians felt that the ruling party completely ignored popular sensitivities by inviting a Russian lawmaker to speak in the national Parliament while Russia continues to occupy a substantial portion of Georgia's territory.
The protesters were supported by opposition deputies from political parties United National Movement (UNM) and European Georgia (EG), who called for the dismissal of several top Georgian Dream politicians, including the Speaker of Parliament Irakli Kobakhidze, Prime Minister Mamuka Bakhtadze and Interior Minister Giorgi Gakharia. The demonstrators also demanded snap elections and the introduction of a fully proportional electoral system, which would increase the electoral chances of smaller parties. In the night of June 20, police used force to disperse the protesters by firing rubber bullets into the crowd and using tear gas, wounding 240 people. Hundreds of protesters were arrested for resisting law enforcement.
Apparently, GD had completely misunderstood public sentiment and was unprepared for such a drastic outburst of popular discontent. Ruling party top politicians admitted that inviting a Russian lawmaker to the Georgian Parliament was a serious mistake and condemned the incident. It is difficult to determine whether the Georgian government and top deputies of the ruling party wittingly accepted Gavrilov's address or were deceived by the Russian delegation, but the program and agenda of the IAO meeting was approved by Georgian authorities and key lawmakers such as the Prime Minister and the Speaker of Parliament who should have predicted its implications. Following the parliamentary incident, GD's ranks were decimated by several high profile resignations including GD lawmaker Zakhariy Kutsnashvili, the head of Georgia's delegation to IAO who was responsible for inviting the Russian deputies to Georgia, as well as Speaker Kobakhidze. GD founder and leader Bidzina Ivanishvihili announced that the 2020 parliamentary elections will be held using proportional party lists, even though the existing mixed proportional-majoritarian system was scheduled to last until 2024 when the recent constitutional changes will come into force. Moreover, the electoral threshold will be cancelled. These concessions did not cause the protests to end, however, participation was significantly reduced compared to the height of demonstrations on June 20-24. In the aftermath of the protests, several opposition lawmakers were charged with using force against the police during the demonstrations.
In late July, UNM suffered another blow as the European Court of Human Rights confirmed the transfer of opposition-friendly TV channel Rustavi-2 to its previous owner. The politically intense summer ended with the surprising resignation of Prime Minister Mamuka Bakhtadze on September 2 and a cabinet reshuffle. A few days later, the parliament appointed former Minister of Interior Giorgi Gakharia to the post. Gakharia, whose candidature was put forward by Ivanishvili himself, is a highly controversial figure due to his role in the violent crackdown on the June protests.
IMPLICATIONS: GD has experienced falling approval ratings for some time. While the ruling party has still managed to win elections, it has resorted to dubious tactics in order to gain electoral support. The most glaring example took place during the last presidential ballot when, in an obvious move to attract voters just before the second round, the Prime Minister announced that 600,000 Georgians would have their debts written off with the help of Cartu Foundation established by Ivanishvili. This move was widely seen as vote buying aiming to gain an unfair advantage over opposition candidates who lacked access to such administrative and financial resources. Widespread criticism both in Georgia and from abroad did not stop the ruling party heavyweights from repeating the same tactic during the mayoral by-elections in Zugdidi in spring 2019. In March, Ivanishvili made a trip to Samegrelo region and made several public promises to build local religious and cultural sites as well as necessary infrastructure. Even though representatives of the ruling party categorically denied that Ivanishvili's visit to Samegrelo had anything to do with the elections, opposition politicians termed it vote buying.
The parliamentary scandal and the ensuing mass protests damaged GD's reputation and exposed further flaws in Georgia's democratization process. The brutal crackdown on protesters was particularly problematic given that GD came to power after a successful campaign criticizing the heavy-handed methods of their predecessors. Moreover, the appointment of Gakharia, who is blamed for excessive use of force against demonstrators in June, was a highly confrontational move, which has already sparked social protests. Nevertheless, Gakharia is one of Ivanishvili's most trusted associates and his nomination comes at a time when the party is gearing up for elections. The infamous Duma deputy Sergey Gavrilov expressed hope that the new Prime Minister will find a way to fix relations with Russia, suggesting that Gakharia was appointed to placate Moscow.
Several opposition lawmakers who participated in the protests might now face long prison sentences for allegedly inciting street protests in order to illegally seize power. Among the suspected lawmakers are well known opposition politicians including Nika Melia from UNM, former Tbilisi mayor and founder of European Georgia party Gigi Ugulava, and former defense minister and leader of Victorious Georgia party Irakli Okruashvili who has been already detained.
Just before his arrest in late July, Okruashvili filed a lawsuit against the current owner of Rustavi-2, Kibar Khalvashi, arguing that he is the rightful owner of the channel. Rustavi-2, a highly popular TV network with links to UNM and heavily critical of the government and Ivanishvili himself, has for several years been a bone of contention between the ruling party and the opposition. In July, the European Court of Human Rights confirmed the ruling issued by Tbilisi City Court that the TV channel rightfully belongs to businessman Kibar Khalvashi, who is said to be affiliated with GD. Critics worry that the new ownership will induce the network to change its editorial line. After failing to sell Rustavi-2 in early August, Khalvashi announced that he will reform the network himself and underlined that he does not intend to interfere with the channel's editorial line. Instead, he will improve Rustavi-2's financial situation and transform it into a commercial channel "free from political interest." However, several prominent journalists and producers have since been fired for alleged "conflicts of interests," including Director General Nika Gvaramia who was shortly thereafter charged with abuse of power.
The mass protests exposed that GD's reconciliation with Russia is illusive and delivered a blow to the government's hallmark policy of rapprochement with Moscow. Russian authorities reacted harshly to the rallies in Tbilisi and introduced a temporary ban on flights between the countries at the outset of the summer season, ostensibly to ensure the safety of Russian tourists, and tightened control over imported Georgian wine. Russian forces also continue the so-called borderization of Georgia's territory around the administrative border of the separatist region South Ossetia. The latest such incident took place on August 8 in Gugutiantkari village in Gori municipality.
CONCLUSIONS: One year ahead of Georgia's parliamentary elections, GD finds itself between a rock and a hard place and will likely continue to employ heavy-handed methods against the opposition as well as populist gestures in the pre-election period to gather social support. Mounting pressure from Russia is complicating matters further, since Moscow visibly exploits the political turmoil in Georgia to its own benefit. The fragmented and weak opposition is largely unable to challenge the ruling party, yet social protests in 2018 and 2019 have mobilized many young people who seek change outside of the country's typically polarized party politics. Mobilization of these young citizens could potentially change Georgia's political landscape in the years to come.
AUTHOR'S BIOS:
Natalia Konarzewska is a graduate of University of Warsaw and a freelance expert and analyst with a focus on political and economic developments in the post-Soviet space.
Image Source: George Melashvili/WikiMedia Commons accessed 9/16/19