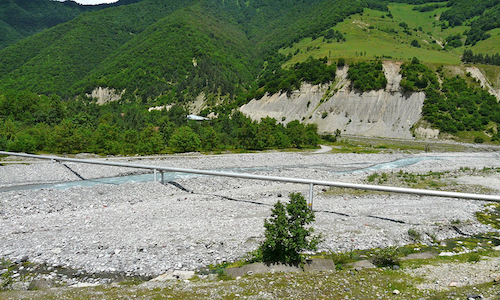 BACKGROUND: Russia's foreign energy posture habitually relies on gas diplomacy for geopolitical and commercial gains, particularly against vulnerable post-Soviet customers, which are heavily dependent on Russian supply. Russia employs a variety of tools including monopolization of the internal gas sectors of these countries and preempting the diversification of suppliers, arbitrary hikes or reductions in gas prices, or even more coercive tactics such as disruptions in the gas flow. Moscow uses the gas instrument not only against countries like Ukraine, which seek to exit from the Russian sphere of influence, but also against traditional allies like Belarus and Armenia.
Gas pricing has long been bone of contention between Yerevan and Moscow. Since Russia is Armenia's main gas supplier and controls most of its gas distribution, Moscow has frequently leveraged Armenia's energy dependence to bolster its political control over the country. This is not a new approach since Armenia's revolution; Moscow used similar carrots and sticks, including arbitrary gas price hikes or cuts, in its dealings with Armenia's previous, more Moscow-friendly government. However, the current negotiations take place against a backdrop of particularly frail relations between Moscow and Yerevan.
These contradictions have become increasingly obvious after the recent power shift in Yerevan. Even though Pashinyan's government vows to pursue positive relations, Moscow clearly does not approve of the new reforms initiated in Armenia and the purge of the old regime. Russia regularly uses different tactics to exert pressure on the new government, including attacks on Pashinyan and his team in Russian media and by mid-level Russian officials. In the past few months, Russia has also made a series of friendly gestures towards Azerbaijan, which is locked in a conflict with Armenia over the Nagorno-Karabakh region. Recently, Russia's relations with Azerbaijan have gained visibly positive dynamics as Moscow and Baku are working to upgrade political and commercial ties.
In this context, raising gas prices is one of several coercive instruments that Russia currently employs towards Armenia. Russia is placing Pashinyan's government under constant pressure, thus limiting its opportunities to rebalance its foreign policy. The lack of any other real allies and the tense situation around Nagorno-Karabakh puts Armenia in an even more isolated position. Yerevan is currently at odds with Belarus and Kazakhstan, its allies in the Collective Security Treaty Organization (CSTO), over their close cooperation with Azerbaijan and CSTO personnel issues. Despite another round of peace talks, Armenia's relations with Azerbaijan remain tense. Skirmishes around the Nagorno-Karabakh contact line are common and both sides frequently resort to bellicose rhetoric.
IMPLICATIONS: In November 2018, Garegin Baghramyan, Armenia's acting Minister of Energy Infrastructure and Natural Resources, revealed that the government is in talks with Russia to reduce gas tariffs for consumers. The Armenian side argued that even tough Gazprom sold natural gas at the border to its Armenian subsidiary Gazprom Armenia for as low as US$ 150 per thousand cubic meters (tcm), Gazprom Armenia charged consumers about US$ 284 per tcm. Armenian authorities decided to seek a reduction of the price after consumer complaints of high energy costs. Yet, during Pashinyan's visit to Moscow in September last year, Russia's President Vladimir Putin contended that Armenia pays the lowest natural gas price among Gazprom's clients.
The controversy around Gazprom's Armenian subsidiary continued; in November, Armenia's tax authorities launched an investigation into the company based on allegations of tax evasion and corruption. The authorities claimed that Gazprom Armenia had miscalculated its tax liabilities, according to a recent audit. In late December 2018, Gazprom announced its intention to raise the gas price for Armenia to about US$ 165 per tcm. Pashinyan declared that the price hike would not affect citizens because Gazprom's local subsidiary agreed not to increase the charge for Armenian consumers. Yet despite these promises, in early April Armenian media reported that the price of natural gas for cars was rising.
Despite the gas price hike, high ranking Armenian officials recently revealed that gas pricing talks with Russia are still underway. In April, during a meeting of the Armenia-Russia intergovernmental commission on economic cooperation, Armenia's Ministry of Energy and Natural Resources proposed a five-year gas pricing scheme instead of setting the price on an annual basis. Such a scheme would provide Armenia with more certainty on gas tariffs and minimize the risk of arbitrary price hikes. Simultaneously, to improve its position in gas pricing talks with Russia, Armenia has decided to explore the possibility of additional supply deliveries from neighboring Iran, which is currently expanding its gas export capacities.
In late February, during Pashinyan's visit to Tehran, Armenia and Iran signed a transit deal to establish an energy corridor for Iranian gas through Armenia to Georgia. Armenia is currently holding the rotating presidency in the Eurasian Economic Union (EEU) and Pashinyan declared that the proposal for gas transit is in line with the free trade agreement between EEU and Iran, which will soon be ratified. In early March, Armenia's energy minister announced that negotiations between Armenian and Georgian officials on possible gas transit from Iran are underway. Tripartite energy cooperation could bring substantial economic and political benefits for Iran, Georgia and Armenia. For Armenia in particular, it would provide some leverage in its gas negotiations with Gazprom. Energy diversification will also strengthen Georgia's position in gas pricing talks with Azerbaijan, which currently supplies almost all of Georgia's gas. The gas transit corridor will also help Tehran circumvent U.S.-imposed sanctions and open access to European gas markets.
Armenia imports 500 million cubic meters of gas from Iran annually, however, existing energy infrastructure has the capacity for additional gas volumes. The Iranian-Armenian pipeline can transport around 2.3 billion cubic meters annually but has not yet been used to its full capacity. However, the realization of this gas transit project will have to overcome several technical problems, since the existing infrastructure is designed to carry gas southwards to Iran, not in the other direction. The project would also likely draw serious opposition from both Russia and the U.S. Russia will not welcome competition on Armenia's gas market, given the powerful political leverage stemming from its current, near-total control of the country's energy sector. Yet even if Moscow gives a green light to this project, Gazprom will gain control over the distribution of Iranian gas in Armenia and Georgia. Moreover, additional gas flows from Iran could fall under the new sanctions regime that the U.S. recently imposed on Iran. While current Iranian gas exports are exempt from sanctions, U.S. officials have warned that there might be no such exemption for additional volumes. The U.S. position is particularly problematic for Georgia, which relies on Washington's assistance programs, particularly in the military sphere.
CONCLUSIONS: The gas pricing dispute comes at a particularly tense moment in relations between Armenia and Russia. The investigation against Gazprom's local affiliate and Moscow's general discontent with Armenia's post-revolutionary government suggest that Russia is unlikely to make any concessions on the price. On the contrary, Moscow seems ready to use various economic and political levers against Armenia to keep the government off balance. Meanwhile, Pashinyan's government is struggling to find avenues for pulling Armenia out of its regional isolation and move away from its overdependence on Russia, so far with limited success. Its promise to establish a tripartite gas transit project with Iran and Georgia will be difficult to realize, since it is at odds with both Russian and U.S. interests in the region.
AUTHOR'S BIOS:
Natalia Konarzewska is a graduate of University of Warsaw and a freelance expert and analyst with a focus on political and economic developments in the post-Soviet space.
Image Source: via Wikimedia Commons accessed on 4.29.2019