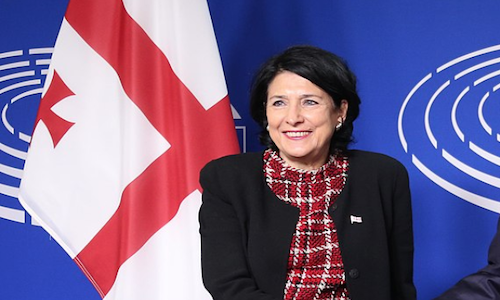 BACKGROUND: In November 2018, Salome Zurabishvili, a Georgian Dream-supported former foreign minister, became Georgia's first female president. In a closely fought election, Zurabishvili won 59 percent of the vote with UNM rival Grigol Vashadze winning 40 percent. The runoff raised questions, not only over the strength of Zurabishvili's support, but also over the popularity of the ruling Georgian Dream party, which has consistently won large majorities since it first came to power in 2012.
Six months after the elections, Georgian Dream is facing internal turmoil. Eight MPs, including the former head of the legal committee Eka Beselia, have left the party to sit as independents or join the pro-Russian, nationalist Alliance of Patriots party. In order to steady the ship, former Prime Minister Bidzina Ivanishvili, the founder of Georgian Dream, and former Prime Minister Irakli Garibashvili have returned to the party as chairman and political secretary.
Their return, and Georgian Dream's attempt to consolidate power, has taken place against a backdrop of democratic stagnation – a far from inclusive constitutional amendment process, issues of judicial independence, police abuse, and a rise of fringe, pro-Russian, nationalist movements. Meanwhile, as Georgia heads for the 2020 elections, the top issues for the average voter are unequivocal – employment, poverty, and prices – and Georgian Dream's record in government on all three has been disappointing.
IMPLICATIONS: Georgian Dream's internal party woes, inadvertently, have appeared to bring the country's main opposition parties – European Georgia (EG) and United National Movement (UNM) – closer together. In March 2019, EG lost its official parliamentary minority status after the defection of eight MPs from GD's parliamentary majority faction. Two defectors joined the pro-Russian-nationalist Alliance of Patriots, while the other six MPs now sit as independents. Under the procedural rules of parliament, a party can form a parliamentary minority if it holds the majority of seats outside the majority grouping. EG currently is one seat short of such a majority. The subsequent loss of funding and additional speaking time in parliament are forcing EG to rethink its 2017 split from UNM, after months of intra-party dispute. The parties have reportedly been in talks to form a faction in parliament to regain parliamentary minority status.
If both parties agree on forming a parliamentary faction, they will likely also contest the 2020 parliamentary elections as one single electoral block. Yet, despite Georgian Dream's seemingly decreasing popularity, and a catalogue of salient socio-economic issues to campaign on, a UNM/EG victory in 2020 is unlikely. Demonizing UNM for its record in office has been Georgian Dream's bread and butter since coming to power in 2012. The continued involvement of former President Mikheil Saakashvili has cast a shadow over the UNM's electoral chances. While it is understood that Saakashvili is standing down as UNM honorary chairman, it is questionable whether the party can shed Saakashvili's yoke and win over the electorate with many of his long-serving lieutenants still occupying prominent positions in both parties.
The more pertinent question, though, is whether the parliamentary elections will result in an outright parliamentary majority for Georgian Dream, or whether the party will be forced to form a coalition with other electoral blocks. Such a coalition government would be a first for Georgia after the 2003 Rose Revolution.
Apart from EG, UNM, Georgian Dream, and the Alliance of Patriots, parties such as the Labor Party and Democratic Movement – United Georgia (DM-UG), led by former parliamentary speaker Nino Burjanadze, stand a chance of clearing the lowered, three-percent threshold, according to the latest polls by the U.S. National Democratic Institute.
In the absence of any credible and popular alternatives, the likely outcome of next year's parliamentary elections remains a reduced Georgian Dream majority in parliament. However, if Georgian Dream fails to gain a parliamentary majority in 2020, it would likely look to pro-Russian, nationalist parties such as the Alliance of Patriots of Georgia and UM-DG to form a coalition government. Georgian Dream considers the Alliance of Patriots of Georgia an ally whose interests in opposing UNM/EG coincide with its own. Such a coalition would stoke fears among the international community of a geopolitical and cultural reorientation and jeopardize Georgia's process of democratic consolidation and European and Euro-Atlantic integration.
On foreign policy, a Georgian Dream-led nationalist-conservative government would likely maintain, and possibly further soften, its "pragmatic, but principled approach" to Russia. This policy of normalizing relations with Russia has been a central tenet of Georgian Dream's foreign policy since 2012. As a result the Georgian government has downplayed its rhetoric, while economic ties with Russia have improved. While it remains unlikely that a Georgian-Dream led nationalist-conservative government would make concessions regarding Georgia's Russian-occupied territories, such a government can be expected to become even less active in pursuing conflict-related issues internationally and bilaterally.
Domestically, a Georgian Dream-led nationalist-conservative coalition government would facilitate Russia's soft power policy in Georgia. The latest annual report of Georgia's State Security Service, the country's domestic intelligence agency, warned that foreign adversaries are encouraging anti-Western sentiments in Georgia and aim to polarize Georgian society. The number of Russian-funded NGOs and news outlets linked to Russia has increased in recent years. Xenophobic, ultra-nationalist groups, such as Georgian March, have organized several demonstrations over the past year, and have mounting ambitions. They appear to have the Georgian Dream government's tacit approval and have acted with impunity on several occasions.
Meanwhile, the 2020 elections coincide with the end of an era in EU-Georgia relations after Georgia recently obtained EU visa free travel and concluded an Association Agreement with the EU. With the potential benefits of the EU's Eastern Partnership exhausted, and new perspectives on further integration lacking, a lack of tangible, immediate benefits from the AA/DCFTA could stall the legislative efforts of a Georgian Dream-led government to implement the reforms mandated by the EU.
CONCLUSIONS: If Georgian Dream would lose its majority in parliament in next year's elections, this could paradoxically lead it to take a more conservative course by seeking support from conservative and ultra-nationalist groups, within and outside parliament, against a common adversary: UNM/EG. This may consolidate Georgian Dream's hold on power but will do little to address the socio-economic concerns of Georgian citizens, the reforms demanded by its main trading partner, the EU, and the threat of Russia's soft power in Georgia. Georgian Dream may well win next year's battle, but eventually lose the war for Georgia's future.
AUTHOR'S BIOS:
Casper Wuite worked as an election observer in Georgia between 2016 and 2017. Prior to this, he worked on foreign and security policy for the European Union, the Dutch Ministry of Foreign Affairs and the Lowy Institute, an international think tank. He holds an MSc degree in Politics and Government from the London School of Economics.
Image Source: creative commons via Wikimedia Commons accessed on 5.24.2019