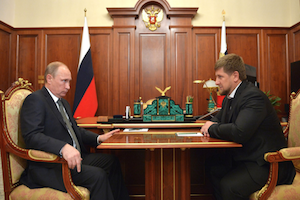 BACKGROUND: A vehicle driven by Okueva's husband Adam Osmaev came under small arms fire on the outskirts of Kyiv on October 30. While Osmaev sustained only minor injuries, Okueva died from bullet wounds to the head. Efforts by Ukrainian security services to identify and apprehend the assailants have thus far been ineffective.
Okueva was a member of the political movement "Free Caucasus," she took part in the Second Chechen War, participated in the Euromaidan events in Ukraine and after the start of the Donbas War became a volunteer of the Chechen pro-Ukrainian "Djokhar Dudayev" battalion. She was also an active critic of both Vladimir Putin's and Kadyrov's policies. As a former member of the Chechen militant underground, Okueva was among the personal enemies of Kadyrov.
Notwithstanding the importance of Okueva for Kadyrov, sources within Ukraine's security services are prone to believe that the actual target of the October 30 attack was her husband. Osmaev served as the head of the "Djokhar Dudayev" battalion since its founder, Isa Munaev, died in combat in 2015. He was also a well-known member of the Chechen secular separatist movement, struggling for the re-creation of the Chechen Republic of Ichkeria. Above all, Osmaev is accused of plotting to assassinate Putin during the 2012 presidential elections campaign.
The October 30 assault was not the first attempt to assassinate Osmaev and Okueva. On June 1, the couple was attacked in Kyiv by a gunman who managed to inflict injuries to both of them. The contract killer, who was himself injured during the incident, was identified as Arthur Kurmakaev ("Dingo"), a well-known member of the Chechen mafia and a suspect in several Kadyrov-sanctioned assassinations. Along with assassinations of Kadyrov's enemies in Russia and Chechnya, Kurmakaev was also under investigation for the murder of Kadyrov's former body guard in Vienna, Austria.
IMPLICATIONS: Official statements released by Ukrainian investigators indicate two main possible motives behind the attack on Chechen volunteers. As suggested by Anton Heraschenko, adviser to the head of Ukraine's Interior Ministry, the attack may have been conducted by Russian Special Forces in order to target prominent members of the counter-separatist forces. The assault could also have been another attempt by the Chechen president to settle scores with his enemies abroad. Another version, put forward by the Caucasus Knot agency, suggests that the assassination attempt on Osmaev was conducted by members of the Chechen diaspora in Europe, who financed his battalion. According to this version, Osmaev acquired large sums of money from Chechen donors in Europe and has failed to provide a credible account as to how this funding was spent.
In a statement on November 1, Kadyrov denied his connection to the Kyiv attack and accused Ukrainian secret services of assassinating Okueva, in order to "distract the international community from ongoing anti-government protests and to yet again blame Russia for its problems." Kadyrov pointed out that Okueva had nothing to do with Chechnya, because she was born in Ukraine to a Chechen father and Ukrainian mother and had never continuously lived in the North Caucasian republic. Bearing in mind that Kadyrov rarely comments on Ukraine's domestic affairs, let alone such relatively low-level incidents as the October 30 attack on Osmaev family, suggests that Chechen president was following the event with interest.
The events in Kyiv have two possible implications. First, an assault on members of the anti-Moscow Chechen community indicate that Kadyrov – who is known to have previously ordered and financed similar attacks – pursues his long-term strategy of exterminating his opponents regardless of their geographical location. His ability to mobilize and command pro-Moscow Chechens abroad, or to dispatch his hand-picked assassins directly from Chechnya or Russia, remains unchanged. Targets of such attacks are selected not necessarily in order of their importance for Kadyrov – Osmaev is a rather insignificant person when it comes to the security of the Chechen regime – but based on the availability of suitable individuals to conduct an attack at a particular location. For example, Kurmakaev, who was sent to assassinate the Osmaev family, had a Ukrainian passport and was supposedly residing in the country.
Second, veterans of the Donbas War, particularly from among non-ethnic Ukrainians, have become vulnerable to targeted assassinations organized by pro-Moscow forces. Ukraine seems to be unable and unwilling to provide adequate protection for non-Ukrainian volunteers of the counter-terrorist operation, most of whom are considered foreign fighters. This implies a bleak future for members of the Chechen battalion in Ukraine. The cessation of active combat in the Donbas War has resulted in decreasing financial support for the "Djokhar Dudayev" battalion from the Chechen diaspora in Europe, which will most likely encourage the remaining members of the battalion to return to their home countries in Europe, where many may face prosecution for participation in armed groups.
CONCLUSIONS: As attacks on Kadyrov's critics in Europe have decreased over the last several years, the head of Chechnya appears more poised to eradicating his opponents in the near abroad. Bearing in mind that the Chechen diaspora in the former Soviet republics is larger and more politically active than in the EU, Chechen special services may find it easier to recruit potential hit men. Investigations of nearly all Kadyrov-ordered targeted assassinations, including those committed in European countries and the U.S., have failed to produce a credible link connecting the crimes to Chechen president. As demonstrated by the case of Osmaev, who remained outside the Russian Federation for about five years, Kadyrov's determination to destroy his opponents is not time-limited. Although it remains unclear whether Okueva was collateral damage rather than the key target, her death reduced the number of Kadyrov's enemies and therefore was not left unnoticed by the Chechen leader.
AUTHOR'S BIO: Huseyn Aliyev is a LKAS Research Fellow at the School of Social and Political Sciences, University of Glasgow. He specializes in armed conflicts, non-state armed groups, and informal practices. He is an author of "When informal institutions change. Institutional reforms and informal practices in the former Soviet Union" (University of Michigan Press, 2017). His most recent publications appeared in Third World Quarterly (2017), Terrorism and Political Violence (2017), Security Dialogue (2016), and International Security (2015).
Image source: By en.kremlin.ru accessed on 12.11. 2017