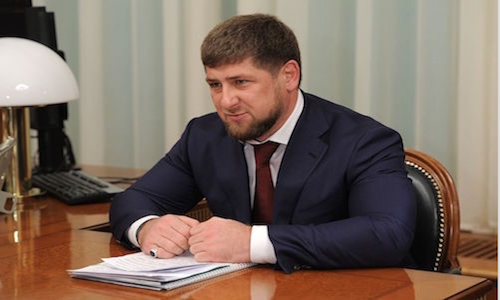 BACKGROUND: The U.S. Treasury has accused Kadyrov, alongside his much-feared security official Ayub Katayev, of widespread human rights violations, including torture, abductions and extra-judicial executions. Individuals sanctioned under the Magnitsky Act are subjected to various financial and travel restrictions. While Katayev is included in a list of 49 sanctioned Russian officials for his role in persecuting Chechen gay men, Kadyrov is sanctioned under the Magnitsky Act due to his broader role in creating a "climate of fear" in the Chechen Republic.
As reported by human rights groups, the number of disappeared persons in Chechnya has markedly increased since the start of 2017. Caucasus Knot indicated that at least 43 people were abducted by security services this year. Only in November, seven individuals were reported by their families as missing and presumably taken for interrogation by the law enforcement bodies. The latest human rights abuse scandal in Chechnya involved the disappearance and murder of over one hundred gay men dating back to 2016.
Along with increased repression of dissent, Kadyrov launched a covert campaign of replacing top government officials with persons belonging to his family and clan. On December 21, 21-year old Khas-Magomed Kadyrov, a member of Kadyrov's family, was appointed Head of the Grozny Police Department. He previously served as Head of the Anti-Narcotics Centre. Following Khas-Magomed's promotion, his job at the Anti-Narcotics Centre was given to Gayirbek Delimkhanov, another relative of Kadyrov. One month earlier, Kadyrov's 28-year old nephew Idris Cherkhigov was appointed Head of the Road Police department. Idris' father, Ramzan Cherkhigov currently serves as the Minister of Transportation and Communication. Idris' job was previously occupied by Shamkhan Denilkhanov, who is originally from the same village as Kadyrov and is married to Kadyrov's sister.
Yet another appointment took place on November 1. Tamerlan Khuchiyev, a top adviser to the Chechen leader, was appointed administrator of the Achkhoi-Martan district of Chechnya; one of the largest regional districts in the republic. Kuchiyev is believed to be a member of Kadyrov's clan and his long-term confidante. Tamerlan's brother, Muslim Khuchiyev, has already served as the Mayor of Grozny.
IMPLICATIONS: Family and clan appointments in Kadyrov's Chechnya are not a new phenomenon. For example, following his re-election in 2016, Kadyrov appointed his 26-year old nephew Yakub Zakriyev as the first Vice-Prime Minister of Chechnya. Kadyrov earlier promoted his blood relative Islam Kadyrov, 28 years old and previously Mayor of Grozny, as the Head of Administration of the Chechen government.
Yet, notwithstanding the previous history of Kadyrov family appointments in Chechnya, the wave of family and clan promotions over the last two months is unusual due to the number of people promoted over a relatively short period of time. Kadyrov's justified his preference for appointing young and rather inexperienced family members to top government jobs by his desire to promote young cadres and to bring "fresh blood into government administration," as he has stated publicly a number of times.
However, as reported by the Caucasus Knot, the Chechen public received the recent string of appointments with skepticism and outrage. As a traditional society where leadership is associated with age and experience, Chechens are growing increasingly uneasy with Kadyrov's family-style governance. While analysts suggest that the recent increase in the number of Kadyrov family appointments is due to the lack of reliable cadres in the republic and that it is a phenomenon typical for the Caucasus republics, the trend is likely associated with Kadyrov's growing insecurity both at home in Chechnya and in relation to Moscow.
Along with the rapid replacement of government officials, particularly in the security services, with his family and clan members, Kadyrov has continued to test the Kremlin's support for him. On November 27, in an interview to Rossiya 1 TV, Kadyrov stated that he is ready and willing to step down as the head of Chechnya. His announcement was soon rejected by Moscow; the same day, the Kremlin's spokesman Dmitry Peskov said that Kadyrov will continue to serve as Chechnya's leader, as ordered by the Russian President. Bearing in mind that Kadyrov was re-elected for another five years in office in 2016, his allusion to possible retirement could hardly be taken seriously. Seemingly, Kadyrov announced his desire to step down in order to both check the Kremlin's reaction and reassure the Chechen public that Kadyrov is willing to voluntarily vacate his job. Notably, Kadyrov has indicated his willingness to leave the job at least twice since his appointment as the Head of the Chechen republic in 2007. In both cases, the Kremlin promptly dismissed his "retirement notice." It is also interesting to note that Kadyrov's statement was released just a few days before he was sanctioned under the Magnitsky Act.
Another source of Kadyrov's insecurity stems from the growing Islamist insurgency in the republic. Considered the most secure among the North Caucasian republics, Chechnya has become more unstable since the start of 2017. By September, about 50 persons had been killed and injured as a result of armed violence in the republic. This number is higher than the total number of conflict victims in 2016 (30), as well as in previous years with only about a dozen casualties each year due to the Islamist insurgency. Even more worrisome for the Chechen authorities, nearly all of the armed incidents involved home-grown and locally-radicalized militants. Unlike neighboring Dagestan where militants associated with the terrorist organization known as the Islamic State in Iraq and Syria (ISIS) were responsible for the majority of armed confrontations, most attacks in Chechnya involved militants with little or no connection to ISIS. Despite expectations that Chechen foreign fighters returning from the Middle East will exacerbate the republic's security problem, none of the militants apprehended or killed by security forces in 2017 had any association with Middle East.
CONCLUSIONS: Kadyrov's inclusion on the Magnitsky Act list is unlikely to shatter the Chechen leader's influence with the Kremlin or to weaken his influence at home in Chechnya. Rather, sanctions against Kadyrov and the recent blocking of his social media accounts enable the Chechen leader to criticize the U.S. more vocally. Notwithstanding his solid position with the Kremlin, Kadyrov continues to build his power base, distributing the most important government jobs in the republic among his family and clan members. The emphasis on jobs in "power" ministries, such as the police and security services, suggests that Kadyrov primarily seeks to control the security apparatus. Bearing in mind the likelihood of an intensified Islamist insurgency, absolute control over the security forces is justified. However, it is unlikely that Kadyrov can use his "re-population" of the Chechen government and administration with his family members as a tool for survival on the Russian political arena. Hence, Kadyrov's rather frequent "reminders" to Kremlin, such as his recent retirement notice, serve the double purpose of probing Moscow's attitude and confirming his loyalty to Putin's regime.
AUTHOR'S BIO: Huseyn Aliyev is a LKAS Research Fellow at the School of Social and Political Sciences, University of Glasgow. He specializes in armed conflicts, non-state armed groups, and informal practices. Huseyn is an author of "When informal institutions change. Institutional reforms and informal practices in the former Soviet Union" (University of Michigan Press, 2017). Huseyn's most recent publications appeared in Third World Quarterly (2017), Terrorism and Political Violence (2017), Security Dialogue (2016), and International Security (2015).
Image source: By Government.ru, via Wikimedia Commons, accessed on 2.6. 2018