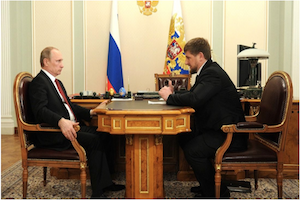 BACKGROUND: On September 3, up to a thousand protesters, mostly Chechens, North Caucasians, and Central Asians of Muslim background, gathered in front of Myanmar's embassy in Moscow. The protesters were apparently organized – or at least inspired – by Kadyrov and his associates, and manifested against what they referred to as the ongoing "genocide of the Rohingya Muslims" by Myanmar's authorities. They also chanted slogans like Allahu Akbar.
Unlike other unauthorized demonstrations, police did not interfere to disperse the demonstrators. Importantly, Russian media and authorities initially commented neither on the persecution of the Rohingya, nor the demonstration itself. In addition, Kadyrov made a bold statement claiming that if Russia (which a few days earlier vetoed a UN resolution against the Myanmar government on the Rohingya issue) is against (Burmese) Muslims, he would turn against Russia. He also appealed to Russian authorities to weigh in and support the Rohingya Muslims and even deplored that he could not deploy the army to Myanmar.
Russian authorities behaved atypically calm, apparently fearful of making statements or taking actions that would outrage Kadyrov, known as Putin's protégé. In response to Kadyrov's remarks, Putin's Press Secretary Dmitry Peskov responded in an unexpectedly diplomatic manner. Putin himself, while at the BRICS summit in China, commented that every head of a Russian region has the right to comment on the nation's foreign policy. Two days later, on September 5, around 100,000 people gathered in Grozny, with Kadyrov urging Russian authorities to take a reasonable stance against "Buddhist terrorism." He also reiterated his status as "Putin's soldier," loyal to him and the nation.
IMPLICATIONS: These recent developments give rise to two notable observations. First, Kadyrov's unprecedentedly close association with Putin has allowed him to become a strongman in federal politics, against whom federal authorities, siloviki, and media hesitate to interfere. The Chechen leader has long displayed an interest in Russia's foreign policy, an interest that he is now seemingly taking concrete actions to promote. The organization of mass demonstrations not only in Grozny, but also in Moscow, in order to protest (indirectly) against Russia's foreign policy direction and its diplomatic actions at the UN, has shown Kadyrov's capacity to act beyond his frequent twitter comments related to foreign policy issues.
Second, many Russians interpreted the hesitation on the part of Moscow authorities to crack down on the Muslim protesters as a sign that Muslims in Russia in general and Kadyrov in particular are given special treatment, and that Putin himself is unwilling or unable to intervene in order to restrain Kadyrov. For Russians who revere Putin as a strong leader, this was a sign of weakness while Russian nationalists, an important segment of the Russian electorate, interpreted these statements and the subsequent demonstrations as a sign of decay. Finally, Russia's political opposition and other critics of the president viewed the anti-Myanmar demonstrations as another indication of the growth of Kadyrov's power and Putin's unwillingness to curb it.
There are several possible explanations for this move. According to political commentator Sergei Shelin, Moscow used Kadyrov (who apparently crossed all lines by questioning Russia's foreign policy and Putin's motivations) as a bottom-up tool to change its policy toward Myanmar. Myanmar holds no major importance in Russian policy – no geopolitical interests are at stake there, while Moscow's attitude to the issue in the UN could potentially to antagonize its Muslim allies, for instance Iran. For this reason, the Kremlin ostensibly either encouraged Kadyrov to speak out on the issue or tolerated it because it matched Moscow's changed priorities with regard to the Rohingya issue.
The problem with this explanation is that Moscow is already facing troublesome relations with much of the Sunni world due to the ongoing civil war in Syria, while its pragmatic alliance with Iran is strong enough to survive the different attitudes of the two states towards an essentially marginal issue. Moreover, changing Moscow's policy through Kadyrov would expose Moscow's weakness and Kadyrov's strength. Nevertheless, since the protests took place in Russia, Moscow has balanced its rhetoric on the Rohingya issue and as Shelin has observed, Kadyrov has used the Rohingya issue as a demonstration of strength, reaching out to his support base and reminding the siloviki of Putin's unflinching support for him.
Kadyrov may also have used the issue to profile himself in federal politics, reminding the nation of his ambitions and demonstrating his political clout to potential rivals. He therefore mobilized Russian Muslims whom he increasingly sees as his power base – now even beyond the North Caucasus. In fact, this was the first mass gathering of Russia's Muslims in order to express an opinion on an international issue. Kadyrov's masterminding and organization of this event adds further weight to the Chechen leader as a Muslim leader at the international level. While there is some merit to this explanation, Kadyrov appears to have worsened even further his relations with siloviki, while personally questioning Putin's policy. If this was a rational move by Kadyrov, it was a risky one.
Finally, as a Muslim leader, Kadyrov may have felt compelled to take a stance on this heavily mediatized issue, given its sensitivity among Russia's Muslims. He therefore made an impulsive move, which he then tried to play down. Shelin has specifically argued that, "several days of demonstrations would be enough for Kadyrov to confidently advance his objectives of presenting himself as a leader of Russia's Muslims, shaking up federal authorities, and identifying himself as an international political actor." Yet having achieved his goals, it would make no sense for Kadyrov to exacerbate the issue further. A recent analysis in Novaya Gazeta hints at this conclusion, pointing out Kadyrov's reluctance to expand the issue, his unprecedented reading of a prepared text during the Grozny meeting, and his apology and consequently submissive attitude towards the Kremlin and Putin. Importantly, while initially paralyzed, Russian siloviki later dispersed the Muslim protesters in downtown Moscow. This also explains Kadyrov's most recent appeal to refrain from carrying out any unapproved demonstrations. Indeed, Kadyrov even stated publicly that he would not condone further public protests on the Rohingya issue unless there will be a need to do so.
CONCLUSIONS: Whether the mass mobilization of Russia's Muslims to protests against Myanmar's government treatment of Muslims was a coordinated and carefully planned move on Kadyrov's part, or the result of a miscalculation, Kadyrov seems to have achieved short-term gains from the events. Not only did the Chechen leader manage to solidify his position as a leader of Russia's Muslim community and to portray himself as an international player and champion of the world's Muslims, with political reach far beyond federal confines. He also reminded siloviki and his rivals of his unprecedented strength. Along with his relatively recent posture as a human rights defender, Kadyrov also reinstated his loyalty to Putin and confirmed that he remains an obedient "federal subject." While Kadyrov's recent moves may raise concerns in the ranks of siloviki and rivals at the federal level that he is becoming uncontrollable, these steps indicate that Kadyrov is confident in Putin's backing. Although it remains possible that the events resulted from a miscalculation on Kadyrov's part, the fact that he suffered no consequences is the best indicator of Kadyrov's impunity stemming from what seems to be Putin's infinite support for him.
AUTHOR'S BIO: Emil A. Souleimanov is associate professor at the Department of Security Studies, Institute of Political Studies, Faculty of Social Sciences, Charles University. His recent publications include Iran's Azerbaijan Question in Evolution: Identity, Society, and Regional Security. Huseyn Aliyev is a political scientist based at the Centre for Security Studies (CSS), Metropolitan University Prague.
Image source: By kremlin.ru accessed on 10.24. 2017