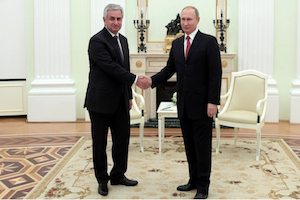 BACKGROUND: Since the beginning of the conflict in Ukraine in 2014, Russia's creeping annexation of Georgia's breakaway regions has accelerated considerably. This process has also coincided with the conclusion of an Association Agreement between Georgia and the EU, which Russia perceives as a threat. In 2014, Abkhazia signed an alliance and partnership treaty with the Russian Federation, envisaging far-reaching harmonization of their legal systems in crucial areas such as defense and security, as well as in the economic and social spheres. South Ossetia signed a similar act of alliance and integration a year later. In reality, these agreements serve as a vehicle for the gradual incorporation of Georgia's breakaway regions into Russia's political and economic system without any formal act of annexation. Moscow has periodically leveraged the independent status of Abkhazia and South Ossetia against Tbilisi. Yet in the foreseeable future, Moscow will likely refrain from officially absorbing Georgia's breakaway territories. This is especially the case after the annexation of Crimea, after which the West introduced sanctions on Russia.
Over the past several years, Georgians inhabiting the separatists regions have seen a gradual restriction of their human and civil rights, which continues to this day. Moreover, Russian military personnel continue the illegal demarcation, also called "borderization," of the administrative boundary lines between the occupied territories and the rest of Georgia. Russia has also sought to increase its influence and soft power in Georgia through information operations. Russian propaganda utilizes various channels, such as NGOs and internet media outlets to play on Georgian cultural and national sensitivities in an effort to raise anti-Western and pro-Russian sympathies in Georgian society.
Consequently, rapprochement between Georgia and Russia, which broke diplomatic relations in 2008, remains stalled although Tbilisi has over the past several years made several conciliatory moves towards Moscow and the de facto authorities of Abkhazia and South Ossetia.
IMPLICATIONS: Several years after the war, Russo-Georgian relations remain tense and Moscow continuously exerts political and military pressure on its southern neighbor. Two recent high-profile visits to Abkhazia by Russian officials served to reiterate Moscow's support for the breakaway region. On April 18-19, Russia's Foreign Minister Sergey Lavrov paid a two-day visit to Abkhazia, during which he opened a Russian embassy. Aside from Russia, the major part of the international community does not recognize Abkhazia as independent and this step was widely seen as an attempt to legitimize the separatist entity and highlight its growing ties with Moscow. Some observers noted that Lavrov's visit to Abkhazia coincided with the anniversary of the mass protests in Georgia's capital, Tbilisi, on April 14, 1978, against a proposed constitutional change aiming to diminish the status of Georgian as a state language.
Likewise, Vladimir Putin visited Abkhazia while Georgia commemorated the anniversary of the Abkhazia and South Ossetia conflicts. During his meeting with de facto president Raul Khajimba, Putin reiterated that Russia guarantees Abkhazia's security and independence. Moreover, he announced that Abkhazia's economy will integrate further with Russian's economic system by relaxing custom procedures and border controls to boost the local trade and travel sector. Putin's trip Abkhazia also followed the visit of U.S. Vice President Mike Pence to Tbilisi, where he reaffirmed U.S. support for Georgia and attended NATO's large-scale joint military drills Noble Partner, which started on July 31 in the Vaziani and Camp Norio military training areas. The timing of these Russian officials' visits to Abkhazia suggest that they were deliberate moves to exert political pressure on the Georgian leadership and highlight geopolitical competition between the U.S. and Russia in the region.
Russia has also intensified pressure on Georgia through illegal borderization. As a result, not only has the property of many Georgian citizens ended up inside the occupation zone; so has a section of the Baku-Supsa oil pipeline. The latest adjustment of the demarcation line took place in June this year, near the Bershueti and Sobisi villages, when the administrative boundary was moved 700 meters into Georgian-controlled territory. Some observers have noted that border markings were installed in close proximity of the Baku–Tbilisi–Poti–Batumi highway, and anticipate that part of this crucial route could also be captured in the future. If this would happen, it would definitely disrupt regional trade and tourism activities involving Georgia and Azerbaijan. It could also endanger Georgia's and Azerbaijan's ambitious plans to reinvigorate the transport and logistics sector in the region, since the Baku-Batumi highway is a major land route connecting Baku's planned international sea trade port Alyat with the Black Sea. Simultaneously, units of Russia's 58th Combined-Arms Army, permanently stationed in a military base near South Ossetia's capital Tskhinvali, carried out exercises involving 3,000 troops and 500 units of military hardware. In late June, Russian forces conducted military drills in Abkhazia.
In the meantime, the human rights situation for the ethnic Georgian population in South Ossetia and Abkhazia is deteriorating. Following in Abkhazia's footsteps, in late July South Ossetia's de facto Ministry of Education announced that Georgian language schools located in the region will close in order to strengthen the Russian and South Ossetian component in the local schooling process, starting from the 2017/18 academic year. The Annual Human Rights and Democracy report prepared by the UK Foreign and Commonwealth Office, which was released in July, cites increased pressure on the local Georgian population inhabiting the occupied territories. According to the report, the de facto authorities severely limit the residency and property rights of ethnic Georgians. Georgians in the occupied regions are also subjected to restriction of movement, including limited access to documentation, closure of crossing points and frequent detentions across the administrative boundary lines.
CONCLUSIONS: The most recent frictions in Georgia-Russia relations can be attributed to several factors. During a meeting in early June between Russia's Deputy Foreign Minister Grigory Karasin and Ambassador Zurab Abashidze, the special envoy of the Prime Minister of Georgia, the parties failed to agree on the establishment of trade corridors from Armenia to Russia through Georgian territory, including the occupied regions. Russia has repeatedly expressed a keen interest in establishing such transit links, because it lacks a land connection with its regional ally Armenia, and demands the inclusion of Georgia's breakaway regions in the deal. However, Tbilisi refuses to include representatives of Abkhazia and South Ossetia in the negotiations, arguing that the agreement on trade administration, which is the legal basis for establishing such overland routes, was exclusively signed by Georgia and Russia.
In the wider context, recent developments in U.S. – Georgia relations is likely an additional reason for the renewed pressure from Moscow. Despite initial insecurity regarding bilateral relations under the Trump administration, several prominent U.S. officials have in recent months emphasized their country's commitment to maintaining close relations with Georgia. Moreover, Georgia and the U.S. signed an important General Security of Information Agreement in May, which will facilitate bilateral intelligence sharing and the interoperability of Georgia's military with NATO forces.
AUTHOR'S BIO: Natalia Konarzewska is a graduate of University of Warsaw and a freelance expert and analyst with a focus on political and economic developments in the post-Soviet space.
Image source: By kremlin.ru accessed on 10.26. 2017