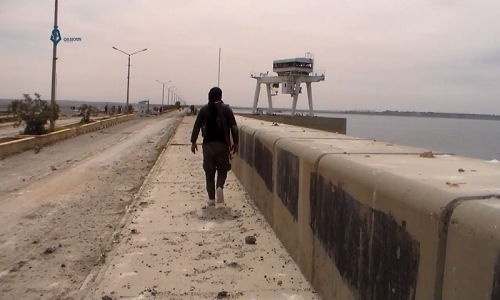 BACKGROUND: The TIP – often referred to in Western media as East Turkistan Islamic Movement – was formed in Afghanistan in the 1990s and later moved to Pakistan's tribal regions after the post-9/11 U.S. invasion of Afghanistan. The TIP had a minimal operational presence in Afghanistan and carried out few attacks in China until the start of the Syrian war in 2011, although some of its leaders achieved high ranks among the al-Qaeda leadership based in Pakistan. Starting in 2012, the TIP began signaling interest in supporting the Syrian rebels. Between 2013 and 2015, Uighur militants in Afghanistan traveled to Syria via Turkey and formed the TIP's "Syrian Branch", which quickly superseded its "Afghanistan Branch".
The TIP "Syrian Branch" participated in major battles in northwestern Syria along with al-Qaeda's Syrian affiliate, Jabhat al-Nusra and the two entities it became after re-branding as Jabhat Fath al-Sham (JFS) in 2016 and Hayat Tahrir al-Sham (HTS) in January 2017. At least several hundred, if not over a thousand, Uighurs, have been with the TIP in Syria, while smaller numbers joined ISIS. One sign of growing numbers of Uighurs in Syria and that ISIS takes an interest in them came in June 2015, when a campaign began to urge Uighurs to join its ranks, including featuring videos of an elderly Uighur grandfather engaging in military training with young fighters in Syria.
One year later, in 2016, signs of TIP discontent with al-Qaeda in Syria began to surface. First, a prominent Syrian pro-al-Qaeda cleric, Abdul Rezzaq Mahdi, "defended" the TIP amid accusations it was fighting weakly, perhaps because it recruited too many inexperienced fighters. Mahdi then issued a statement urging Uighurs to stay in Afghanistan and not come to Syria, perhaps because it was better to keep the TIP strong in Afghanistan than see internal squabbles weaken the group and its ties to al-Qaeda in Syria. In the next months, dozens of TIP fighters were killed in Russian air strikes in and around Aleppo, which ultimately fell to the Syrian army and saw the TIP's former battle victories reversed.
Most recently, in February 2017, pro-ISIS fighters of Jund al-Aqsa, which had been loosely part of the al-Qaeda coalition but always had an ideology similar to ISIS, killed more than 100 rebels in intra-rebel fighting following the re-branding of HTS and loss of Aleppo. The TIP helped Jund al-Aqsa fighters receive medical treatment and travel to Raqqa, Syria to defect to ISIS in a mediation facilitated by al-Qaeda ideologue Abu Muhammed al-Maqdisi. In the aftermath, a TIP activist sought to dispel "rumors" about the TIP abandoning al-Qaeda by explaining on Twitter that the TIP was truly anti-ISIS, as evidenced by a 2016 video of TIP leader Abdul Haq al-Turkistani condemning the organization. But denying these "rumors" was seemingly a tacit acknowledgement that they had some basis in fact.
On February 28, ISIS came out with a high-quality 30-minute video, even though it was otherwise decreasing media production due to its own struggles in Syria and Iraq. The video featured Uighur ISIS militants who, for the first time, directly accused the TIP by name of being "secularists" for fighting with HTS with its "many banners" instead of the "one Islamic banner" of ISIS. The video also featured a eulogy of a defector from the TIP to ISIS, who became a commander and died as a "martyr" in an air strike. This was an indication that ISIS seeks more defections from the TIP – perhaps with momentum coming from TIP fighters who accompanied Jund al-Aqsa to defect to and support ISIS in Raqqa.
IMPLICATIONS: Al-Qaeda's re-branding in Syria may have gone too far for the hard-liners in the TIP, who desire an Islamic state in Syria to serve as a model for Central Asia and Xinjiang and oppose any hints of "secularism" or "nationalism." Even al-Maqdisi has criticized the "secularism" of HTS in Syria. On top of this, one of the goals of HTS has been to integrate with formerly "moderate" U.S.-vetted groups in Syria to escape the wrath of U.S. air strikes after the negotiations held in Astana concluded with little result. But even after the Astana negotiations, HTS and other groups in its coalition, including TIP, have been targeted by air strikes.
Beyond the concerns among TIP fighters about al-Qaeda in Syria – both its re-branding as HTS and its inability to defend Aleppo – they likely also have reservations regarding the prospects of returning to Afghanistan, as Uzbek fighters from Syria have already done. The Taliban is increasingly gaining footholds throughout the country, but at the same time the Taliban still has "nationalist" tendencies, which ISIS frequently highlights in its videos. The Taliban even engages in diplomatic activities, such as seeking forms of recognition from Central Asian countries, Russia and China. Historically, the Taliban has been reticent to allow the TIP to attack China out of "respect" for its backers in Pakistan and to prevent China from adding to the pre-existing anti-Taliban stances of the West in international forums. Thus, even though the Taliban and al-Qaeda are allies, it is unclear how much this relationship will specifically benefit battle-hardened TIP fighters returning from Syria who want to wage Jihad against China.
ISIS, in contrast to al-Qaeda or the Taliban, offers fighters a more "action-oriented" approach regarding external operations with little concern for backlash. Indeed, the attack by an Uzbek former IMU member on the Reina nightclub in Istanbul for ISIS on December 31, 2016 may have served as an example of how ISIS can deliver results. In contrast, al-Qaeda is more reticent about attacks that kill Muslim civilians, or "apostates," as ISIS called the guests at Reina who were celebrating a "Christian" event like New Year.
Moreover, the Reina attacker, who was assisted by TIP facilitation networks in Turkey, highlights how these networks are increasingly willing to work with both ISIS and al-Qaeda. Thus, the TIP's former unswerving al-Qaeda allegiance may have diminished over time as its operatives in Turkey have become exposed to both ISIS and al-Qaeda fighters.
CONCLUSIONS: The fracturing of militant groups is common among Jihadists. Just as the IMU split over its allegiance to ISIS in 2015, the TIP is likely beginning to see a similar fracturing. The "old guard" leadership around Abdul Haq al-Turkistani will stay loyal to al-Qaeda and is currently fighting with HTS in Hama, Syria, but the TIP may not be able to prevent a number of its fighters from joining ISIS either in Syria or via its increasingly active Khorasan Province in Afghanistan and Pakistan, which has allied with some Pakistan Taliban factions that are also dissatisfied with the Taliban's "diplomacy" with "infidel" foreign governments. If more TIP members defect to ISIS, one could expect these Uighur militants to carry out attacks against Chinese interests in China or abroad, in what could be a repetition of the Chinese embassy bombing in Bishkek in August 2016. The TIP, in turn, could find itself in a bind: the ISIS Uighur fighters could generate attention and carry out TIP's intended mission - attacking China – while the TIP itself may be hamstrung by the al-Qaeda/Taliban limitations on targeting China. The TIP would thus have to consider "abandoning" its cause against China like the IMU largely did with its native Uzbekistan in the 2000s or break with al-Qaeda and the Taliban.
AUTHOR'S BIO: Jacob Zenn is a Fellow of Eurasian and African Affairs at The Jamestown Foundation.
Image source: wikimedia.org, accessed on April 19, 2017