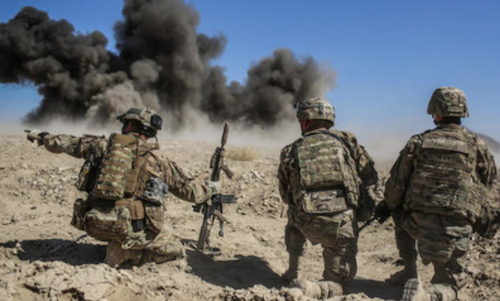 BACKGROUND: On March 25, a militant associated with the Islamic State Khorasan Province (ISKP) attacked Afghanistan's Sikh community's place of worship in Kabul, killing at least 25 worshippers. The militant behind the attack was recognized as Abu Khalid al-Hindi from the Indian state of Kerala. On April 4, the Afghan Intelligence agencies arrested a top ISKP commander in Afghanistan, known as Aslam Farooqi, who ordered the attack on the Sikh religious complex in Kabul. Farooqi, a Pakistani national, has been the head of ISKP's regional chapter since July 2019. Under Farooqi's leadership, the group's affiliates have claimed responsibility for several attacks in Pakistan, Indian-administrated Kashmir and Afghanistan.
The ISKP has emerged as one of ISIS's deadliest affiliates globally. Since the group's formation in 2015, the Afghan Taliban and a broad counterterrorism campaign by the international troops in Afghanistan has kept it on the run. However, the organization continues to survive, carry out attacks and attract recruits locally as well as from Pakistan and India. According to a report published by the United States Institute of Peace (USIP), "ISKP is led by a core of former Tehrik-e-Taliban Pakistan [TTP] commanders from Orakzai and Khyber Agencies of Pakistan; the majority of mid-level commanders are former Taliban from Nangarhar, with the rank and file a mixture of local Afghans, Pakistanis, and foreign jihadists mostly from Central Asia."
The group in Afghanistan has been working on reorienting its recruitment strategy especially after it announced an Indian and Pakistan chapter last year. Over the last year, India has become the key recruiting ground for the militant group. About 100 people from the Indian state of Kerala alone have joined ISKP in Afghanistan. Moreover, a large number of Indian citizens were among the 1,400 ISKP who surrendered to Afghan security forces earlier this year. Over the last year, the Islamic State's Hind chapter has actively carried out attacks in Indian-administered Kashmir.
In the past, Pakistan and India have supported different insurgent groups in Afghanistan to suit their regional security policies. This policy has had a direct impact on Afghanistan's security and the mistrust between India and Pakistan.
IMPLICATIONS: ISKP's growth in Afghanistan poses a clear threat to both Pakistan's and India's national security interests in the region. Arguably, ISKP is the first group in Afghanistan that both countries broadly view as a threat. In the past, while Pakistan has supported extremist groups in Afghanistan willing to protect Islamabad's interests, India has allied with actors that detest Pakistan's interventions in Afghanistan's internal affairs.
Over the years, India's leadership appears to have realized that New Delhi will have to build a relationship with groups such as the Afghan Taliban in order to balance Pakistan's role in Afghanistan. New Delhi not only attended the recent signing of a landmark peace deal between the U.S. and the Taliban; it also supports the idea of all-inclusive Afghan peace talks.
There is a growing realization in India that the country needs to play a role in the Afghan peace talks. Given that the Afghan Taliban is one of the main actors in the peace process, India will have to normalize its relationship with the group. For the Afghan Taliban, building ties with India could further solidify their legitimacy and political credentials in Afghanistan.
This development contravenes Pakistan's Afghan policy, which aims to end India's influence in the country. Pakistan claims to have a good working relationship with the Taliban. In Pakistan's military circles, this relationship is considered both necessary and beneficial.
In this regard, India's intent to accept the Taliban's role in Afghanistan can be considered a tactical win for Pakistan's Afghan policy. However, the Taliban's relationship with Pakistan is weakening. According to Hassan Abbas, a Senior Fellow at the Center for Global Policy (CGP), the group has become increasingly "critical of Pakistan's way of handling the Taliban." He further notes that the group may not be dependent on Pakistan anymore as it has more funding options and better sanctuaries elsewhere, particularly in Qatar.
This demonstrates that Islamabad's policy of keeping India out of Afghanistan is neither practical, nor sustainable, if the Taliban decides to develop ties with India. The group has already made it clear that it is ready to reset their relationship with all international stakeholders. Thus, in the coming months and years, Pakistan may come to view the Afghan Taliban's growing political control in Afghanistan as a threat rather than a strategic win. Notably, even the old guard of the Taliban, which had better ties with Pakistan's security agencies, refused to accept Islamabad's view on the Durand Line border with Afghanistan.
Against this backdrop, Pakistan may actually view the challenge that ISKP poses to India and the Taliban in Afghanistan in a positive light. Arguably, ISKP has been highly beneficial to Pakistan in many important respects. The rise of ISKP correlates with defections from TTP and Al-Qaida in the Indian Subcontinent (AQIS) to ISKP in Afghanistan. This has put pressure on the Afghan Taliban at a time when the group started to drift away from Islamabad. Moreover, the development has weakened TTP and AQIS, which developed sanctuaries in Afghanistan after Pakistan's military operations in its tribal areas along the Durand Line. Additionally, this has shifted the intra-Jihadist competition from Pakistan to Afghanistan.
Moreover, ISKP's use of Indian suicide bombers in Afghanistan and its growing focus on the Kashmir theater should please Pakistan's military strategists. Arguably, the ISKP is proving more potent than the Afghan Taliban in frustrating the Indian security forces in Kashmir and putting an Indian face to attacks in Afghanistan. As Saurav Sarkar noted in a recent article in The Diplomat, ISKP's attempt to use an "Indian Muslim to attack Sikhs [in Afghanistan] could be an attempt at driving a wedge in India's social fabric." Already, Pakistan has reportedly asked the Afghan Sikh community to migrate to Pakistan, as it is safe neither in India, nor in Afghanistan. This essentially means that Pakistan is unlikely to cooperate with India to root out ISKP from Afghanistan or beyond. New Delhi already believes that Pakistan's security agencies are helping the group's development in Afghanistan. Indeed, Pakistan will continually seek to keep India at bay in Afghanistan and would benefit from increased pressure on the Afghan Taliban from ISKP.
CONCLUSIONS: In the last few months, ISKP activities have grown significantly in Afghanistan. They appear aimed at undermining the U.S.-Taliban peace deal and attracting more recruits from militants that do not agree with the Afghan Taliban's negotiations with Washington. By increasing violence, the group hopes to inspire its local affiliates in Pakistan and India and take advantage of the two countries' competing interests in Afghanistan. Given the deep-seated distrust and hostility between India and Pakistan, cooperation to counter the ISKP threat in Afghanistan is highly unlikely. ISKP's growth and activities in Afghanistan will worsen the country's instability and complicate the intra-Afghan peace process. In this context, the gains ISKP is making from the India-Pakistan rivalry in Afghanistan will develop into a serious threat in the medium to long term.
AUTHOR'S BIO:
Umair Jamal is a Ph.D. candidate at the University of Otago, New Zealand and the Diplomat Magazine's correspondent in Pakistan. His areas of research include counterterrorism and security issues in Pak-Afghan region. Umair has consulted with various think tanks in Pakistan and globally and has published for a number of media outlets including Al-Jazeera, Foreign Policy, SCMP, Huffington Post and others.
Image Source: Public Domain, Photo By: Cpl. Alex Flynn accessed on 7/20/20