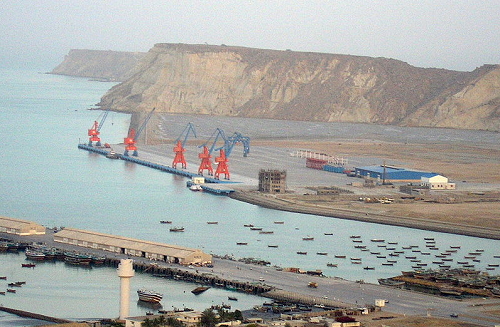 BACKGROUND: Several projects have previously been conceived for South and Central Asian integration over Afghanistan and Pakistan, but proven unsustainable for one or another reason. In contrast, the CPEC project is a reality since its implementation started immediately upon its announcement in 2013, and yielded early results already by 2016.
The project represents a cluster of cooperative ventures under China's ambitious "One Belt, One Road" project for Eurasian integration. Pakistan's involvement builds on its close relationship to China and Gwadar's strategic location close to the Persian Gulf and the Hormuz Strait.
The project symbolizes a transformative plan for Pakistan and its flagging economy. With a Chinese loan estimated to US$ 51 billion (earlier US$ 46 billion), the entire Economic Corridor from Xinjiang in China to Gwadar seaport in Baluchistan, Pakistan, is envisaged to blossom with railways, highways, pipelines, business complexes, economic zones, and wind, water, solar and coal-blown power plants. For China, CPEC will ensure access to world markets through an alternate, short, economical and relatively safe route over Pakistan to Iran, Turkey, Europe and Africa.
However, the project faces several inextricable challenges and threats ahead of its completion in 2030. Despite its launch in 2013, most of China's international trade is shipped via the South China Sea. Pakistan is currently unable to repay the Chinese loan due to its steeply soaring trade deficit (US$ 28 billion by June 2017) and national and international debts (US$ 73 billion respectively in 2015). China will benefit more from the project than Pakistan, because China is lending Pakistan for construction but the works will be executed by its own companies and work force. Most of the lending is on commercial terms, including overhead charges on debt-service and loan-reinsurance. Even the lending involves charges of a debt-to-equity ratio of around 80:20, or in some cases 75:25. And in most cases, return on equity is guaranteed at either 17 or 20 percent.
CPEC faces security threats emanating from neighboring and hostile India, secessionism in Xinjiang and Baluchistan, and escalating violence from Pakistani Taliban along the CPEC stretch. Although the U.S. response to CPEC remains unclear, CPEC threatens to dilute the new U.S. Silk Route Project and challenge U.S. allied interests in the South and Central Asian regions.
The economic challenges are not intractable provided China establishes a substantial trade route along CPEC, like in the South China Sea. Pakistan needs to bring its production level at par with the would-be-steeply growing trade demand of the CPEC and enhance its export potential (presently less than 50 percent of its imports) to justify its partnership in the project, and demand a reasonable share in the execution of infrastructural works, given local sentiments, unemployment, available local expertise and raw materials. Transit and taxes from CPEC alone will not suffice to both reinvigorate Pakistan's economy and repay the CPEC-borne foreign debt.
Regarding the security challenges, China and Pakistan need to demonstrate a strong political will to retain peace in the CPEC landscape; establish a systematic mechanism for protecting Chinese personnel and the CPEC's physical assets, not least against terrorist attacks; and take an inclusive approach towards India and other "hostile" regional and external players. To reduce India's aversion to the project, China could unblock India's membership in the Nuclear Supplier Group, consent to the UN move to designate Pakistan-based Azhar Masood as a terrorist and restore trans-Himalayan traditional trade and transit links with India.
IMPLICATIONS: The CPEC could cause social tension in Pakistan in the wake of Chinese investment, immigration, and settlement. While Pakistani society is religious, China's is characteristically atheistic, and while Pakistani culture is typically conservative, China's is strikingly liberal. Currently, Kyrgyz, Kazakh, and Tajik societies along the Xinjiang border confront a similar type of tension following Chinese investment, trade and immigration in Central Asia.
CPEC raises the security stakes in the Arabian Sea since Gwadar is being equipped with superior Chinese security-centric technology and two highly sophisticated Chinese war ships are deployed around Gwadar, whereas the U.S. navy performs regular patrols in its proximity. This risk could mount once Russia joins CPEC to exploit Gwadar for security and trade. Ultimately, Gwadar's increased strategic importance could transform the Arabian Sea into a new theatre of U.S.-China contestation. The Indian Ocean has seen a similar development as a consequence of Chinese investment in Sri Lanka's Colombo and Hambantota port cities.
The hitherto conceived South and Central Asian regional and economic integration projects over Afghanistan and Pakistan like the Turkmenistan-Afghanistan-Pakistan-India gas pipeline and the new U.S. trans-border and intra-regional Silk Route project for trade and transportation, could take a back seat to CPEC. These projects, announced in 1997 and 2011 respectively, remain elusive and will be difficult to realize in the future given the continued Afghan conflict and Pakistan's continually strained relations with Afghanistan and India. CPEC could render Afghanistan irrelevant in this respect, and diminish Pakistan's and Central Asia's mutual dependence on it for physical and trade connectivity. The Kashgar crossing, en route between Xinjiang and Gwadar, skirts war-torn Afghanistan and provides Pakistan and Central Asia an alternate corridor for trade, traffic and energy cooperation. China, Pakistan, Kazakhstan and Kyrgyzstan are currently reviving the 2004 "Quadrilateral Agreement on Traffic in Transit" over the Kashgar crossing.
CPEC can also reinforce the newly emerging regional geopolitical partnership of China, Russia, Pakistan, Turkey and Iran in response to the changed U.S. policy on Pakistan and its alleged anti-China, anti-Russia, anti-Iran and anti-Turkey perception. The possibility of Russia, Turkey and Iran joining CPEC could thus strengthen the five-state regional format for mutual trade and security pursuits.
CPEC could transform Pakistan's image from an alleged "terrorist" state to a financial hub; marginalize its energy deficiency; stimulate national growth and human resource development; trigger industrialization, urbanization, job generation, and money circulation; scale down deep supply-side chokes; improve potential output and transport infrastructure; widen inter-regional and international merchandise trade and accelerate its production, productivity and private foreign investment in Pakistan.
It will allow China to connect directly with the Middle East for speedy industrial exports and energy imports, since Gwadar can upload 20 percent of the cargo from Hormuz for onward transportation to China, Central Asia and Europe at greater speed than by the South China Sea. It will also enable China to assert its influence in new maritime zones, help accomplishing its energy security objective "to deepen political and commercial relationships with all energy producing nations," sustain its continuing high economic growth and seek respite from the "Malacca Dilemma" or the threats associated with the China-U.S. standoff in the South China Waters and China's territorial dispute with the South East Asian neighborhood.
CPEC is, however, highly vulnerable to any future India-Pakistan war as it is located along the most sensitive border between the two countries and traverses what India claims to be its territory in Pakistan Administered Kashmir (Gilgit). An additional vulnerability is attacks perpetrated by the several non-state militant forces active along the CPEC space. Insurgency is marginalized but not expunged from Pakistan and Afghanistan.
CONCLUSIONS: CPEC is a grand Chinese regional integration vision, which promises a multitude of benefits to Pakistan, China and other upcoming partners and enables them to resituate their geopolitical, geo-economic and geo-strategic profiles. The various economic challenges to the project can likely be overcome. However, CPEC must also address a range of crucial security threats, including separatism in Xinjiang and Baluchistan, the Taliban insurgency in Pakistan, open Indian opposition, and potential U.S. reactions. In addition, CPEC is fraught with serious social implications for Pakistani society, notwithstanding the economic gains. These challenges and threats should encourage both China and Pakistan to pursue a coherent, balanced and inclusive approach to complete the project successfully within its designated time period in 2030.
AUTHOR'S BIO: Mushtaq A. Kaw is Head of the Department of History, Maulana Azad National Urdu University, Hyderabad, India. He was formerly Director of the Centre of Central Asian Studies, University of Kashmir, Srinagar, India.
Image source: wikimedia.org, accessed on April 26, 2017