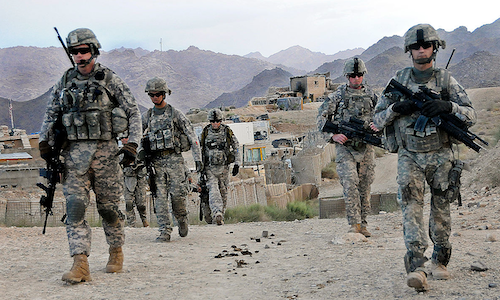 BACKGROUND: Russia's bounty hunting is an intensification of its strategy to cooperate with the Taliban and ensure that it has a place in any future Afghan government, and to perpetuate Russia's dominant military presence in Central Asia, not least by perennially invoking potential terrorist threats from Afghanistan to justify its lasting presence in the region. This tactic is utterly repugnant and it appears the GRU's notorious Unit 29155, linked to destabilizing and covert operations like the 2018 poisoning of former agent Sergei Skripal and his daughter, conducted the bounty hunting. But it fits with Russia's past policy. While it may appear like a major escalation against the U.S., in the regional context, it is a significant tactical intensification of a long-established strategy.
By 2013, Russia was sharing intelligence with the Taliban and not long afterwards transferred weapons to it. This occurred simultaneously with Russian-voiced apprehensions about the course of the war with the Taliban and efforts to strengthen its ties with all the major Asian players active in Afghanistan, namely China, Pakistan, and India. These initiatives have continued since, reflecting Moscow's bet that any postwar Afghan regime will be substantially subjected to influence radiating from those states. Moscow concurrently posed as a disinterested mediator willing to bring about negotiations between the Taliban and the Afghan government. It justified its position by stating that the Taliban was less of a threat to its interests than ISIS, whose presence in Afghanistan was often alluded to but not conclusively established. At the same time, Moscow also made clear its steadfast opposition to any extension of the U.S. and NATO presence in Afghanistan. It also undertook a continuing policy of strengthening its military ties with all of the Central Asian states, including neutral Turkmenistan. While the extent of success has varied with each country in Central Asia, recent Russian military initiatives in Central Asia reflect not only concern about a potential Chinese threat.
This multi-pronged policy aimed to ensure that Russia had a reliable client in Afghanistan's post-war government that would ensure its lasting leverage and influence in a permanently unsteady regime. It also aimed to ensure that its "sphere of influence" would not lead to heightened tensions with or among the other players. Thus, some sort of modus vivendi could be worked out, leaving everyone more or less satisfied and ensuring Russia's enduring place in this constellation. At the same time, the U.S. and NATO would be reduced if not eliminated as factors of concern to Moscow as well as other players. At the same time, because of the precarious security situation in Afghanistan, Moscow could continue to justify its dominant military position in Central Asia to Central Asian governments. Achieving these outcomes at minimal expense, since Russia will not willingly entrap itself again in Afghanistan, would entail a major geopolitical success for Russia and enhance its position in South and Central Asia while not incurring substantial new risks and costs.
IMPLICATIONS: While all of the aforementioned policies moved forward, Russo-American relations have steadily deteriorated and Russia, since the invasion of Crimea in 2014, has essentially returned to a state of Cold War with Washington and Europe. In this war, Russia has continued to develop innovative multi-dimensional or cross-domain forms of coercion for launching endless probes against the West, on a global basis. The GRU has taken a large role in these programs and its special unit 29155, named as the likely source of these bounties, has played a particularly prominent role in organizing all kinds of cyber, information, chemical warfare (Skripal), and other jobs, including assassinations against Western and other supposedly anti-Russian targets.
Given its global remit, high political support from Moscow, the increasing signs of the unpopularity of the Afghan war within the U.S., and President Trump's oft-stated desire to exit Afghanistan, it is not at all surprising that this unit would be tasked with or volunteer for operations including but not limited to this bounty hunting program. From the GRU's and Putin's point of view, it is probably a big step from intelligence sharing, diplomatic support, and gun running for the Taliban. Once again, this is a relatively cheap stratagem to intensify the pressure on both the U.S. and its NATO allies as well as upon the Afghan government to accede to a reconstituted government that includes the Taliban and that thereby guarantees – or so Moscow expects – a lasting platform for Russian influence. Russia's policies also recall classic examples of Tsarist and Soviet foreign policies in seeking to expand Russia's influence among weakening, fractious states like the nineteenth century Ottoman Empire or foreign states that Russia sought to move towards Socialism without raising too many suspicions in the West.
While Moscow probably does not aspire, and in any case cannot afford to dominate Afghanistan, it does intend to preserve a lasting voice on what happens in Kabul and exclude the West from participating in those events.
This program also pertains to Central Asia. Foreign interest in the region is rising; however, China and Russia are clearly the leading foreign actors. It also is clear that there is rising demand from within Central Asia for more regional coordination and with Afghanistan independent of Moscow and Beijing. At the same time, Chinese economic-political influence has greatly expanded through the Belt and Road Initiative with which Russia cannot compete. Moreover, Russia now faces growing competition from Chinese military power projection into Central Asia, with which it will be hard pressed to contend.
By securing an enduring role in a fragmented Afghan polity, it will be able to invoke the persistent threat of renewed terrorism and instability in Afghanistan and emanating from it. In turn, that threat assessment, which Central Asian states profess to share, plus the provision of subsidies, arms sales, and education of local military officers in Russian academies, would also allow Russia to preserve its currently leading foreign military position in Central Asia as the main external provider of security to the Russian military base in Afghanistan. Again, it will be able to do so on the cheap.
CONCLUSIONS: Whether or not this strategy will succeed in the longer term is, of course, an open question. Russia's capabilities relative to China are steadily diminishing and it will have to do more to satisfy the growing demands of Central Asian states for more "agency" in their domestic and foreign policies as well as their defense. Moreover, it is highly doubtful that the Taliban, once in power, will abide by their assurances to Russia that they will not strive to export their version of Islamic revolution abroad. However, these policies also highlight an even more threatening phenomenon, namely the entrenchment of the Putin regime's habitual resort to criminal and brutal policies abroad as well as at home. Moscow will not leave behind its legacy of power in Central Asia or anywhere else without fighting for it as we still see in Ukraine. In the context of its steadily waning capabilities and capacities for sustaining its imperial and great power legacy, this warning is a most sobering one.
AUTHOR'S BIO:
Stephen Blank is a Senior Fellow with Foreign Policy Research Institute, www.fpri.org.
Image Source: Public Domain via Wikipedia accessed on 7/8/20