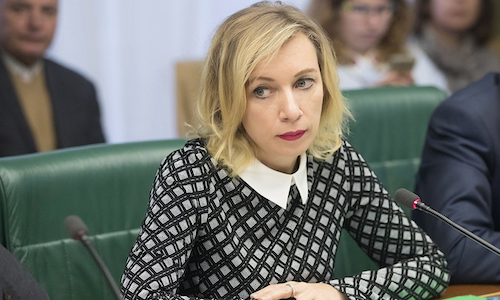 BACKGROUND: In the briefing, Zakharova stated, "We noticed that the draft law caused polemics in mass media. It creates the impression that its proponents are obviously in minority. The majority of commentaries point to the preservation of Russian language in official circulation, and this fully corresponds with the spirit of history, time and quality of bilateral relations. The main thing is that this is in the interests of citizens of Uzbekistan who often make a choice in favor of working and studying in Russia."
She also noted that, at the initiative of the Uzbek side, joint work is currently underway to create a full-fledged Russian language-teaching program in Uzbekistan. In particular, the program envisages supplying education literature on the Russian language, opening additional education centers and supplying specialists, as well as increasing the budget and quota of seats in Russian higher education institutions for Uzbek students.
Some time ago, the Russian side took a similar stance when a number of Central Asian countries, including Uzbekistan, decided to change their alphabet from Cyrillic to Latin. This immediately initiated a loud discussion in Russia on the problem of minority rights for ethnic Russians living in the former Soviet republics. The change of alphabets was equated with discrimination of ethnic Russians. Some even associated the question of alphabets with a delimitation of Russia's sphere of influence in the post-Soviet space, thereby adding a geopolitical dimension to these developments (see CACI Analyst 06/06/17).
Protection of the Russian language and ethnic Russians has been a permanent item on Moscow's foreign policy agenda in the post-Soviet space since the collapse of the USSR. At the forefront of this policy is the Russian Agency on cultural-humanitarian cooperation, Rossottrudnichestvo, created as an official agency to promote Russian interests by means of cultural, humanitarian and linguistic campaigns and projects. The agency's website articulates that Russian has the sixth largest number of speakers in the world after English, Chinese, Hindi, Spanish and Arabic.
Therefore, it is not surprising that Russia resorts to a policy of supporting Russians and Russian language abroad as one tool for demonstrating and maintaining its great power status. This is a normal strategy of any great power. The question, however, is if this policy is pursued as a part Russia's geopolitical and imperial goals or as part of a democratic and normative endeavor.
IMPLICATIONS: Moscow reacted strongly to the proposal of Uzbekistan's Ministry of Justice to conduct the workflow in governmental bodies in Uzbek language. However, many in Uzbekistan have expressed a critical counter-reaction. Zakharova's assertive commentary caused explosive discussions in social networks and official circles. Some officials saw Moscow's message as interference in Uzbekistan's internal affairs. The exchange has several important implications.
First, Zakharova made an arbitrary argument about majority and minority opinions in relation to the issue of practicing Russian in the state workflow. Thereby, she was disrespectful towards the governmental institution – Uzbekistan's Ministry of Justice – that according to her "calculations" does not reflect the opinion of a majority of Uzbek citizens.
Second, the statement came right before the upcoming visit of Uzbekistan's president to Moscow. It can therefore be interpreted as part of an effort to put pressure on him ahead of negotiations to be conducted during the visit.
Third, Zakharova's statement was also a disservice to the Russians and Russian-speaking population of Uzbekistan, numbering about 11 million citizens, since it distorted the real situation regarding the use of Russian language in ordinary social life and public communications. The Ministry of Justice's proposal does not at all concern the status of Russian language outside governmental circles, where it is comfortably used.
Fourth, the assertive statement cannot but further diminish the attractiveness of the Eurasian Economic Union (EAEU), in which Russia has made efforts to secure Uzbekistan's participation since last year. This sudden message from Moscow has affected public opinion on the subject. Some people raise the question of whether Uzbekistan should enter the EAEU after such an affront from the MFA representative.
Fifth, in a broader perspective, the issue is part of a "competition of world languages" currently unfolding in Uzbekistan and in Central Asia as a whole. Aside from Russian, two other world languages – English and Chinese – are becoming increasingly popular. China promotes studying Chinese within its global Belt and Road Initiative (BRI) by setting up Confucius institutes across the region. The U.S. and EU are keen to promote studying English. Thus, competing world languages can be considered a component of great power geopolitics.
Sixth, the incident has become an occasion for many to raise once again the quality of Uzbek language teaching in schools, alleging that Uzbek language is not taught properly. It is possible that the quality of teaching in schools needs to be improved. However, this cannot be a reason for questioning the relevance of an official order that stipulates conducting governmental paperwork in Uzbek. Moreover, criticism towards the quality of teaching does not excuse the reluctance of many Russian-speakers to studying the state language – Uzbek – for 30 years since independence.
Seventh, language policies are perhaps more sensitive in the former Soviet republics than elsewhere in the world. In this regard, Uzbekistan's experience and policy in this sphere is remarkable. Whereas the legislation of some countries in the former Soviet space ascribes an official status to the Russian language, Uzbekistan's legislation establishes a state language status only for the Uzbek language. Yet throughout the three decades of independence, Russian has been used freely and widely in the society. It is important to distinguish between official and ordinary/social language use. On the official level, Uzbek must be the only state language; on the social level, the Russian speaking population is not discriminated on the grounds of the language they use for communication.
Eighth, the experience and practice of many democratic countries of the world is illustrative in terms of how they regulate the state language order. Some have established fines for non-compliance with this order. Thus, this is a normal democratic practice and should not be surprising if established in Uzbekistan, as well.
CONCLUSIONS: Political experts often use terms such as "soft power" and "hard power" to describe political tools at the disposal of great powers in order to promote their interests in and exert influence on other countries. However, there are situations when soft power is utilized for hard goals, blurring the separation line between the two terms. Zakharova's statement discredits Russia's genuine soft power by substituting it with an artificial surrogate. Whereas she mentioned the "spirit of history, time and quality of bilateral relations", her statement rather echoed the spirit of neo-Imperialism.
Protecting the teaching of Russian language and promoting Russian as an official language in post-Soviet republics is part of Moscow's foreign policy. Protecting the teaching of Uzbek language and making it an official/state language is obviously a part of Tashkent's domestic policy. From this perspective, the language policies of the two states are contrasting inside Uzbekistan. Therefore, Zakharova's comment on the Ministry of Justice's proposal can indeed be characterized as interference in Uzbekistan's internal affairs.
Finally, it remains to be seen whether the government of Uzbekistan will move to implement the Ministry of Justice's language proposal. If it decides to do so, this will not only be an act of independence but also reflect the continuing geopolitical turbulence in the Central Asian region for almost 30 years.
AUTHOR'S BIO:
Dr. Farkhod Tolipov holds a PhD in Political Science and is Director of the Research Institution "Knowledge Caravan", Tashkent, Uzbekistan.
Image Source: The Council of the Federation of the Federal Assembly of the Russian Federation via Wikimedia Commons accessed on 6/5/20