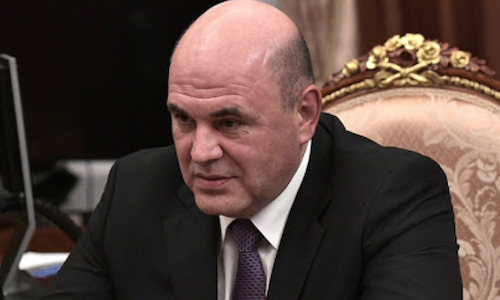 BACKGROUND: Kadyrov's move to hinge against the spread of the covid-19 pandemic into Chechnya was received rather positively within the republic. Yet, according to most observers, the initiative violated his jurisdiction as head of a federal republic. Prime Minister Mishustin did not mention specific names or regions. His initial criticism was very soft and rather indirect as it aimed to ensure free movement of food products, technology, and other necessary items in the nation's fight against covid-19. Yet those knowledgeable of Kadyrov's notorious self-sensitivity and revengefulness wondered how the Chechen strongman would respond. The response came quickly. On the same day Kadyrov stated that, if Mishustin's remark referred to Chechnya, then he was misled: "If we are talking about Chechnya, I want to ask Mikhail Mishustin and others, where did such information come from, why haven't you studied what real measures we are taking?" Kadyrov's increasingly harsh style of communication has become his trademark, thanks to his impunity within and beyond Chechnya's administrative borders. However, this time around, he may have made a mistake.
According to some Moscow sources, both Kadyrov's initial move and his later remarks irritated Mishustin and his close associates. Mishustin did not publicly express his irritation with the Chechen leader who – wrongly – questioned his judgement in front of the whole country, even though Mishustin commented on the issue in a delicate and non-personal way. Yet some Moscow sources claim that Mishustin made some jarring unofficial remarks. Intriguingly, Mishustin is known as a sober and disciplined individual who acts rationally. Yet at the same time, according to a person who knows the new Russian prime minister well, he "has a specific trait: he remembers wrongs for a long time." Kadyrov's arrogant and macho behavior may further aggravate his chances of getting along with Mishustin.
IMPLICATIONS: A recent example of conflict between Kadyrov and the federal authorities dates back to the Stavropol shooting in April 2015, when members of the regional police force of Stavropol, which neighbors Chechnya, crossed the Chechen border and opened fire on a suspect. Following angry remarks by the Chechen head, Chechen officials filed a criminal case against the Stavropol siloviki. The Kremlin kept its distance in the Stavropol case, tacitly instructing the Investigative Committee to reject the Chechen request for a criminal investigation. The Stavropol incident caused a stir in the already uneasy relations between the Chechen leader and the Russian Ministry of Interior (MVD), which openly criticized Kadyrov's claims that his security forces were allowed to open fire on siloviki from other regions operating in Chechnya without his consent. As in the current spat with Mishustin, it was later revealed that Kadyrov overreacted – the Stavropol siloviki in fact informed their Chechen colleagues about their raid and even collaborated with them.
The most recent implication of the disagreement between Kadyrov and Mishustin on the jurisdiction over the control of federal borders was the drop in reported Covid-19 infection rates in Chechnya reported by Novaya Gazeta. Experts point out that Kadyrov's row with Mishustin has had little effect on border control restrictions in Chechnya, as the republic's authorities have retained the regime of strict border checks, prohibiting anyone without a negative Covid-19 test result from entering the republic. Following the altercation between Chechen and federal officials, the official number of Covid-19 infections has been kept steady with under 30 confirmed cases, which experts argue aims to demonstrate that Chechnya's border control measures are effective in curbing the spread of decease. In reality, the disagreement between Kadyrov and Mishustin has seemingly further convinced the Chechen authorities of the need to cover up the actual Covid-19 statistics in order to justify the heavy use of budget-costly security forces to control the population.
As both federal authorities and their Chechen counterparts are currently preoccupied with the rapidly developing pandemic, it seems that neither side is currently willing to exacerbate the debate on the border restrictions issue any further. Kadyrov's most recent comments on social media illustrate the Chechen leader's continued willingness to pursue his "own approach" to dealing with the situation. Notably, Kadyrov has commented that the Chechen republic is preparing to tackle the virus "without any external aid" and that all Chechens are "encouraged to grow their own food."
The Kremlin has maintained a similarly reserved position when maintaining that no actual disagreement exists between Kadyrov and Mishustin. When commenting on the issue, the president's press secretary Dmitry Peskov noted that despite coordination of quarantine measures with the federal authorities, all regions reserve the right to introduce different levels of restrictions corresponding with the situation in their respective regions. Since this statement was rather supportive of Kadyrov's position, it is obvious that the Kremlin is currently seeking to settle the issue without further provoking Kadyrov.
CONCLUSIONS: Many observers considered Kadyrov's response to Mishustin's general statement as undiplomatic. Hence, some have speculated that this incident could mark the beginning of a problematic relationship between the Chechen leader and Russia's new prime minister. Given that both have close relationships with Vladimir Putin, a conflict between Kadyrov and Mishustin, the latter being a considerably more autonomous and competent premier than his predecessor, Dmitry Medvedev, may have repercussions in the years to come.
This is the first time during Mishustin's premiership that Kadyrov has formally violated his subordination, challenging the competences of an important person in the Kremlin hierarchy. The Kadyrov-Mishustin feud could have implications for Chechnya's economic situation at an increasingly uncertain time; something that would affect Kadyrov's personal finances, as well as the extent of his popular support within Chechnya. Given Mishustin's personality, the Russian premier is likely to "put Kadyrov to his place at some point in future," according to an observer close to the Moscow corridors of power. While Putin's protégé will survive politically, his exclusive position among other regional leaders is likely to shatter. Yet it is also possible that the current disagreement was nothing more than an attempt by Kadyrov to test the new PM's resolve and willingness to compromise.
AUTHOR'S BIO:
Emil A. Souleimanov is Associate Professor at the Institute of Political Studies, Faculty of Social Sciences, Charles University.
Huseyn Aliyev is a Lecturer at the Central and Eastern European Studies (CEES), University of Glasgow.