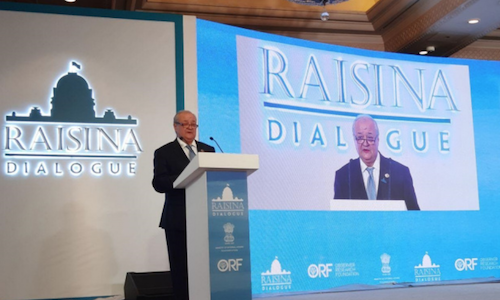 BACKGROUND: During Kamilov's meeting with Jaishankar, discussions commenced on a Preferential Trade Agreement between India and Uzbekistan. Kamilov's visit to India was one in a series of recent high-level engagements between India and Uzbekistan.
As a region, Central Asia has received special attention in Prime Minister Modi's foreign policy. India has designated Central Asia as part of its extended neighborhood. In 2015 Modi visited all the five Central Asian countries – Kazakhstan, Kyrgyzstan, Tajikistan, Turkmenistan and Uzbekistan – in a period of one week. He became the first Indian prime minister to visit all the five Central Asian countries in a single trip.
India's historical and cultural ties with the Central Asian countries are ancient, yet in recent years India has been pushing to diversify its ties with the region. This effort motivates India's engagement in an extended number of areas.
India has made several agreements with Central Asian countries in the past few years, yet three of these stand out as particularly important; deepening diplomatic interaction at the regional level, participation in connectivity initiatives and increasing strategic cooperation. Among the five countries of Central Asia, Uzbekistan has been India's most active partner in all of these areas.
As a part of moving India's engagement with the region forward, the first India-Central Asia Dialogue was held in Samarkand, Uzbekistan on 13 January 2019. The participants included India, the five Central Asian republics and Afghanistan. The purpose of this dialogue was to explore connectivity options between India and Central Asia, and to discuss avenues for stabilizing Afghanistan. The second India-Central Asia Dialogue is proposed to be held in India this year.
India is also involved in three connectivity initiatives that involve Central Asia. These initiatives are the International North South Transport Corridor (INSTC), the Ashgabat Agreement and the development of Chabahar Port in Iran.
A third area of cooperation is deepening strategic engagement between India and Central Asia. In November 2019, India and Uzbekistan held their first ever military exercise in Uzbekistan. In the same month on two different occasions, India and Uzbekistan entered a security cooperation agreement and a counter-terrorism pact.
IMPLICATIONS: For India, connectivity and security are two principal areas of interest with respect to Central Asia, which India considers a resource rich region and a gateway to Eurasia. Thus, Central Asia forms a connecting link for India's strategic outreach to different geographical regions. In this regard, India's interests potentially compete with Russian and particularly Chinese influence in the region, especially on account of China's Belt and Road Initiative (BRI). While Central Asia is an important component in BRI, India has expressed its reservations about the project especially since the China Pakistan Economic Corridor (CPEC), a component of BRI, runs though Pakistani-administered Kashmir. For this reason, India has refused to join BRI and competition from China is a significant challenge for India in Central Asia. In light of this challenge, India needs to come up with its own connectivity projects along with economic and strategic cooperation with the Central Asian countries.
India is developing Chabahar Port in Iran, which is intended to serve as a gateway to Afghanistan, Central Asia and Eurasia. India's relations with Iran have been heavily affected by the U.S.-Iran conflict, which has disrupted both India's oil purchases from Iran and its economic and strategic interests in the region. In May 2019, India complied with the U.S. imposed sanctions on Iran's oil trade over the latter's nuclear program. The recent killing of Qassem Soleimani and its aftermath has again raised the risk that the conflict may affect shipping lanes in the Gulf of Hormuz. India was a key participant in a meeting on the Hormuz Peace Initiative held in Tehran in January. Moreover, Jaishankar promotes the establishment of an air corridor between India and Central Asian countries in order to improve connectivity.
Uzbekistan, a landlocked country, is also a stakeholder in improving connectivity with Iran. In this area, Uzbekistan and India are playing complementary roles. Uzbekistan was instrumental in making India a part of the Ashgabat Agreement on establishing an international transport and transit corridor, first signed in 2011 by Turkmenistan, Oman, Qatar, Iran and Uzbekistan. Qatar withdrew in 2013 while Kazakhstan and Pakistan joined the agreement in 2016. India was admitted in 2018. The corridor is expected to facilitate transportation of goods between Central Asia and the Persian Gulf, whereas India expects it to function as a gateway in addition to Chabahar Port. In return, India involved Uzbekistan in the Chabahar Project, which would grant Uzbekistan access to a deep-water port. Aside from other interests on either side to access Chabahar Port, this transit point would allow smooth supply of uranium from Uzbekistan to India. Uzbekistan is one of the few countries with which India has an agreement for the purchase of uranium for its nuclear reactors.
While the tensions between the U.S. and Iran again disrupted India's outreach in the region, Uzbekistan and India can together play an important role in protecting each other's interests. Uzbekistan's growing economic ties with Iran and its participation in different transit routes across Central Asia and Iran make Uzbekistan a major stakeholder in the stability of the region.
India's connectivity-drive from Iran to Central Asia and even further into Eurasia is directly dependent on regional stability. Security concerns stemming from the conflict in Afghanistan is one of the major challenges for India's involvement in Central Asia. The unpredictable future of Afghan politics and the prospect of the Taliban becoming a stakeholder in the country's government, along with radicalization and terrorism, present important challenges to India's ability to effectively establish a presence in the region.
The fact that the U.S. engages in discussions with the Taliban with Pakistani support leaves little room for India's participation. Prime Minister Narendra Modi emphasizes a multi-polar order as a means for avoiding conflict between different powers and to protect the interests of all parties involved in a particular region. He has been highlighting this point with respect to Southeast Asia and the Indo-Pacific region, and the same reasoning can be extended to Central Asia.
While India has strong relations with the U.S., it needs to apply multilateralism in Central Asia. First, India needs to define its economic and strategic interests in the region. Second, India must explore the extent to which it can act independently of the U.S. regarding Iran, Afghanistan and the Central Asian countries. A proactive foreign policy and participation in the region's security architecture is a way forward for India in order to become a stakeholder. India has already taken steps in this direction; it concluded a security cooperation agreement with Uzbekistan that includes sharing information on terrorism and training of Uzbek security personnel in India, and the two countries have conducted joint military exercises. Both countries perceive growing radicalization and terrorism as common threats and the proximity of India and Uzbekistan to Pakistan and Afghanistan make the former two vulnerable to terrorism emanating from the latter two.
Like in the area of connectivity, India and Uzbekistan have taken joint security initiatives. Both countries need to continue these efforts in order to protect their national interests. India's engagement in Central Asia relies on exploring the possibilities of building cooperation with Uzbekistan and other regional states as an alternative to either the U.S. or China.
CONCLUSIONS: Relations between India and Uzbekistan are centuries old and the two countries have strong cultural ties. However, the emerging geopolitical situation requires India and Uzbekistan to restructure their relations along with their respective roles in the Central Asian region. India-Uzbekistan relations have significant development potential. Both countries are seeking to address this by diversifying their cooperation in different areas. Central Asia is an economically and strategically important region for India. As India seeks to increase its engagement with Central Asia, Uzbekistan has emerged as a key partner.
AUTHOR'S BIO:
Niranjan Marjani is an Independent Journalist and Researcher based in Vadodara, India. His articles mostly focus on strategic dimension of international politics. He tweets at @NiranjanMarjani.
Image Source: Embassy of Uzbekistan in New Delhi accessed 2/25/20