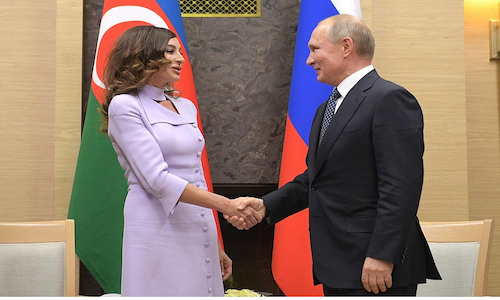 BACKGROUND: On November 20-25, Azerbaijan's First Vice President and First Lady Mehriban Aliyeva visited Russia for a series of high-profile meetings including with Russia's President Vladimir Putin and Prime Minister Dmitry Medvedev. She also met with Valentina Matviyenko, Chairwoman of the Federation Council and senator, with whom Aliyeva attended the reopening of the Azerbaijan pavilion at the Exhibition of Achievements of the National Economy and took part in several other cultural and business events. Little has been revealed about the undercurrents of Aliyeva's visit yet Moscow visibly attached much importance to it, signaling her growing stature in international affairs. Aliyeva's visit was not only packed with high-level meetings; she was also awarded the Russian Order of Friendship. Russia's major news outlets praised Aliyeva for her work to improve relations between Russia and Azerbaijan and preserving Russian culture and language in her country at a time when many post-Soviet countries seek to erase Russian influences in their public spheres.
A week later, on December 2-3, Russia's Foreign Minister Sergey Lavrov arrived in Baku to talk about the resolution of the Nagorno-Karabakh conflict, yet he received a less warm reception in Baku than Aliyeva did in Moscow. Lavrov's earlier remarks about the "people of Nagorno-Karabakh", referring to the ethnic Armenian population inhabiting the region, caused discontent in Azerbaijan and were rebuked by President Ilham Aliyev. In addition, Lavrov has previously suggested including representatives of the Nagorno-Karabakh de facto republic in the peace negotiations – equally controversial since this would serve to legitimize the breakaway region's separatist government, which Baku refuses to do.
On December 20, Aliyev took part in an informal meeting of Commonwealth of Independent States (CIS) member states in St. Petersburg in parallel with a meeting of the Supreme Council of the Eurasian Economic Union (EEU). Aliyev and other heads of CIS member states that do no not belong to EEU, were specifically invited by Putin during a meeting of the Council of Heads of CIS Member Countries in October 2019 in Ashgabat. During the Ashgabat meeting, Putin urged CIS members to a create a common financial market and develop currency cooperation, thus the Kremlin's underlying intention behind the December 20 CIS summit could have been to advance the idea of deeper integration within the CIS area and possibly the accession of some CIS members into EEU.
IMPLICATONS: In the past few years, Russia-Azerbaijan relations have generally improved thanks to intensive political dialogue and growing bilateral trade. Military ties between Baku and Moscow have also grown, not only in terms of arms procurement but also joint military exercises and cooperation between law enforcement, border guards and special services. This has happened despite some serious disagreements, including the closure of an Azerbaijani diaspora organization in Russia in 2017 and incidents where Azerbaijan has denied Russian citizens entry to the country. Aliyeva's visit to Moscow highlighted these positive dynamics, however, even more interesting is the fact that it was the First Lady instead of her husband who made this trip. Aliyeva's visit underlines that since becoming Azerbaijan's First Vice President in 2017, her position in the country is steadily growing. Her appointment is part of broader changes in Azerbaijan's state apparatus over the last few years.
Aliyev has launched unprecedented personnel changes and replaced powerful members of the old guard with young technocrats. Within this context, even the powerful Ramiz Mehdiyev, presidential chief of staff and a longtime associate of Aliyev's late father Heydar, was dismissed in October 2019 and replaced with the Western-educated technocrat Samir Nuriyev. Soon thereafter, in January 2020, the president sacked his longtime senior adviser Ali Hasanov, a vehement critic of government opponents. The official reason behind the far-reaching personnel replacement is that senior officials block reforms, yet the elite overhaul visibly targets members of the once-powerful Nakhchivan clan, a group of officials and businessmen who were closely associated with Heydar Aliyev's power base. While the purge of the old guard is not a sign that Azerbaijan's political system is undergoing liberalization and democratization, it indicates a regrouping between oligarchs and powerful informal networks. It benefits the influential Pashayev family, which Mehriban Aliyeva comes from and whose members were lately appointed to several important posts. These developments have caused speculations, further fueled by the dissolution of the parliament in December 2019 and the scheduling of parliamentary elections for February 9; that the First Lady is being prepared to succeed her husband on the presidential post.
Notably, the positive trend in Russia-Azerbaijan relations gained momentum after the 2018 power shift in Armenia. In order to exert pressure on Armenia, Moscow has a made series of positive gestures towards Azerbaijan, including an attempt to bring the country closer to Moscow-led integration blocks, particularly the Collective Security Treaty Organization (CSTO). Moscow wants Azerbaijan to take part in other integrative economic initiatives within the CIS and perhaps the EEU, reflected by the invitation of Aliyev to the latest informal CIS summit in St. Petersburg. Azerbaijan's strategic geopolitical location and hydrocarbon wealth motivate Moscow to bring the country into the CSTO and EEU. However, while some high-ranking Azerbaijani officials might be in favor of joining these Moscow-led organizations, Baku publicly ruled out this possibility in September last year. Moreover, in October 2019 Azerbaijan assumed the presidency of the Non-Aligned Movement until 2022 – providing a clear answer to speculations about its changing foreign policy objectives. Indeed, Baku's non-alignment policy allows it to both maintain productive relations with the West, which is an important partner in energy cooperation, and to participate in China's regional trade projects bypassing Russia.
Economic and military subordination to Russia would offer limited benefits for Azerbaijan. Russia's economy is weakened by sanctions and volatile oil prices and cannot match the prospects offered by China, particularly in terms of foreign investment, which Baku needs in order to diversify its economy away from hydrocarbon exports. In terms of security, the Azerbaijani elite views Moscow as a crucial actor in the strategically important resolution of the Nagorno-Karabakh conflict and likely hope that Russia's disaffection with developments in Armenia may compel it to support Azerbaijan in resolving the conflict, or at minimum stay neutral in case of renewed fighting. Yet, despite its strained relations with Yerevan, Russia prefers to play a mediatory role when it comes to Nagorno-Karabakh and is more likely to pursue balance between the two conflicted neighbors than to take sides. CSTO membership is therefore unlikely to bring about a breakthrough for Azerbaijan in terms of conflict resolution. Moreover, as a member of both CSTO and EEU, Armenia is highly likely to veto Azerbaijan's accession to both organizations. Azerbaijan also already enjoys close relations with several CSTO and EEU member states, particularly Belarus and Kazakhstan, without even joining in.
CONCLUSIONS: The shake-up in Russia-Armenia relations certainly opens up new possibilities for Baku to upgrade relations with Moscow. However, the recent rapprochement is unlikely to make a substantial difference in the process of resolving the Nagorno-Karabakh conflict in Baku's favor, since Moscow continually avoids taking sides. Serious questions also remain regarding Azerbaijan's participation in Moscow-led economic and military projects. CSTO membership would award Azerbaijan some perks in terms of arms procurement and defense cooperation, as well as an upgraded partnership with Russia, but offers limited economic and security prospects. Nevertheless, this will likely be a recurring topic in Azerbaijan-Russia relations since the Kremlin is obviously eager to speed up integration in the CIS-space and has for years been exerting strong pressure on its post-Soviet partners, such as Belarus, to accommodate these ideas.
AUTHOR'S BIO:
Natalia Konarzewska is a graduate of University of Warsaw and a freelance expert and analyst with a focus on political and economic developments in the post-Soviet space.
Image Source: kremlin.ru accessed 2/3/20