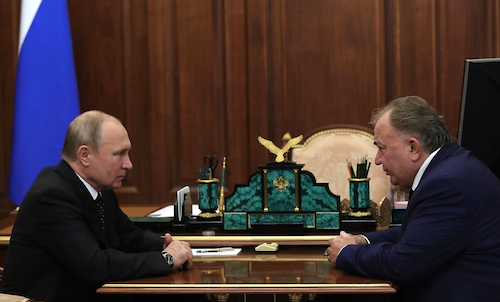 BACKGROUND: Yevkurov served as the head of Ingushetia since 2008 and was re-elected for a third term in 2018. His reappointment was promoted and endorsed by the Kremlin, which preferred Yevkurov over the political opposition or clergy leaders, some with ties to Chechnya's Ramzan Kadyrov. Throughout his tenure, Yevkurov has been credited with significantly weakening Ingushetia's Islamist insurgency, by making compromises with more moderate Salafis and using security forces to hunt down more radical elements of the insurgency. Nevertheless, both the Sufi clergy in Ingushetia and Chechnya's Kadyrov criticized Yevkurov for his willingness to accommodate Salafis.
Notwithstanding Yevkurov's long-lasting conflict with the Ingush Sufi religious leadership, which resulted in his excommunication in 2018, he managed to retain support both at home and in Moscow. The situation changed after Yevkurov signed a border land exchange deal with the Chechen republic without consulting either the public or political elites. The border demarcation resulted in the transfer of over 26,800 hectares to Chechnya with only 1,000 hectares allocated to Ingushetia. Popular protests against the deal lasted from September to December 2018 and constituted the largest anti-government demonstration in the North Caucasus in years.
Yevkurov's failure to achieve compromise with the protest leaders –including most Ingush clan leaders and even members of parliament along with his bitter opponents from amongst the clergy – seriously undermined his ability to govern the republic. Given the power of traditional clans in the republic, the loss of their support signaled Yevkurov's complete isolation from the Ingush elites and public. Since Yevkurov's inability to control the situation in the republic created a potential for popular discontent against Moscow, Yevkurov was promptly relieved of his duties. Yevkurov's resignation was celebrated with festivities in Ingushetia's capital Magas, as people celebrated Yevkurov's departure in the streets.
IMPLICATIONS: Kalimatov's appointment is clearly strategic from the Kremlin's point of view. Kalimatov is little known in the region and is likely expected to balance the interests of other powerful actors in the North Caucasus, particularly Kadyrov. Moscow clearly expects him to take a cautious stance toward the Chechen leader, which would differ from Yevkurov's cordial relations with Kadyrov, particularly in the aftermath of the land swap conflict when Yevkurov took Kadyrov's side in supporting the transfer of Ingush lands to Chechnya.
During his service as Ingushetia's prosecutor general, Kalimatov acquired a reputation as an honest and professional official. He reportedly refused to engage in corrupt practices and prevented his employees from taking bribes. He was also credited with trying to investigate corrupt deals conducted by members of Murat Zyazikov's (the head of republic at the time) administration despite being related by blood to Zyazikov. Instead, Kalimatov's efforts to investigate corruption within Zyazikov's team led to a conflict between Kalimatov and the head of the republic. As a result, Kalimatov was forced to retire and leave Ingushetia for the Samara region, where he previously lived most of his life, received his education and developed his career in law.
Kalimatov was seen as an outsider by Ingush political elites and continuously sided with the clans (teips) rather than state officials. Kalimatov's neutrality in recent conflicts between the clans and the government, as well as his absence from the republic since 2007, made him an excellent choice for an interim head of republic as he is both an ethnic Ingush and a person distant from the current problems.
In the absence of other suitable candidates, most importantly ones that are neutral in the ongoing conflicts in the republic, to assume the republic's leadership, Kalimatov was the Kremlin's best and seemingly only choice. The choice was also determined by the positive reputation of Kalimatov's family, which holds a significant importance in Ingushetia.
However, it is not yet clear whether Moscow is willing to keep Kalimatov as the head of republic after the September elections to the Ingush parliament. Kalimatov's performance during his first two months of service as the interim head will obviously be decisive with regard to his further career in Ingushetia. Sources close to the Ingush political establishment report that Kalimatov has almost certainly been chosen to function not only as an interim leader, but also as a permanent head of the republic after September, since the Kremlin simply does not have a more suitable candidate for the job. While Moscow was keen to appoint a leader from outside the republic to solve its numerous problems, in an approach similar to that used in Dagestan, Ingushetia's mono-ethnic character and the role of traditional clans would make it impossible for a non-ethnic Ingush to gain the trust of the clans, the clergy and the public. Unlike Yevkurov, who frequently interfered in religious and clan affairs, Kalimatov is expected not to take sides in religious matters or in clan disputes and to limit his role to representing the Kremlin's interests in the republic.
Following his appointment, Kalimatov announced in his speech to the Ingush parliament that he does not plan any serious staff reshuffles. However, a few days later several of Yevkurov's advisers were dismissed. Most of the dismissed officials had family connections to Yevkurov, including the influential businessmen Ulan and Mukhazhir Yevloyev. Alongside other business elites, the Yevloyevs were crucial in supporting Yevkurov's regime and their departure from government was necessary for the new leadership's consolidation of its authority.
CONCLUSIONS: The fact that Yevkurov was appointed Deputy Minister of Defense of Russia already the day after his retirement further confirms that the Kremlin's scenario for restoring law and order in Ingushetia was pre-planned. However, Yevkurov's new appointment to serve as one of 12 deputies, responsible for military training, to the Defense Minister is clearly a demotion. The post did not previously exist and its creation will require changing the existing legislature. According to the 2004 presidential decree, the minister of Defense is entitled to a maximum of 11 deputies. Since military training was previously a joint responsibility of several other deputies, it seems that the creation of a post specifically for this task had the sole purpose of employing Yevkurov. The Ministry of Defense officially announced Yevkurov's appointment on July 4.
On a practical level, Yevkurov's expertise in successfully tackling Ingushetia's Islamist insurgency could be of value for Defense Minister Sergey Shoigu in Russia's campaign in Syria. Yevkurov's sectarian identity as a Sunni Muslim could also be of value for Russia in its military involvement in Syria. The new head of Ingushetia, who is due to be appointed in September, will inherit Yevkurov's problems of the lost Ingush lands. The Ingush scenario demonstrated to the Kremlin that allowing Chechnya to conduct land grabs from its neighbors may cause serious problems in the region and Moscow will most likely seek to curb the current efforts of the Chechen leadership to enforce an unequal land transfer from Dagestan.
AUTHOR'S BIOS:
Huseyn Aliyev is a LKAS Research Fellow at the School of Social and Political Sciences, University of Glasgow. He specializes in armed conflicts, non-state armed groups, and informal practices.