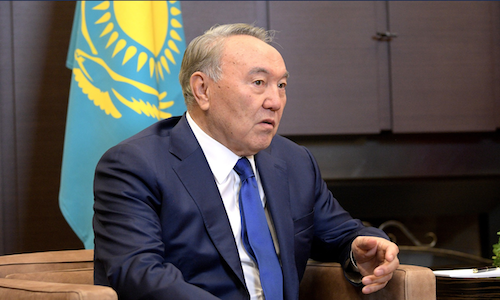 BACKGROUND: On many occasions, Nazarbayev has announced that his goal is to build a sustainable political system in Kazakhstan based on what he terms "Central Eurasian democratic values." The president and his close advisers have repeatedly expressed their admiration for political systems in South-East Asia, often dubbed "guided democracy." This political system has helped achieve high economic growth and propelled countries like Malaysia and Singapore to the status of "East Asian economic tigers." What particularly attracted Kazakhstan's political establishment was that in both cases, leaders and their parties reigned for many decades and implemented their long-term vision for economic and political development. Despite international criticism and missteps, these nations became prosperous, stable and competitive modern economies.
To an extent, Kazakhstan's elite has attempted to replicate the concept of "guided democracy" by emphasizing three pillars of the "Kazakh model": just social policy, accelerated economic growth and inter-ethnic harmony. Kazakh officials believed in a type of social contract where the government is tasked with delivering high economic growth and redistribution of wealth, while the population in return provides an unlimited mandate to govern the nation. Under this approach, the country regularly held presidential and parliamentary elections which were viewed not as true political choices but as events confirming the domestic and international legitimacy of Kazakhstan's ruling elite. They were often promoted to the local population as "festivals" commemorating the "unity of the common people."
The ruling Nur Otan Party was among the first to confirm its candidate for the forthcoming elections: Kasym-Jomart Tokayev, a long-time associate of Nazarbayev, former Minister of Foreign Affairs and since Nazarbayev's resignation, President of the Republic of Kazakhstan.
IMPLICATIONS: Over the past three decades, Kazakhstan became one of the most important players in the Commonwealth of Independent States (CIS) and in the Customs Union, and one of the most successful economies in the Central Asian region. Government officials frequently highlight that Kazakhstan's stable political system and flexible economic policies have propelled the country to the region's powerhouse. Economic growth reached between seven and ten per cent in the decade 2003-2013 and average incomes nearly tripled during the past decade. According to government estimates of 2018, the country attracted more than US$ 250 billion in foreign direct investment in cash and technology transfers during the past decade, manifested in hosting Astana World Expo in 2017, which attracted a record number of business visitors and international tourists to the country. In several areas, such as natural resources and agricultural exports, Kazakhstan – a country of under 20 million people – has become a significant global player.
Kazakhstan's economic achievements are undeniable, yet critics point out that success has come at a heavy and unsustainable cost. First, Kazakhstan's political institutions remain quite weak as civil society has often been sidelined and political parties have been systematically weakened. Local experts frequently dismiss political opposition groups for engaging in "unconstructive behavior and criticism," and downplay their activities as small and unimportant. While the Central Election Commission registered six presidential candidates in addition to Tokayev, none has a strong political party or electoral machine behind them.
Second, in pursuing strong economic growth and achievement, the government has frequently cut corners, allowing mismanagement of public budget resources, and corruption has penetrated deep into the political system. For example, for several years Kazakhstan was unable to start construction of the Expo2017 properties as successive construction management teams siphoned hundreds of millions in government budget funds into foreign accounts. In fact, corruption and inequality has negatively affected ordinary people to the extent that the government's inability to curb corruption has become one of the most discussed topics across society, from the streets of the largest cities to social media outlets and even in the mainstream traditional media.
Third, during the past decade, the country has witnessed a growing mismatch between the government's official reports and realities on the ground. A case in point is reporting on the unemployment rate, which officially stands at around 4.8–5.4 percent, according to 2018 estimates. However, many experts believe that the real problem is underemployment, which reaches at least 14–16 percent among the general population and is as high as 18–20 percent among young people. In many sectors of the national economy, salaries remain very low and people work for long hours to make ends meet. Discontent with rising prices, social inequality and inadequate social programs brought hundreds of people to the streets and larger numbers to express their frustration in social media networks in March 2019.
Fourth, Kazakhstan's entire political system is built around the personality of the First President. Indeed, Nazarbayev managed to navigate his country through the most difficult years of the post-Soviet transition, achieving peace, stability and strong economic growth. Within one generation, the country moved from the status of an underdeveloped nation to a middle-income country standing among the world's top 50 most developed nations. However, there has been growing concern over the sustainability of this political system after Nazarbayev's departure from the political arena, and many observers remember the series of messy political successions in neighboring Kyrgyzstan and in Ukraine. Many local experts hope that having Tokayev, a technocrat, as a successor will help establish a "new political model" with a less personality-focused leadership, based on building strong political institutions and more effective governance.
CONCLUSIONS: It is easy to surmise that the Kazakh presidential elections have already been orchestrated and will have predictable results. However, the example of Ukraine's presidential elections in spring 2019 indicates that elections present a unique opportunity to encourage civil society activists, and especially youth, to take part in the election process to voice their concerns and grievances and thus to build a productive national dialogue with all stakeholders. In this light, Kazakhstan's government should allow truly open and competitive presidential elections, which might become an opportunity for many political parties (other than Nur Otan) and civil society to regain trust in the election process, with the long-term vision of introducing a truly multi-party system. In a rare consensus, all presidential candidates promised to work on improving governance in the country in order to reduce corruption and delivering better social programs to the general population. For the international community, this is an important opportunity to engage in the process of peaceful and sustainable transition of political powers, which might become an example for many other CIS countries to follow and which undoubtedly would be carefully studied by all neighbors in the region.
AUTHOR'S BIOS:
Rafis Abazov, PhD, is a visiting professor at Al Farabi Kazakh National University and a director of the Ban Ki-moon Institute for Sustainable Development. He is author of The Formation of Post-Soviet International Politics in Kazakhstan, Kyrgyzstan and Uzbekistan (1999), The Culture and Customs of the Central Asian Republics (2007), and The Stories of the Great Steppe (2013). He has been an executive manager for the Global Hub of the United Nations Academic Impact (UNAI) on Sustainability in Kazakhstan since 2014 and participated at the International Model UN New Silk Way conference in Afghanistan.
Image Source: kremlin.ru accessed on 5.23.2019