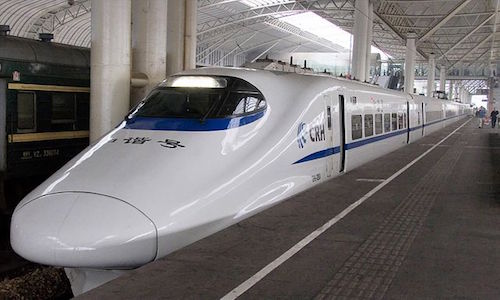 BACKGROUND: Perhaps the most notable Eurasian development since the 1991 implosion of the USSR has been the gradual revival of the fabled Silk Road. Chinese goods now reach Europe via a growing interconnected skein of railway networks, a development that not coincidently benefits countries along the way.
The initial cargoes that China sent westwards were high-value, low volume items such as electronics and high-priced footwear destined for European markets. Freight trains transit between China and Europe in 16 to 20 days, less than maritime transport where the average travelling time on the Europe-China route is around 45 days, an important consideration with market sensitive goods such as consumer electronics.
The European Union is now China's biggest trading partner and bilateral trade between the two parties is now worth EUR 1 billion per day. In January-November 2017, EU exports to China reached EUR 108.7 billion, an increase of 18.4 percent compared to the same period the previous year. Imports from China rose to EUR 342.6 billion, an 8.5 percent increase.
Substantial technical issues remain and still present integration problems between trans-continental rail transport networks. Europe and China mostly utilize standard-gauge railway (1,435 mm), but the countries in the former Soviet Union have broad-gauge railways (1,520 mm). This variance causes transport delays because the cargo must be transferred between the appropriate gauge railway cars, a practice encouraging the use of standardized containers.
China's global free-trade policies and its willingness to underwrite the construction of Eurasia's infrastructure to support it are all the more notable in an era where the new U.S. presidential administration of Donald Trump is seemingly inexorably moving towards protectionist, isolationist policies. On January 23, 2017, three days after he was sworn into office, President Trump fulfilled the promise he made to voters during his campaign of withdrawing the U.S. from the 12-nation Trans-Pacific Partnership (TPP), a trade agreement between Australia, Brunei, Canada, Chile, Japan, Malaysia, Mexico, New Zealand, Peru, Singapore and Vietnam signed on 4 February 2016. TPP would have slashed tariffs for U.S. imports and exports with the member countries.
IMPLICATIONS: Not surprisingly, the main beneficiary of the U.S. withdrawal from the TPP is seemingly China, which is implementing its "Belt and Road Initiative" (BRI) policy across Eurasia. China is pouring billions into upgrading transport infrastructure, including railways via its newly established financial institutions, including the Asia Infrastructure Investment Bank (AIIB), another initiative in which the U.S. declined to participate, as well as the Silk Road Development Fund. Chinese President Xi Jinping underlined his economic differences with the incoming U.S. administration by remarking in a speech at the World Economic Forum in Davos three days before Trump assumed the presidency, "We must remain committed to promoting free trade and investment through opening up and say no to protectionism."
Emblematic of the growing divergence between U.S. and Chinese government policies towards free trade, the Trump administration recently announced unilateral U.S. tariffs of 25 percent on steel imports and 10 percent on aluminum imports into the U.S. Further raising protectionist barriers, on March 22 the White House announced specific punitive measures against China, including tariffs on at least US$ 30 billion in imports, in addition to the steel and aluminum tariffs.
Among the nations along the emerging Eurasian rail network, none is more important than Russia, which is determined not only to remain a major player in East-West trade, but if possible also to increase its percentage of the carrying trade. On March 5, Russia's President Vladimir Putin attended the Congress of Transport Workers of Russia, where he told participants, "Let me stress again that we must develop the logistics of railway transportation … there is no doubt that the development of the transport system and infrastructure is one of our main tasks for the next six, ten, fifteen years. Without a doubt, this is an area where our country must work hard in the near term, because our economy's competitiveness depends on it."
The key nation facilitating Eurasian rail trade is Kazakhstan, which has undertaken a US$ 2.7 billion railway upgrade program, including upgrading track as well as locomotives and freight wagons. President Nursultan Nazarbayev has long made it a national priority to be involved with restoring the Silk Road, given its strategic position between China and Russia. Emblematic of this government commitment is the Khorgos Gateway project. Situated on the border between Kazakhstan and China, the future logistics and industrial hub is promoted as the new Dubai, covering an impressive 21 square miles. This includes the Khorgos Gateway Inland Container Dock, a gauge-changing station for the trans-Eurasian trains shuttling between China and Europe, which can now transfer containerized cargo between six trains simultaneously and process 580,000 Twenty-Foot Equivalent Units (intermodal shipping container – TEUs) annually.
As for the future, China's increasing use of its Eurasian rail network has led to a steep decline in transport prices, allowing China to export a greater range of goods. In a startling example of this, a train carrying local tomato sauce products left Urumqi in China's Xinjiang Uygur autonomous region on February 28, embarking on a 6,500-mile journey to Naples, Italy. The products were expected to arrive at the destination in 25 days via train and ferries, cutting the travel time by half from that via ocean shipping. The train passed through Kazakhstan, Azerbaijan and Georgia and over the Caspian, Black and Mediterranean seas via ferries before concluding its journey in Italy. Over 25 days, the train covered roughly 260 miles per day. What is most notable about this particular train is the fact that despite the massive distances involved, China can now compete with indigenous European agricultural products, a far cry from the high price, low volume items sent less than a decade ago.
CONCLUSIONS: Since China funds much of the development and upgrading of Eurasia's transport infrastructure network via its ambitious OBOR project, continental trade via railway can only increase in both the short and long-term, to the benefit of both Europe and China. Seventeen Chinese provinces now ship their goods to Europe and Kazakhstan Railways (KTZ) has ambitious plans to raise its cargo volumes to 2 million TEUs per year by 2020.
U.S. transport companies and financial institutions are conspicuously absent in these Eurasian global trade initiatives, a trend which seems likely to continue under the current administration. It is notable that the Urumqi-Naples train is the 1,000th China-Europe cargo train since regular East-West railway operations began only six years ago. In such an environment, the protectionist policies of the current U.S. administration seem increasingly out of step with the developing global free-trade economy earlier championed by Washington.
AUTHOR'S BIO: Dr. John C. K. Daly is a Nonresident Senior Fellow of the Central Asia-Caucasus Institute; current work includes monographs on the development of Eurasia's railways and the dissolution of the Soviet Navy.
Image source: By: via Wikimedia Commons, accessed on 5.8. 2018