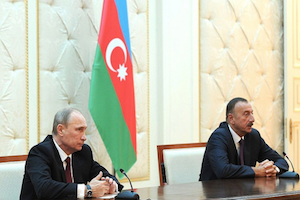 BACKGROUND: Russia seeks to build a positive image among the citizens of post-Soviet republics with soft power tools. But on the other hand, it pressures the governments of these republics with hard power methods. Russian approaches including information operations and economic pressures are sometimes mistakenly termed soft power methods.
Since the dissolution of the Soviet Union, Russia increasingly used its soft power, in the form of linguistic, educational and cultural ties and Russian language media to retain its influence in Azerbaijan. Three main factors support the relevance of the Russian language in Azerbaijan: economic ties with Russia and other Russian-speaking post-soviet countries; Russia's cultural influence; and a recent revitalization of the soviet tradition that studying in Russian is more prestigious than studying in Azerbaijani.
The latter was true during the soviet period, given a higher quality of Russian textbooks and better career opportunities for students who studied in Russian. Yet today, the Ministry of Education regulates the quality and design of teaching materials in both languages according to the same standards. On the other hand, the termination of scholarship programs previously funded by the government as well as several international organizations has increased the young generation's interest in studying in Russia in recent years. Thus, studying in Russian, as well as in Russia, remains attractive prospects. In 2017, Russia's foreign aid agency Rossotrudnichestvo supported 208 Azerbaijani students in Russian universities. In addition, a number of Azerbaijani students in Russia fund their education privately.
Several Western media organizations have closed their offices in Azerbaijan and government regulations strictly control the activities of Russian media branches. Nevertheless, false information about Azerbaijan sometimes appears in Russian media outlets. During the four-day war with Armenia in April 2016, several Russian media outlets provided biased information from the conflict zone. Reporting included fake news such as "ISIS militants fought on the side of Azerbaijan" or "the United States pushed Azerbaijan to start military operation in Nagorno-Karabakh." Branches of Russia's state-controlled media organizations such as Sputnik and Interfax also operate in Azerbaijan.
One group that is particularly receptive to Russian influence is Azerbaijani migrants in Russia and their relatives in Azerbaijan, Russia is the main source of financial income for a large number of Azerbaijanis, up to 2.5 million. According to Russia's Central Bank, remittances from Russia to Azerbaijan in 2017 amounted to over US$ 1 billion. The Kremlin blocked an attempt by Baku to coordinate the Azerbaijani diaspora organizationally in 2017.
Although not encouraged by the Azerbaijani government, several Russian cultural centers and foundations have emerged in the country in recent years, including the Caspian School for young experts, linked to the Gorchakov Fund, the Slavic-Turkic Union and a branch of Russia's Lev Gumilev Center.
IMPLICATIONS: Despite the popularity of the Russian language, a majority of Azerbaijani Russian speakers do not support the Kremlin's policy. Notably, Russian-speaking Azerbaijanis played important roles in the independence movements in the beginning and end of the 20th century. In both periods, they formed the intellectual core of these movements and many supported the country's Western orientation. After 1991, this group has been the main pool of professional recruitment for international companies and international NGOs in Azerbaijan. It is also important to note that several local Russian-language media established in the 1990s, including Turan News Agency, Zerkalo and Ekho, are as popular as Western media.
The main role of Russian NGOs in Azerbaijan is to promote Eurasianism and Moscow-led integration projects. Alexander Dugin has actively promoted building bridges between Shia Muslims and Orthodox Christians in recent years. This idea, together with the promotion of close ties between Slavic and Turkic peoples could resonate better among Azerbaijanis than Eurasianism. Although the Kremlin's ability to meddle in Azerbaijan's NGO sector is limited due to tight government regulations, Moscow seeks to do this by indirect methods. Russian organizations have conducted several events in Russia and other countries, attended by Azerbaijani representatives. Moreover, Russian think tanks have conducted several surveys on public attitudes and political culture. For example, the Eurasian Dialog foundation conducted a comparative study on Azerbaijan, Moldova and Kyrgyzstan in 2015-2016, supported by a Russian presidential grant. The aim of the project was to "study the attitudes of elites and populations towards Russia and possible formats of reintegration links in the context of their state's sociocultural basis." Moscow could use the results of such surveys in its future political strategies towards these republics.
In 2006-2008, Azerbaijani authorities gradually limited analog broadcasting of Russian TV in the country, and it is today only available on cable TV channels. Biased reporting in Russian media has affected their perceived reliability in Azerbaijan. Even Azerbaijan's main team in Club of the Funny and Inventive People (KVN), a Russian humor TV show featuring an international competition, has been accused of being a propaganda platform of the Kremlin. In addition, Parni iz Baku has criticized political talk shows on Russian TV for biased discussions of the Nagorno-Karabakh conflict contrary to Azerbaijan's interests. Sputnik-Azerbaijan, one of Russia's main propaganda platforms, attracts local journalists with comparatively high wages and regularly conducts round tables with the participation of Russian experts and local journalists. The subjects of such events are usually relations between the two countries, where Russian experts voice pro-Russian messages and advertise the advantages of Moscow-led Eurasian integration projects.
Although the majority of Russian-language media outlets in Azerbaijan are local institutions, Russia maintains its influence in Azerbaijan's information space. This is mainly due to the popularity of the Russian language, as well as the language capacities of Azerbaijani journalists who use Russian media as one of their main information sources. Nevertheless, Turkish media strongly compete with Russian in this realm.
Although Azerbaijani labor migrants have positive attitudes towards Russia mainly for economic reasons, they also bring Russian language and cultural influences back home. Yet Russia's main tool for influence associated with this group – its ability to exert economic pressure on Azerbaijan – is not primarily a means of soft power. For instance, Moscow could increase control and complicate immigration procedures or expel Azerbaijanis from Russia, which would imply an enormous economic and social burden for Azerbaijan. This would amount to a hard power method (i.e. pressure) rather than a soft power mean (i.e. attractiveness). In either case, the large Azerbaijani diaspora in Russia provide the Kremlin with a tool for interfering in Azerbaijan's internal political process if needed.
CONCLUSIONS: Russia's soft power influences are limited in Azerbaijan, and hard power methods are more effective for the Kremlin. Russia continues to design security dilemmas for Azerbaijan and Armenia in order to retain its control over the two rivals, selling arms to both sides and brokering the Nagorno-Karabakh conflict based on Moscow's own interests. Moscow can also raise the economic pressure by expelling Azerbaijani migrants or for introducing sanctions against agricultural products. Soft power approaches are largely complementary means. In order to constrain Russia's soft power influences, Azerbaijan needs to undertake in-depth reforms in education and media. In education, Azerbaijan should reintroduce scholarship programs allowing the young generation to study at the world's best universities. Regarding media, Azerbaijani TV should invest in higher quality journalism and attract the local audience by initiating open public discussion on the country's present problems, reflecting several political perspectives.
In all likelihood, Russia's main tools for influence in Azerbaijan will remain primarily in the frame of hard power in the coming years. Especially after president Putin's recent address to the Council of the Federation, in which he termed the post-Soviet republics "a lost part of Russia," it is obvious that the Kremlin will continually seek to strengthen in its "sphere of influence" in the twelve former Soviet republics that are not members of the EU or NATO. Russia's ability to do so in Azerbaijan relates to the country's economic situation and Baku's foreign policy preferences, but will ultimately depend on the balance of power between the West and Russia in the region in coming years.
AUTHOR'S BIO: Nurlan Aliyev is a PhD Candidate and Researcher at the Institute of International Relations of the University of Warsaw. From 2000 to 2017, he worked as an expert at various government, non-government and international institutions. His research focuses on political and security processes in Russia, post-soviet countries and asymmetric warfare threats.
Image source: By: kremlin.ru, accessed on 5.21. 2018