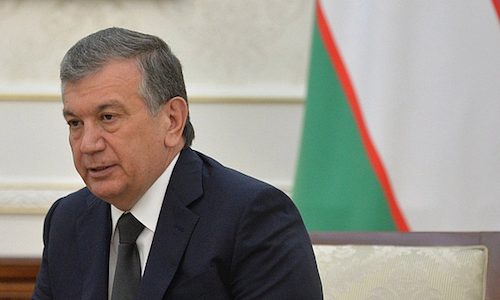 BACKGROUND: Islam Karimov's regime in Uzbekistan had two main features: it was highly autocratic per se; and it was a continuation of the Soviet political system. Paradoxically, whereas Karimov constantly reiterated the irreversibility of independence, portraying the Soviet past as a murky totalitarian period and asserting that there should be no nostalgia for the Soviet Union, he at the same time did little to eradicate the customary Soviet style and tradition of governing the country.
The nation that Karimov has been ruling for a quarter of a century also has remained predominantly Soviet with its deeply rooted paternalist mentality and wallowing in an ideological shallow. The cult of personality around the head of the nation, backed by the omnipotent state machine, nurtured and assured the obedience and loyalty of Uzbekistan's citizens.
This is the backdrop against which Uzbekistan's political system is currently being transformed. Mirziyoev's rise to power takes place in the context of the completion of the so-called transition period, which has lasted for a quarter of a century and shaped the essence and dynamics of Karimov's reign. References to a transition period will no longer excuse a slow pace of reforms and the country's self-isolation from regional affairs.
Meanwhile, for the last three months, national media and official propaganda have tirelessly portrayed Mirziyoev as the most trusted official of the First President and his best successor, capable of securing continuity of the previous political course. Therefore, many indeed ask whether changes to that course are possible with Mirziyoev in power.
However, in Uzbekistan, just like any other state, domestic and especially foreign policy has not been constructed only by the will of one person, albeit the leader of the state. Whereas Karimov's position and decisions dominated, the sophisticated work to formulate and implement policies has been the result of a complicated process involving key agencies, ministries and personalities of the country.
From this perspective, the notion of "continuity" can be ambiguous and irrelevant if it is over-articulated without elaboration on where the previous course can and should be continued and where changes are imminent and needed. Uzbekistan has passed through a "normal" peaceful power transition. The state has a new president but the nation is the same.
IMPLICATIONS: The course set by President Karimov was a derivative of numerous objective and subjective factors, including activities of advisors, foreign and domestic policy agencies, and law enforcement organs; a confluence of international circumstances, the situation in the region and geopolitical factors related to the pressure or influences of great powers; resource capabilities; peculiarities of the national bourgeoisie and interest groups, etc. From this perspective, one can talk about the "team work" on formulating and implementing state policy and about the sophisticated character and quality of governance. Therefore, any possible significant changes in domestic and foreign policy will not correlate merely with the replacement of one head of state by another.
Mirziyoev now has the profoundly challenging task of finding the dialectically right way between continuity of his predecessor's course and a discontinuity of that course. Observers and experts in Uzbekistan and Central Asian countries currently discuss with great interest the would-be changes in Tashkent's behavior just like the global world is anticipating Washington's after the election of Donald Trump. Indeed, from the very onset of his advent to supreme power in September 2016 as Interim President, Mirziyoev has strongly emphasized that intensified relations with neighboring countries in Central Asia will be a major foreign policy priority. And on a practical level, the first tokens of such a breakthrough in Uzbekistan's regional stance have already been manifested in some motions towards rapprochement with Tajikistan and Kyrgyzstan; and this can to some extent be considered a break with Karimov's line. At the same time, the new leader's confirmation of Uzbekistan's doctrinal foreign policy positions regarding relations with great powers and non-alignment reveals continuity of that line.
Domestically, both continuity and discontinuity can be observed as well. On the ceremony celebrating the Constitution Day, December 7, the president-elect in line with tradition suggested a new name for the next year and ambitiously announced 2017 "The Year of Dialogue with People and Human Interests." One of the main slogans Mirziyoev proclaims and reiterates says that "People should not serve state organs but state organs should serve the people." He urged state officials not to sit in their offices in isolation from the citizens but to communicate with people and listen to their demands. In a solemn speech, the president promised that the people would very soon see great positive innovations in terms of re-shaping public policy, reforming the governance system, including local election of provincial hokims (governors) instead of presidential appointment, and protection of human rights. If realized, such measures will, indeed, have far-reaching implications for a real democratic breakthrough in the country.
Meanwhile, in domestic policy and public life the continuity of the previous course can prove even more resilient than in foreign policy, at least due to one simple, and rather psychological, factor – the traditional archaic paternalist mentality of the population saturated with the legacy of a Soviet-made ideologized world outlook. In other words, Uzbekistan's president is new but the nation is the same.
This situation is reminiscent to some extent of the moment when Michael Gorbachev came to power in the former Soviet Union. Gorbachev's problem of continuity and discontinuity was also real, challenging and hard. He initiated and realized the extensive and cardinal reforms known as "Perestroika and New Thinking." Mirziyoev, like Gorbachev, faces a similar challenge of reforming a state system with relatively conservative people, who just woke up from a long political slumber. Whether he will dare to undertake Perestroika in Uzbekistan or limit himself to only redecorating the existing system will depend, as pointed out above, on a number of domestic and international factors including geopolitics on the one hand and a political awakening of the nation on the other.
CONCLUSIONS: It is obvious that Mirziyoev's system cannot just be an extension of Karimov's regime. It needs to be different. This is why "continuity" is a tricky, albeit attractive and popular, term; it can be a misleading way to understand the new needs and tasks the nation is facing and for shaping the post-Karimov policy. From this viewpoint, two legacies – the Soviet and Karimov's – need to be adequately evaluated and dealt with by Uzbekistan as a nation and its new leadership.
Whatever the real character and dynamics of Tashkent's new course, it will undoubtedly have an explicit and implicit regional dimension. Whereas at the dawn of independence President Karimov proclaimed that "Turkistan is our common home," for different reasons he could not embody this concept in Uzbekistan's regional policy. The new priority given to the Central Asian region in the foreign policy of the president-elect requires him to rise up to the same vision of the region's value and to the same strategy towards regional integration.
Geopolitics is another determinant of Tashkent's domestic as well as and foreign policy. Karimov managed to cope with it by balancing between great powers and partly isolating the country from regional and international affairs. The new leadership will have to deal with geopolitical challenges by engaging with them and pursuing a pro-active policy.
Ultimately, the greatest success of Uzbekistan's new leadership will lay along the way of liberalizing the political system as well as national consciousness.
AUTHOR'S BIO: Dr. Farkhod Tolipov holds a PhD in Political Science and is Director of the Research Institution "Knowledge Caravan" in Tashkent, Uzbekistan.
Image source: www.bultannews.com, accessed on October 18, 2016