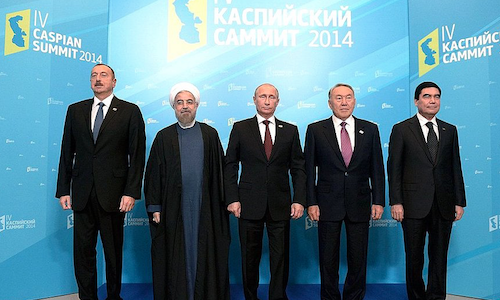 BACKGROUND: Turkmenistan has one of the world's larger gas deposits. In early post-Soviet history, Turkmenistan could relatively easy find a market for its gas in Ukraine, a large and industrialized former USSR republic, through old Soviet pipelines. Early on, Moscow did not object to this arrangement, believing that it would help maintaining Moscow's residual control over the post-Soviet space. Moscow later agreed to buy most of Turkmenistan's gas, although not in the belief that the deal would be directly beneficial in economic terms, but in order to prevent Turkmenistan from exporting gas to global markets and compete with Russian gas.
Moscow nevertheless assumed that the demand for gas in the West would be limitless and that prices would be constantly rising, allowing Moscow to resell Turkmenistan's gas at hefty profits. This calculation proved to be wrong, however, as prices started to decline already in the early 2000s and Moscow realized it was losing money on the deal. Russian gas purchases from Turkmenistan were consequently reduced to a bare minimum and finally stopped altogether.
At that point, Ashkhabad became anxious to find a new market for its gas and avoid Russia as the intermediary. China, whose demand for gas seemed insatiable in the early 2000s, was the most obvious choice. Export routes to China could be designed to bypass Russia, and China provided loans for constructing a pipeline, promising additional funding for future projects. Yet, China has leveraged its variety of options to make Turkmenistan lower its export prices.
Ashkhabad has therefore long been interested in making inroads to the European market that bypass the Russian pipeline network, and has considered the construction of a gas pipeline under the Caspian Sea to be the most promising option. In this case, the gas would be delivered to Azerbaijan, and from there delivered to European markets via Georgia. While the Trans-Caspian gas pipeline raised concerns in Moscow, the prospect of Turkmenistan sending gas to the West through Iran was considered highly unlikely. Iran was subjected to an international sanctions regime and even if the sanctions would be lifted, Moscow assumed that Iran's own interest in exporting gas to Europe would prevent it from assisting Turkmenistan in this endeavor. Consequently, Moscow considered both Tehran and Ashkhabad to be under control as far as gas exports were concerned and saw no reason to increase cooperation with Iran.
Yet Iran proved reluctant to follow Moscow's plans concerning gas and oil exports – for example by refusing to reduce its oil deliveries despite prodding from the Kremlin. Iran also signaled a willingness to collaborate with Turkmenistan on gas transit. Iran's motivations in this regard were manifold and included increasing its influence in Turkmenistan as well as assuring Europe that Iran would not be the only potential source of the gas from the south. The prospect of cooperation between Iran and Turkmenistan is facilitated by the fact that Iran already has some infrastructure in place to both get the gas from Turkmenistan and import Turkmen gas. Thus, the possibility of using Iran as possible link that would connect Turkmenistan with Turkey and then with Europe is real and recently both Turkmenistan and Iran have taken steps indicating that these plans could be implemented in one way or another.
IMPLICATIONS: Moscow's main tool for preventing Turkmenistan from exporting gas to Europe has been the threat of force. Russia strongly objected to Ashkhabad's plan for a Trans-Caspian pipeline since the idea started to circulate in the late 1990s, stating that if Turkmenistan would engage in its construction, Russia would employ force to stop it and would not be deterred even by the prospect of a large conflict. Moscow made its point on November 7, 2015, when the Russian Caspian Sea Navy fired 26 missiles at targets in Syria. This demonstration had the broader goal of showing not just the West but also countries in the region, including Turkmenistan, Russia possession of modern weapons and its willingness to use them.
Ashkhabad nevertheless continued to seek possible outlets for its gas and recently engaged in an ambitious project to send gas to India and Pakistan – the TAPI project launched in winter 2015. As the possibility arose of various gas and oil deals that would increase Turkmenistan's ability to compete with Russia, and the Kremlin's ability to employ force decreased, it changed tactics.
One of Ashkhabad's chief security concerns is instability on Turkmenistan's border with Afghanistan; the risk of Islamist attacks against Turkmenistan following a withdrawal of U.S. troops from the country; and a possible collapse of the regime in Kabul. Moscow has sought to exploit these concerns. The Russian press has published numerous articles indicating that Islamists from Afghanistan could strike across the border and threaten the incumbent regime in Ashkhabad – and that the only guarantee for sustained stability is cooperation with Russia and a Russian military presence in Turkmenistan. The Russian leadership understands that Turkmenistan's political elite hardly believes that Moscow is concerned for the regime in Ashkhabad. Therefore, Moscow has explained its proposal as a means for protecting Russian interests, arguing that a collapse of the regime in Ashkhabad would make it possible for Islamists to move further north and strike against Russia. Russia's Foreign Minister Sergei Lavrov visited Ashkhabad in February 2016 to present this proposal, followed by a visit by Defense Minister Sergei Shoigu on July 9, 2016.
Little information has transpired about the details and discussions on the proposal. Yet the theme of the negotiations can be surmised from publications in Russian press, depicting Turkmenistan as on the verge of being overrun by Islamists from Afghanistan. As can be inferred from these publications, Russia is offering to protect the regime at a price: Turkmenistan needs to refrain from competing with Russian gas exports. Yet neither of these visits brought any visible results. Consequently, Ashkhabad continued to look for avenues to deliver gas to Europe through various routes, and the Iran route is one possible option.
Several recent signs indicate that cooperation between Turkmenistan and Iran is picking up speed. In January 2016, Turkmenistan announced the completion of the "East-West pipeline," whereby President Berdimuhammedov stated that the new pipeline provides an opportunity to send gas in various directions including Iran, for both domestic consumption and transit to foreign markets. Iran's response has been positive. Iran's President Hassan Rouhani visited Turkmenistan in March 2015 and stated that Iran takes a positive view on channeling Turkmen gas to other countries, thereby approving the idea of facilitating the flow of gas from Turkmenistan to Turkey and implicitly to Europe. Thus the possibility exists for Turkmenistan to export gas to Europe via Iran, although the likelihood that it will be implemented remains unclear.
CONCLUSIONS: Throughout most of Putin's tenure, the Kremlin has sought to prevent Turkmenistan from sending gas to European markets. Moscow believed this was possible only through a pipeline across the Caspian Sea, and that such a pipeline would only be constructed with Moscow's consent. The lifting of sanctions on Iran has opened the possibility of Iranian gas deliveries to Europe bypassing Russia, and for collaboration between Iran and Turkmenistan in their gas projects. While Moscow has expressed its displeasure with this prospect in different ways, it remains unlikely that Moscow could do much to prevent the development of new transit routes through Iran if Teheran and Ashkhabad indeed decide to realize them. And it is equally unlikely that Turkmenistan will accept Moscow's protection at the price of changing its plans for gas and oil exports.
AUTHOR'S BIO: Dmitry Shlapentokh is Associate Professor of History, Indiana University at South Bend.
Image source: static.kremlin.ru, accessed on October 11, 2016