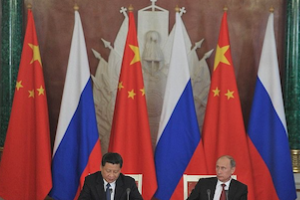 BACKGROUND: In 2001, the "Shanghai-5" grouping institutionalized as the Shanghai Cooperation Organization (SCO). Still more important for bilateral relations, in July that year China and Russia signed the first Treaty on Good-Neighborly Relations, Friendship, and Cooperation in 50 years. In October 2004, Gazprom and CNPC signed a strategic partnership agreement that was extended in March 2006 during Putin's visit to Hu Jintao in Beijing. The two countries' first joint military exercises, in August 2005, grew in March 2013 into arms-sales agreements whereby China contracted to buy fighter jets and submarines from Russia.
The prospects for energy cooperation on Siberian gas development finally materialized when, in May 2014, Russia and China signed a deal allowing China to buy gas worth US$ 400 billion over a 30-year period. China would supply Russia with investment capital, industrial equipment, and manpower not just in the energy sector but in a whole range of metals and mining industries. The broader significance of these agreements was to confirm Russia's transformation going forward as a raw-materials supplier to a wealthier and more technologically advanced China. In 2015 Russia became China's second most significant oil supplier after Saudi Arabia. China accounts for 11 percent of Russia's total foreign export market.
The joint communiqué of the June 2016 meeting marked a common intention to treat "strategic stability" as a category not referring exclusively to the nuclear balance, but presumably including conventional weapons and other aspects of security generally considered (this conception might apply, for example, to the South China Sea). Nevertheless, no Chinese official has echoed Putin's call for transforming the bilateral "strategic partnership" into a "comprehensive alliance." In the three years since Xi became president, Putin and Xi have met over a dozen times in various different forums and the June meeting was Putin's fourth visit to Beijing since 2013. This time, the media attention on both sides downplayed the actual signature of documents and instead emphasized the deals under discussion. This press coverage likely indicates embarrassment that past summits for ceremonial document-signing have tended to promise much more than they later delivered. The signed agreements have often been nothing but "agreements to agree" during subsequent discussions.
IMPLICATIONS: The agreements signed in Beijing foresee the purchase, by Chinese firms, of stakes in a number of Russian projects, as well as an oil supply contract and some joint ventures in the petrochemical sector. The several dozen deals are reported to be worth around US$ 50 billion if they are all implemented. The most significant implication of the Putin-Xi meeting and documents signed there is their confirmation of the important slowdown in Sino-Russian energy cooperation while also signifying that both sides see this cooperation as strategic and therefore still to be pursued as conditions permit. At the same time, of course, each side guards its own interests closely.
A barometer of the relative power between the two countries, in their overall geoeconomic competition and cooperation, is the high-profile natural gas pipeline from Eastern Siberia to China, now called the "Power of Siberia" project. This pipeline, still under construction, is behind schedule and unlikely to enter into service before 2020. Quantities of gas to be shipped through it will not only start later than planned but also be smaller than planned. There is also an unresolved disagreement over whether Russia will allow Chinese contractors to do the work on Russian territory. The Altai gas pipeline project from Western Siberia to China, now called Power of Siberia Two, is in deep suspended animation. Any delays only play to China's advantage, as it can now source natural gas by pipe from Central Asia and as liquefied natural gas (LNG) from Australia and Qatar. China, in addition to finding itself in a buyer's market, also controls the financing for its Russian projects.
The stagnant industrial cooperation and trivial financial integration among the members of Putin's project for a Eurasian Union cannot support any significant political superstructure. Nor can Russia be the driving force for the materialization of this integration project, because it lacks the means, while no other member has an interest in amplifying the multilateral network of relations, which finds itself reduced to a collection of unintegrated bilateral ventures.
By contrast, the Chinese One Belt, One Road (OBOR) program is slowly becoming a force for international industrial cooperation, to which Russia can only acquiesce. For example, Russia is looking forward to Chinese participation in construction of a bullet train from Moscow to Kazan, prospectively to be extended eventually to Beijing. Another example of this pattern of Beijing taking the lead, is the success of the Chinese-led Asian Infrastructure Investment Bank (AIIB), after Russia posed obstacles to the creation of an SCO Development Bank.
Russia lacks the financial and economic incentives that China can offer. In Central Asia, Russia's energy cooperation with Turkmenistan is now largely nonexistent. Its role in the energy sector of Kazakhstan will likely continue to diminish as a proportion of the whole, even if it remains constant or even grows slightly in absolute terms, as bilateral cooperation in the Caspian offshore and the Karachaganak gas field continues. Uzbekistan is still relatively ensconced in the Russian energy sphere and most of the country's gas exports go to Russia. However, Uzbekistan has welcomed South Korea and Malaysia among others into its energy sector, and also cooperated with China on Uzbekistan's segment of the Turkmenistan-China pipeline.
CONCLUSIONS: All of this means that China's geoeconomic and geopolitical influence in Greater Central Asia and East Central Eurasia will only become more strongly anchored over the long term. Russia will nevertheless remain the principal military-strategic power in the region, thanks partly to the Collective Security Treaty Organization (CSTO), to which China does not belong. There is some military cooperation between Kazakhstan and China, but Russia remains Kazakhstan's principal source of arms.
The project of the China-Pakistan Economic Corridor will progressively alter the geoeconomic terrain by bringing South and Southwest Asia closer to Central Asia, and through there to China. India's competitive project for cooperation with Iran (e.g. Chabahar port) continues apace, seeking to increase India's geoeconomic penetration also of Central Asia, but its relative success remains to be seen. In all of these developments, Russia is and will be absent.
AUTHOR'S BIO: Robert M. Cutler (@robertmcutler) ( This email address is being protected from spambots. You need JavaScript enabled to view it. ) is a senior researcher at the Institute of European, Russian and Eurasian Studies, Carleton University, Canada.
Image Attribution: en.kremlin.ru, accessed on August 24, 2016