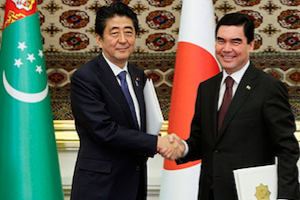 BACKGROUND: Since the 1990s, both China and Japan have been seeking opportunities to engage resource-rich Central Asia. They were among the first states to support the most ambitious gas transportation project ever proposed – the Turkmenistan-China-Japan pipeline. Japan's Mitsubishi and China's state-owned China National Petroleum Corp. (CNPC) have been the leading companies pushing for the construction of this pipeline. The scheme did not come to fruition, but Turkmenistan, Uzbekistan and Kazakhstan have succeeded in reaching China with pipelines. Since that time, China has slowly but persistently developed bilateral relations with all Central Asian states, focusing predominantly on energy rich countries such as Turkmenistan, Kazakhstan and Uzbekistan.
In 2007, Ashgabat and Beijing agreed to construct the Trans-Asia Gas Pipeline (TAGP) along a route through three Central Asian countries to China. TAGP was then built with Chinese funding. The link was commissioned in 2010, and China has since then become a key importer of Turkmen gas. According to a BP report, Turkmenistan delivered 25.5 billion cubic meters of gas to China in 2014. This was equivalent to 61 percent of the country's total gas exports and represented about 44 percent of China's total gas imports. China has also been developing the Galkynysh gas field in Turkmenistan, the world's second largest field. Opening up Chinese energy markets for Turkmen gas has helped Ashgabat to reduce its dependence on Russia, to boost export earnings and to promote steady economic growth.
Beijing is heavily involved in developing Kazakhstan's oil and gas fields and is operating a number of fields since the 1990s. In 2002, CNPC bought 60 percent of Petrokazakhstan, the country's largest independent oil company, for US$ 4.18 billion and spent another US$ 700 million on a pipeline to deliver Kazakh oil to the Chinese border. In 2013, CNPC bought an 8.3 percent share of the Kashagan oil project for US$ 5 billion.
In 2013, Beijing launched the One Belt One Road initiative, intended to address infrastructure gaps and secure economic diversification. The aim is to create a Silk Road Economic Belt that will connect China, Central Asian countries, the Middle East, and Europe in one multifunctional transportation link corridor.
For its part, Japan's achievements in Central Asia have so far been less impressive. In 2004, Japan initiated the "Central Asia plus Japan" dialogue to boost cooperation with all Central Asian countries. To date, this initiative remains at a discussion level.
IMPLICATIONS: Yet Abe's visit to the Central Asian states this October gives new momentum to the growing economic cooperation between Japan and the region. This was the first official visit to all Central Asian countries by the Japanese Prime Minister, indicating the importance that the Japanese government assigns to the region. Abe offered a large package of investment projects that will allow Tokyo to raise its stake in the whole region. He signed a number of deals worth over US$ 18 billion that will help Turkmenistan diversify its economy by further modernizing and developing its industrial sector. They will allow Japanese firms to join Turkmenistan in implementing a number of large-scale industrial projects, such as the construction of natural gas processing plants and power generation facilities. The first major US$ 10 billion investment package between Ashgabat and Tokyo was signed in 2013. Turkmenistan hopes to add more value to the gas it produces by using Japanese investment and technologies.
Abe also agreed to deals for investment in Uzbekistan's energy sector, transport, mineral resources, telecommunications, chemical and auto industries worth US$ 8 billion. In Kazakhstan, the Prime Minister offered to build a nuclear power plant. He also offered US$ 107 million in aid to Bishkek to modernize Manas International Airport, and pledged to provide US$ 7.4 million in aid assistance to Tajikistan.
Both China and Tokyo could secure further lucrative deals with the Central Asian states, though not in exactly the same spheres. Rather, each seems to have found its own niche, which means that Beijing and Tokyo are complementing and reinforcing each other's activities.
China has played a significant role in developing oil and gas resources, diversifying Central Asian gas and oil exports, while Japan is involved in developing industrial enterprises. Japan may in the near future become a leading partner in the overall diversification of the Turkmen, Kazakh and Uzbek economies by introducing the advanced technologies and skills needed to process and add value to the countries' resources.
Beijing's economic interests in Central Asia predominantly includes accessing natural resources through upstream projects, and building infrastructure that supports resource extraction and delivery to the Chinese market. China is also looking to establish new routes to the Middle Eastern and European markets. To realize this vision, Beijing has pursued bilateral deals with the energy rich Central Asian states; securing production sharing and service agreements on development of oil and gas fields. China has provided substantial financial support to develop resources and build pipelines. It helps energy rich states boost export earnings and to promote steady economic growth. In short, China helps generating cash from oil and gas, while Japan helps them invest it in projects that can secure an industrial base for Central Asian economies.
Tokyo's "Central Asia plus Japan" dialogue is targeting regional cooperation, while China's One Belt One Road initiative is primarily an attempt to reach the Middle East and Europe via Central Asia. In general, Japan fosters regionalism and industrialization, while China promotes diversification of Central Asian exports and globalization. The results of bilateral investment deals are tangible, while initiatives such as the "Central Asia plus Japan" dialogue remain at the discussion level. This is partly explained by the lack of incentives for regional cooperation. The regional market is small and few of the products produced by Central Asian countries can find customers in this market. Energy rich countries such Kazakhstan, Turkmenistan and Uzbekistan are looking for new markets, and may be less interested in developing regional economic cooperation.
Nevertheless, all of them need to implement structural reforms, and intensify efforts to diversify away from oil and gas. Therefore, developing industrial production beyond the extractive industries and making growth more inclusive would help Central Asian states create employment opportunities for their rapidly growing populations.
CONCLUSIONS: While China and Japan may compete in Central Asia, they do not constitute real rivals in this region. China's engagement in Central Asia provides an opportunity to enhance growth and globalization and to diversify export routes. For its part, Japan fosters regionalism and can make a significant contribution help secure the industrialization and sustainable development of the Central Asian states.
AUTHOR'S BIO: Najia Badykova is the head of Antares Strategy consulting.

Image Attribution: www.asahi.com, accessed on Jan 15, 2016