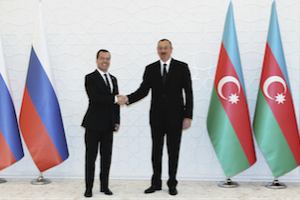 BACKGROUND: The heaviest exchange of fire since the 1994 ceasefire agreement began early in the morning of April 2 along the entire line of contact in Nagorno-Karabakh. All previous ceasefire violations have been localized to particular sections of the line of contact. This four-day confrontation involved a large number of troops and several types of weapons not previously used, including helicopters, unmanned aerial vehicles (UAV), Grad and Smerch multiple rocket launchers, and TOS-1A thermobaric multiple rocket launchers. The parties announced a ceasefire on April 5, after negotiations between the chiefs of staff of the Armenian and Azerbaijani armies in Moscow.
Both sides admitted the loss of dozens of personnel, while claiming that the opponent's losses amounted to triple-digit numbers. Concerning the amount of destroyed equipment, the situation is also unprecedented over the last 22 years, with a number of destroyed tanks, armored military vehicles and other hardware, including Azerbaijani helicopters and UAVs. The Armenian forces recaptured parts of the area where the combat occurred, although six heights remained under Azerbaijani control.
The combat started when the presidents of Armenia and Azerbaijan were on their way home from Washington, where they had separate meetings with U.S. Vice President Joseph Biden and Secretary of State John Kerry: the previously suggested presidential meeting did not take place. Prior to these meetings, it had also become clear that there would be no substantial discussion about the proposal of the OSCE Minsk Group co-chairs regarding an investigation mechanism, including the installation of gunfire-locator systems and sound-ranging equipment to determine the source of attacks along the line of contact. Azerbaijan had not approved the creation of such a mechanism, probably because it would reduce its chances to challenge the current negotiation format. Notably, statements made in late March by Vladimir Putin's spokesman Dmitry Peskov and the director of the Russian Ministry of Foreign Affairs' information department Maria Zakharova suggested that Russia also sought to avoid the creation of an investigation mechanism.
Azerbaijani official sources claimed that their offensive was a response to provocations from the Armenian side. However, as noted by Azerbaijani scholar Zaur Shiriyev, Azerbaijan's offensive might have followed a sort of "gentlemen's agreement" with Moscow, allowing military action as long as it would not lead to a full-fledged war.
IMPLICATIONS: While several Armenian analysts also believe that Russia was the instigator and the main beneficiary of the recent clashes, the political elite remains committed to its traditional pro-Russian stance, even though this position may have increased security risks for the country. Russia is Azerbaijan's main arms supplier, and all heavy weapons used recently, except the Israeli-made UAVs, were manufactured in Russia. Moreover, over the last five years, Russia supplied Azerbaijan with powerful weapons such as Smerch and TOS-1A multiple rocket launchers, modern T-90 tanks, a number of helicopters, etc., thereby increasing its ability to penetrate strongly fortified positions of the Armenian forces along the line of contact.
Yet, the criticism voiced by Armenian officials of Moscow's military-technical cooperation with Baku has been limited to mild remarks from President Sargsyan, most recently on April 6 during a meeting with German Chancellor Angela Merkel in Berlin. Sargsyan then said he was "sorry that our strategic ally sells weapons to Azerbaijan." A few months earlier, during a visit to London, Minister of Foreign Affairs Eduard Nalbandyan called Russia's arms sales to Azerbaijan "just our ally's business". On April 5, even before the official statement about the ceasefire, some opposition politicians also made statements justifying Russia's weapons trade. Such a subservient attitude contradicts even the approach of the de facto authorities of Nagorno-Karabakh, whose representatives stated that the destruction and human suffering were caused by Russian-made weapons, and also refuted the claim in Russian propaganda that Turkey was the instigator of Azerbaijan's offensive.
The recent events again showed that Armenia has no common interests with the members of the Collective Security Treaty Organization (CSTO) and the Eurasian Economic Union (EEU), and that its membership in these organizations stems exclusively from the servile attitude of Armenian politicians afraid of displeasing Moscow. As Azerbaijan launched its offensive, Belarus released an official statement in support of Azerbaijan's territorial integrity, however, without mentioning the other principles adopted in the OSCE Minsk Group mediation process – non-use of force or threat of force, and the right to self-determination.
Upon Kazakhstan's request, an EEU intergovernmental council meeting planned in Yerevan on April 7-8 was rescheduled to take place in Moscow on April 13, in order for the meeting not to appear as a display of "support to one of the conflicting sides." In December 2015, the presidents of Belarus, Kazakhstan, Kyrgyzstan, and Tajikistan also refused appointing an Armenian representative as CSTO Secretary General in order not to antagonize Turkey (see the 02/22/16 Issue of the CACI Analyst).
Since developments in the Nagorno-Karabakh conflict over the last few years suggest that the current ceasefire will not last long, both Armenia and Azerbaijan will probably need more military equipment, which will make them even more dependent on Russia. In March, a Russian delegation led by Deputy Prime Minister Dmitry Rogozin visited Baku, and one of the issues discussed was the payment for Russian weapons: part of Azerbaijan's payment was in arrears due to the decline in oil prices. Azerbaijan's government is now likely to allocate the amount owed, despite a sharp reduction in budget revenues, and even place new orders. In February, Russia confirmed a US$ 200 million loan to Armenia in order to buy Russian weapons, and additional political and economic concessions could likely be extracted from Yerevan in order to ensure a steady supply.
As Stephen Blank has previously noted, "Moscow's two abiding goals are to integrate the entire post-Soviet space under its domination and as part of that larger multi-dimensional process, ensure that it is the only security manager in the Caucasus … it has consistently tried to maintain the Nagorno-Karabakh conflict at a simmering level by providing large-scale military assistance to both Armenia and Azerbaijan" (see the 08/21/13 Issue of the CACI Analyst).
Russia's activities in recent days confirm the validity of this assessment. Russian Minister of Foreign Affairs Sergei Lavrov arrived in Baku on April 7, while Prime Minister Dmitry Medvedev visited Yerevan and Baku on April 7 and 8. Nalbandyan visited Moscow shortly thereafter. The likely next Russian move is to attempt to summon Presidents Ilham Aliyev and Serzh Sargsyan for a snap meeting with Vladimir Putin, in order to promote some kind of unilateral mediation or "peacekeeping", as was suggested in Sochi in August 2014 (see the 08/14/14 Issue of the CACI Analyst).
CONCLUSIONS: The recurrent pattern, with large hostilities happening just before or after international mediation efforts, suggests that these confrontations are not coincidental but rather attempts to discredit the current negotiation format. Absent any perspective of a substantial increase in oil prices in the near future, an economic recession, potentially leading to internal instability in Azerbaijan, could become a stimulus for new attempts to change the status quo. Azerbaijan's relative success in capturing six heights along the line of contact is an additional encouragement.
The low oil prices may also induce Russia to act more assertively, seeking to make Aliyev and Sargsyan accept a Russian "peacekeeping" operation. However, this would have several regional implications far beyond the Nagorno-Karabakh conflict resolution process. Indeed, the deployment of a peacekeeping mission would result in stronger pressure on Georgia as Russia would demand military transit rights. Stationing troops along the line of contact would then allow Russia to control the pipelines and the railway connecting Azerbaijan to Georgia, with implications for other transit projects as well. Also, placing a large peacekeeping force near the Iranian border for years would affect Tehran's options for energy export, granting Russia an additional lever for manipulating the oil and gas market – a vital issue for Russia.
AUTHOR'S BIO: Armen Grigoryan is an Armenian political scientist. His research interests include post-communist transition, EU relations with Eastern Partnership countries, transatlantic relations, energy security, and conflict transformation.
Image Attribution: www.washingtonpost.com, accessed on April 15, 2016