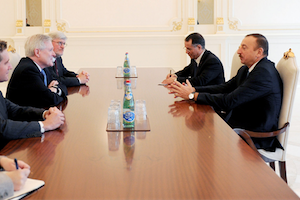 BACKGROUND: The deterioration of the situation in the South Caucasus and the failure to make much progress in Central Asia attest to the shortcomings of U.S. policy towards these regions, which many commentators have criticized as creating vacuums that Moscow or Beijing might be too eager to fill. Azerbaijan has been a particularly egregious example of this process. It is fair to say that the considerable decline in Azerbaijan's democratic potential reflects Baku's earlier belief that it had no reason to consider the U.S. obsession with human rights, because Washington would not pay attention to Azerbaijan's security challenges and would offer no countervailing incentive to justify a turn away from that increasing authoritarianism.
However, Secretary of the Navy Ray Mabus visited Baku in November to talk about military and defense cooperation and specifically invoked cooperation with the U.S. Navy and Marines. The published accounts of his meetings clearly suggest an emphasis on Azerbaijan's defense with regard to the Caspian Sea. A major delegation of officials and U.S. businesses under the auspices of the U.S. Department of Commerce subsequently travelled to Baku to discuss improved economic, trade, and investment ties. And after, recently appointed Deputy Assistant Secretary of State Bridget Brink came to Baku to hold talks across virtually all of the non-military areas of the relationship. Her visit in particular led a member of the opposition National Council's Coordination Center, Gultekin Hacibeyli, to note a direct link between this visit, President Aliyev's attendance at the G-20 summit in Turkey, and improving ties between Baku and Washington. The release of Azeri political prisoners Arif and Leyla Yunus may also be a signal to the West in this context though that cannot be proven.
IMPLICATIONS: If such a reengagement is occurring, there are ample reasons for it. Moscow's continuing operations in Ukraine remain a standing threat to the independence and territorial integrity of every post-Soviet state. Stagnant oil prices that have now fallen below US$ 40 per barrel are causing considerable pressure on the Azerbaijani economy and state budget, while Russia is maneuvering to insert itself into Georgia's gas market and reduce Azerbaijan's presence there, much to Baku's chagrin. The situation in Syria is possibly even more aggravating. Moscow has clearly shown its capability and intention to use the Caspian as a place d'armes and not only in regard to Syria. The collapse of Russo-Turkish relations after Turkey shot down a Russian fighter jet on November 24, 2015 also puts Azerbaijani-Turkish cooperation in energy and other issues squarely in Moscow's gunsights. Moscow has already moved reinforcements capable of either striking Turkey or of quickly moving men to Turkey's border with Armenia as a sign of multiplying tensions there.
At the same time, Russia's own economic crisis makes it far less able to trade with, invest in, and provide any measure of economic support for Azerbaijan, which forces Baku to look back towards the West. And the outbreak of Islamic radicalism in Azerbaijan reminds the government of threats associated with Iran or homegrown terrorism, incited by Russia's presence in Syria or covertly backed either by Moscow or Tehran. Moreover, the Nagorno-Karabakh situation has not improved. Additional skirmishes have taken place in a marked escalation involving the use of heavy caliber weapons, resulting in Azerbaijani casualties and fatalities. Under the circumstances, it is not surprising that President Aliyev recently warned the country that the international situation is becoming more dangerous and that the government might be looking to repair its relationship with both Washington and the EU. There is also no doubt that Turkey will place more demands on Azerbaijan to speed up the TANAP-TAP energy project and provide Turkey with gas to reduce its dependence on Russia. Beyond this dimension of the Azerbaijani-Turkish relationship, it is clear that Moscow will place this alliance under increased pressure.
Washington's displeasure with Russia's policy in Ukraine and Syria may also have led it to reconsider its past policy in the Caucasus as well as Central Asia. Likewise, the danger of new terrorist fronts emerging here should concentrate the minds of Western policymakers, especially as Iran and Russia are both state sponsors of terrorism, along with the Saudi education centers from which many of the Sunni terrorists in the terrorist organization calling itself the Islamic State (ISIS) emerge, whatever their country of origin.
U.S. reengagement in the Caucasus would strengthen Western interest in the security of the regional states in the face of challenges from Russia, terrorists, Iran, or even some combination of these factors. It would also improve Turkey's ability to constitute an independent pole that is less dependent on Russia for its energy and trade and more confident about its own defense. The U.S. could also take a stronger role in moving the Armenia-Azerbaijan conflict towards a political solution. It should be clear to everyone that Russia continues to manipulate and exacerbate Nagorno-Karabakh, and that Russia benefits from the lack of any progress towards resolution. The same can be said of the Georgian conflicts involving Abkhazia and South Ossetia.
American as well as EU engagement is also vital for securing the TANAP-TAP pipeline and the overall southern Gas Corridor project that Moscow steadily seeks to derail. Stronger U.S. commitments in the Caucasus could also persuade Georgia not to lose faith in its ultimate membership in the EU and NATO, and lead it to walk back the idea of bringing in Gazprom to supplant Azerbaijan's provision of gas at prices about US$ 100 cheaper than what Gazprom could offer. Finally, until and unless the U.S. opens up a channel of dialogue on all the issues that concern Azerbaijan within the overall bilateral agenda, it is impossible to expect meaningful progress on facilitating democratic reforms in the country. Neither would it be possible for Baku to escape the isolation it now risks because of its domestic policies.
The benefits of engagement with Azerbaijan and the Caucasus apply with equal force to the EU. But in its case, heightened involvement with the three countries of the South Caucasus not only gives Armenia a gradual opening to reorient its economy away from Moscow over time. A greater EU participation in the region's affairs will stimulate Georgia to take more active steps to reform its economy, continue on its previous democratic track, and steadily draw closer to the EU, making its eventual membership more likely and also strengthening Azerbaijan's democratic, trade, and energy prospects and the Southern Gas Corridor.
Beyond helping to stabilize and secure the Caucasus in order to help it relaunch along a pro-Western and more democratic trajectory that is also noticeably less belligerent, an astute Western reengagement with the region could pay off over time with regard to Turkey. Turkey under the Erdogan regime has slipped from democratization, but it should now increasingly come to realize that it cannot really be secure without firmly anchored ties to the West. The Russo-Turkish crisis provides the West with a substantial opportunity to resume the work of bringing Turkey fully into the West. The recent EU-Turkey agreement on immigration can be a first harbinger of what would spark a truly virtuous circle leading to Turkey's membership in the EU and a stronger European influence over the Caucasus and Middle East where Turkey would naturally play a key role.
CONCLUSIONS: As we have repeatedly seen, Russia neither has the resources nor the desire to play such a role. Its policies have been consistently retrogressive, obstructive, and destructive of stability across its peripheries as it has reckoned that its interests are better served by instability, frozen conflicts, and the occasional intervention by force in neighboring territories. While it certainly has the will to be the ordering power in the Caucasus and elsewhere; it has neither the material resources nor the legitimacy for doing so. Hence is ambitions are only realizable through the corruption of states' governing processes and by the constant threat if not reality of war. These facts are as true in the Caucasus as they are in Ukraine and the Baltics.
But the small states throughout this expanse who treasure their independence above all cannot individually stand up to Russia and must find safety in association with the West and in their own strengthened internal governance. Isolation from the West reduces their external and internal security and corrodes their domestic governance while affiliation with the West has exactly the opposite consequences. Russia's behavior confirms that there really is no other way to ensure security in the Caucasus or any of the other borderlands other than through a robust and truly enduring engagement of these states with Brussels and Washington. Lacking such engagement, they become poorly governed states that are ridden with vulnerabilities that either Moscow or terrorists will quickly emphasize and exploit. Therefore, if the U.S. is indeed reengaging with Azerbaijan and the Caucasus, it is all to the good. But if that is not happening and the meetings cited above are not part of a genuinely strategic process, then there is no time to lose in generating and implementing such a policy.
AUTHOR'S BIO: Stephen Blank is a Senior Fellow with the American Foreign Policy Council.
Image Attribution: en.president.az, accessed on Jan 19, 2016