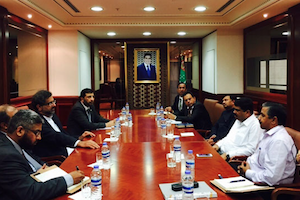 BACKGROUND: In Turkmenistan, development of the Galkynysh gas field is progressing and contracts have already been signed for the implementation of a range of works with companies such as Petrofac International LLC, LG international and Hyundai Engineering, China National Petroleum Corporation (CNPC), and a consortium of Japanese and Turkish companies. The steering committee's approval of the consortium leader was another important milestone toward the implementation of the TAPI energy project. If successful, the project will not only integrate South and Central Asia economically; it will also reduce instability in the region. The active participation of the leaders of the four participant countries and their strong commitments at the groundbreaking ceremony presented a hopeful picture for the success of this project. As described by Turkmenistan's President Gurbanguly Berdimuhamedov, "the project will become a new effective move in establishing a modern architecture of global energy security, a powerful driver of economic and social stability in the region."
With the drastic reduction of Russian imports, China has basically become the sole export market for gas from Turkmenistan. While Iran has constituted a third export market for Turkmenistan after Russia and China, the lifting of sanctions on Iran will likely mean that the two countries will become energy export competitors rather than trade partners. This will further increase China's importance as a market and contribute to an excessive economic dependency on China for Turkmenistan. By exporting gas to India and Pakistan through the TAPI pipeline, Turkmenistan will diversify its gas export and reduce its dependency on China.
While Turkmenistan pushes for economic and trade diversification for its gas resources, Pakistan's energy sector is in a state of crisis, a fact that has negatively impacted the country's social and economic development over the past several years. Pakistan's energy shortage has exceeded 7,000 megawatts (MW) on a daily basis. Energy generated through TAPI will not only respond to Pakistan's energy deficit, it will also reduce its current expensive fuel costs, and help the balance of payment and the pressure on foreign exchange in Pakistan. The same goes for India, where TAPI will provide an alternative gas supply source with dependable reserves, leading to enhanced energy security. India, as a net importer of gas, will likely continue to import gas in the long term to meet its requirements. This project will diversify the fuel basket to the benefit of India's economy and the sustainability of India's growth. The import of natural gas through TAPI will also be more economical than the LNG route India currently pursues, which requires massive investment in liquefaction, transportation and other related costs.
For Afghanistan, because TAPI is the largest development project in the country, it will be essential for industrial enterprises and a source of employment. Improved energy security will also boost private sector investment in Afghanistan, and the new transit route will increase people-to-people links and trade across the region.
IMPLICATIONS: The TAPI project will pass through unstable areas in both Afghanistan and Pakistan, and it is still not fully clear whether the project is feasible for security reasons, or who will be responsible for arranging and overseeing the pipeline's security. A local community-based security solution to enhance stakeholder buy-in and inherent protection of the pipeline infrastructure and operations would be one option to respond to the security challenge. Moreover, establishing a joint TAPI security task force, for example through the combined deployment of national security personnel and military personnel from international or local private security firms, would be a possible solution for the day-to-day security operations of the project. A recent comment from Pakistan's Defense Minister on involving the Taliban to help secure the pipeline project, however, reflects a lack of common understanding among the participating countries, which could further complicate the implementation.
Historical regional disputes and rivalries pose obstacles to cooperation between the major players in this effort and to the ultimate success of the endeavor. China and India, for example, went to war in 1962; India and Pakistan have experienced tense relations since Pakistan's independence in 1947 and strong trade barriers still exist between them. Meanwhile, the rivalry between two Silk Road initiatives – the U.S. New Silk Road Initiative (NSRI) and China's Silk Road Economic Belt – pose challenges to future cooperation between these countries on TAPI.
The hope is that the challenges of energy security and regional stability for broader regional interests provide an opportunity to find common ground where these countries can cooperate on integration projects such as the TAPI pipeline. One venue, the Shanghai Cooperation Organization (SCO) where India and Pakistan were accepted as members in July 2015, can possibly play an important role. The security and energy interests of the two key SCO members, China and Russia, demand closer cooperation between them, India, and Pakistan, especially in Afghanistan. Russia has also recently expressed concerns over the degrading security situation in Afghanistan and the increased activities of the Taliban and the terrorist organization calling itself the Islamic State (ISIS), especially in the Northern provinces bordering Central Asian countries. Therefore, peace and stability in Afghanistan is in the interest of Russia as a SCO member.
The limited Sino–U.S. cooperation in the region is sometimes characterized as a zero-sum game, which may pose further risks to projects like the TAPI. The U.S. firms Chevron and ExxonMobil expected to take part in the upstream gas field development but this did not happen due to Turkmenistan's refusal to offer an equity stake in its gas fields. Turkmen authorities are said to have held advanced discussions with Japanese and Korean firms on upstream development, and it is assumed that these discussions also include financing. It is not yet clear whether the U.S. firms are interested in participating in the downstream part of the TAPI project.
During a speech at the Brookings Institution, U.S. Deputy Secretary of State Anthony Blinken reiterated that he did not see Sino–U.S. relations or China's activities in Central Asia as a zero-sum game. The U.S. sees an important role for China in supporting Afghanistan's transition and encourages China's own integration into the broader Asia region. The cooperative relationship between China and the U.S. with regard to Afghanistan is of mutual benefit as it connects Afghanistan to Beijing's broader regional investment efforts. Instability in Afghanistan is still considered one of the key challenges facing this project. Another aspect of the trilateral discussions between the U.S., China and Afghanistan is the fact that whereas U.S. pressure on Pakistan to support stability in Afghanistan has had limited effects, China's involvement, given its long-term close relationship with Pakistan, into the discussion could reshape the dialogue and positively affect regional projects like the TAPI gas pipeline.
CONCLUSIONS: As the U.S. New Silk Road Initiative shares a focus on energy and transportation infrastructure with China's New Silk Road Economic Belt, the U.S. and China therefore share a number of aligned interests in the region. The work done by the U.S. has included support for CASA-1000, which involved more than US$ 1.7 billion in support of energy transmission lines that added 1,000 megawatts to Pakistan's power grid; the construction of more than 3,000 kilometers of roads in Afghanistan; support for Kazakhstan and Afghanistan's accession to the WTO, and technical assistance for the passage of the Afghanistan-Pakistan Transit-Trade Agreement as well as support for border security and good governance. All this could prove valuable to China's projects. The U.S. has encouraged China's growing role in Afghanistan, and cooperation in Afghanistan between China and the U.S. has been one of the highlights of their bilateral relationship in recent years. This is indeed considered a positive step towards regional stability efforts.
Eventually, with a holistic approach to the regional integration agenda, and a joint effort to respond to security challenges, the TAPI project could be a real success. With a population of more than 1.6 billion people, South Asia's economies are growing rapidly, and in turn South Asia's demand for cheaper and reliable energy is growing. Meanwhile, Central Asia has huge energy reserves including oil and gas, and directing some of these resources to South Asia through Afghanistan would be a win-win situation for the regional countries.
AUTHOR'S BIO: Rohullah Osmani is a Visiting Scholar with the Johns Hopkins University's School of Advanced International Studies (SAIS), and a former Director General for Government Reform Policies and Programs in the Afghan Government. He has a Master's degree in International Public Policy from the Johns Hopkins University's SAIS, and a Bachelor's degree in Business Administration.
Image Attribution: www.eoi.gov.in, accessed on Jan 19, 2016