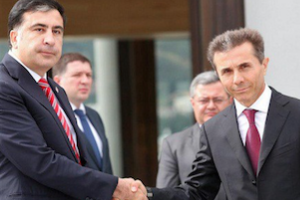 Although various polls commissioned this year have given varying accounts of the parties' ratings, they have provided similar assessments of the leading political groups, most likely to clear the threshold and occupy seats in the parliament.
At the top is Georgian Dream-Democratic Georgia (GDDG) – the ruling party founded by billionaire and former PM Bidzina Ivanishvili – which will run separately for the upcoming elections after the ruling GDDG coalition, which also included the Republican, Conservative, Industry Will Save Georgia and National Forum parties, was disbanded on March 31.
According to polls conducted by the U.S. National Democratic Institute (NDI), commissioned between June 8 and July 6, GDDG will likely obtain around 19 percent of the votes in the upcoming elections. Another poll, fielded by JPM International Research Organization on August 18 to 27, instead recorded support for GDDG at 32 percent.
GDDG's rating has receded significantly since the last parliamentary elections in 2012, in large part due to Georgia's problematic economic and financial situation. In 2014-2015, the Georgian Lari (GEL) lost more than 30 percent of its value and decreased to its weakest rate against the U.S. dollar in more than 16 years. The government neither managed to present a "currency stabilization plan," nor succeeded to attract foreign investments or boost the country's exports. External factors relating to Russia and Ukraine as well as to conflicts in the Middle East also played a role, but opponents insist that the ruling coalition failed to elaborate a sustainable economic strategy.
For this very reason, GDDG's pre-election campaign focuses less on economic policy than on presenting a narrative warning of a potential return of the United National Movement (UNM) and its consequences. A month before the election, the documentary film titled Herocratia was released – showing brutal scenes illustrating alleged human rights abuses taking place during UNM's term in power.
On the contrary, UNM vigorously seeks to hit GDDG in its most vulnerable spot by highlighting the drastic depreciation of the Lari and the failed social-economic policy, particularly through its affiliated Rustavi2 TV. Given UNM's weak approval among voters since 2012, its emphasis on the ailing economy and avenues for recovery aims at regaining trust among the population especially in the regions. In NDI's June-July poll, UNM was rated at 14 percent – putting it almost neck and neck with GDDG. According to JPM's poll, however, UNM received only half of GDDG's rating – 16 against 32 percent.
Among the other parties that may clear the threshold are Our Georgia-Free Democrats (OGFD) – founded and led by former Defense Minister Irakli Alasania (see the 11/11/2014 issue of the CACI Analyst); Labor Party led by socialist Shalva Natelashvili; and State for People – an election bloc founded by world renowned opera singer Paata Burchuladze. According to the polls, each of these parties are rated at 4-5 percent.
State for People includes New Rights Party, New Georgia Party and New Political Center-Girchi. The latter two are led by former UNM MPs Giorgi Vashadze and Zurab Japaridze respectively.
OGFD, Labor party and Burchuladze's bloc have in common their vehement opposition to the government and their exclusion of any possibility of forming an alliance with GDDG after the elections. However, interesting divisions also exist between them. Allegedly, Natelashvili and Burchuladze covertly cooperate with UNM, while one member of Burchuladze's bloc – New Political Center-Girchi – is financed by Ivanishvili.
On September 21, a secretly recorded scandalous conversation was released, between Rustavi2 TV Director General Nika Gvaramia and Burchuladze. In the recording, Gvaramia expresses dissatisfaction with Girchi's plans to form a coalition with GDDG and warns that such a move will harm Rustavi2's cooperation with State for People.
The chances of anti-western political groups also deserve attention. According to the various polls, the vividly pro-Russian Democratic Movement–United Georgia, led by former Parliamentary Chairperson Nino Burjanadze, and the nationalistic Alliance of Patriots of Georgia-United Opposition, including six largely unknown parties, may get around 3-4 percent of the votes. Nevertheless, the same polls point out that the number of undecided voters is very high, at around 40 percent.
The main question in the upcoming election is whether GDDG will manage to keep its grip on power, at least with a simple majority, or will become part of a coalition government. Although alleged backstage deals and the ongoing "war of mudslinging" could change some initial guesses, there is a high probability that GDDG and UNM will again occupy seats in the legislative body while other possible winners may seek a balance between them.
Image attribution: www.dfwatch.net, accessed on July 10, 2016