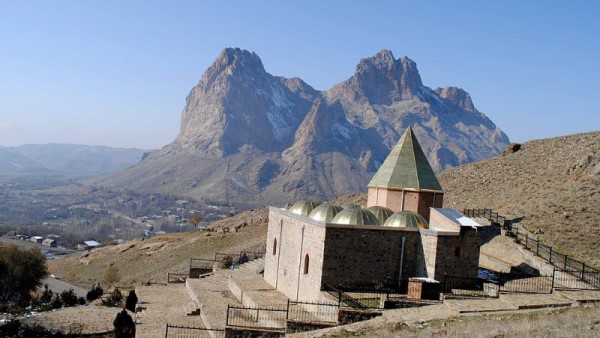 BACKGROUND: Reinstating the transport link between mainland Azerbaijan and Nakhichevan Autonomous Republic is specifically mentioned in article 9 of the November 10, 2020 ceasefire agreement, which Azerbaijan and Armenia signed to end the latest war in Nagorno-Karabakh. The article contains general provisions about unblocking all economic transport routes across the region but only the Azerbaijan-Nakhichevan link is directly mentioned. This route, which is commonly called the Meghri corridor in Armenia and the Zangezur corridor in Azerbaijan, goes through Armenia's Syunik province and the country is obliged to guarantee safe and free passage of people and goods. The transit route will be overseen by the Russian border service. Moreover, the November 10 accord envisages construction of transport infrastructure that will connect the Nakhichevan exclave with Azerbaijan.
For Azerbaijan, this agreement is indeed a breakthrough as it promises to restore a direct land passage to Nakhichevan. The exclave has been largely isolated since the first Karabakh war in the early 1990s, when the old Soviet railway link between Azerbaijan and Nakhichevan through southern Armenia to was terminated. The abandoned infrastructure is now mostly in a state of disrepair. Reviving the old transportation link will also have profound geopolitical reverberations. Azerbaijan does not have a direct land connection with its largest ally, Turkey. Only Nakhichevan has a short, 11-kilometer border with Turkey. Uninhibited land passage from Nakhichevan to Azerbaijan proper will give Turkey a gateway to the Caspian Basin and Central Asia. This awards Ankara new economic opportunities in the South Caucasus and Central Asia as well as the opportunity to strengthen ties with Turkic peoples inhabiting these regions.
Yet little progress has so far been made towards restoring infrastructure, transport and economic links in the region. In January 2021, during a trilateral meeting in Moscow, the Presidents of Armenia, Azerbaijan and Russia agreed to establish a tripartite working group jointly chaired by the Deputy Prime Ministers of these countries, which will ensure and monitor the implementation of article 9. Nevertheless, until now the working group has only convened a few times and has not yet produced any visible results.
Azerbaijan is eager to restore the infrastructure and transit links, particularly those with Nakhichevan, and publicly pushes Armenia to move towards implementation. However, Yerevan remains skeptical and cautious even though the Armenian government has presented the unblocking of regional transportation channels as beneficial for the country. The restoration of the Meghri/Zangezur corridor remains in limbo and has recently emerged as one of the thorniest issues in post-war relations between Azerbaijan and Armenia.
IMPLICATIONS: The transit link has high priority for both Azerbaijan and Turkey. On February 14, Azerbaijan's President Aliyev laid the foundation for a railway that will connect the towns of Horadiz (Fuzuli district) and Agbend (Zangilan district), both located in territories that Baku recaptured from Armenia during the recent Karabakh war. This section is a part of railway that will connect Azerbaijan's mainland with Nakhichevan. Even though this old route was severed decades ago and is now largely damaged, some of its infrastructure such as track beds and bridges might have survived, which will save time and costs needed in restoring it.
Baku has placed much hope in a land route between mainland Azerbaijan and Nakhichevan. Since the end of the second Karabakh war, Azerbaijan and Turkey have already taken concrete steps towards facilitating free passage of people and goods between them and boost bilateral economic relations. Yet these far-reaching ambitions might be tempered by Armenia's unenthusiastic position. Many Armenians and Armenian experts tend to regard the restoration of the transport link with Azerbaijan as a risk, or are at least skeptical over what benefits it might bring Armenia. The position of the Armenian government is, however, less clear.
On a few occasions, Armenia's Prime Minister Nikol Pashinyan has sought to convince the public that opening regional transportation and economic channels would be beneficial not only for Azerbaijan but also for Armenia. In particular, according to Pashinyan, gaining a direct railway connection with Russia and Iran will imply new opportunities for economic growth in landlocked Armenia. At the same time, the prime minister and other government officials carefully avoid using the phrase "Meghri" or "corridor" when referring to the transportation link through southern Armenia that is intended to connect Azerbaijan and Nakhichevan. However, even if the ceasefire agreement does not use this precise wording, there is no doubt that it refers to the transit link in question.
The most likely reason for this is that government does not want to further aggravate negative public mood since Armenians are still grappling with the multiple severe consequences of the recent Karabakh war. This is particularly true in Syunik province, which according the ceasefire agreement is envisaged to host the reopened transportation channel between Azerbaijan and Nakhichevan. The tensions in Syunik, which borders Azerbaijan from the west, have grown after the war as a result of the demarcation of the southern portion of the Azerbaijan-Armenia border. As a result, many Armenians living in settlements near the border were affected and see the border demarcation as a "land grab." This has drastically reduced support for Pashinyan's government in the region and resulted in ongoing anti-government protests.
Behind the scenes, the government appears to be less keen to go ahead with restoring the transit channel with Azerbaijan out of fear of a public outcry. After the recent war all matters regarding sovereignty are politically explosive and mistrust towards Azerbaijan runs deep. This is a particularly salient factor as the government prepares for snap elections in late June and most probably prefers to avoid handling thorny issues in the pre-election time.
Some observers also assert that the Armenian government will agree to implement article 9 of the ceasefire agreement only under certain conditions, most importantly Baku's release of remaining Armenian soldiers taken hostage. However, there is disagreement about the number and status of the Armenian detainees. Armenia has claimed that 188 of its soldiers remain in captivity while Azerbaijan acknowledges only 72 Armenian captives in their custody. Moreover, Baku regards 57 soldiers among those captured after November 10, 2020 as "saboteurs," not prisoners of war, and refuses to release them under the provisions of ceasefire agreement.
The hesitation on Armenia's part has caused visible frustration in Baku. In recent months, Aliyev has repeatedly argued that Zangezur is a historic Azerbaijani region and hinted that Azerbaijan could take the region by force. On May 12, Azerbaijani forces made an incursion deep into the territory of Armenia proper, in Syunik and Geraghunik provinces. The incident drew international condemnation and caused Armenia to issue an official appeal for help from fellow CSTO members.
CONCLUSIONS: The restoration of the transportation link between Armenia and Azerbaijan is likely to stay on hold for now due to unfinished business from the latest war and tense relations between the countries, which have been strained further by the recent border row. The incident is a consequence of the ongoing demarcation of the Azerbaijani-Armenian border, which is non-transparent and controversial. It is also likely that Baku wants to demonstrate military prowess to intimidate Armenia, and to accomplish a fait accompli in order to push Yerevan into concessions regarding the transport link. However, this strategy might not ultimately bring benefits for Azerbaijan. Conversely, reactions from the Armenian public and opposition might force the government to exclude any concessions towards Baku and instead prioritize the withdrawal of Azerbaijani forces from Armenia's territory and the release of Armenian POWs.
AUTHOR'S BIO:
Natalia Konarzewska ( This email address is being protected from spambots. You need JavaScript enabled to view it. ) is a graduate of University of Warsaw and a freelance expert and analyst with a focus on political and economic developments in the post-Soviet space.
Image Source: Public Domain