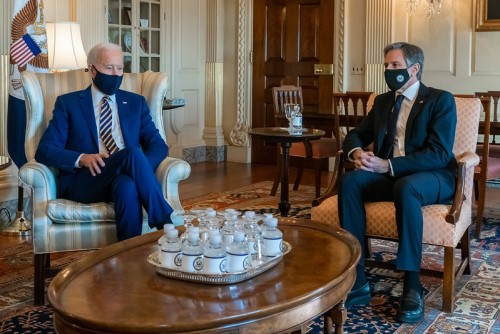 BACKGROUND: Beyond the war, the year 2020 marked an explosion of pervasive dissatisfaction throughout the CIS, marked by upheavals in Kyrgyzstan and Belarus. These events also showed that Russia ultimately can only realize its grand design of subordinating the "post-Soviet space" by the abiding threat or use of force. The potential for more strife, albeit in many different forms, remains ubiquitous and unquenched. Georgia features clear Parliamentary and political conflict among the leading political parties and multiple obstacles on the way to democratization and NATO membership. The recent war between Armenia and Azerbaijan will more likely result in another armed truce than in a formal peace. Armenia remains unreconciled to its defeat and there are few signs that its government or influential diaspora community have assimilated the lessons of the unrealism that characterized its policies. Since that mood parallels the open exultation in Azerbaijan and what one recent account describes as a vengeful sense of triumph, neither side is ready to move beyond the excessive ethno-nationalist passions that underlay the war.
Neither will Russia do much to foster a genuine peace. This is not only due to Russia's limited economic capabilities but because it is not in Moscow's interest to do so. Perpetual tensions between Yerevan and Baku function to justify Moscow's armed occupation – in the guise of peacekeeping – of Nagorno-Karabakh and its leverage over both capitals for at least the next 5-10 years as stipulated in the agreement that ended the hostilities in November. Having won this position, Russia has no reason to work with the West to pacify the Caucasus in any meaningful way.
These facts paradoxically create an opportunity and real motives for the Biden Administration, preferably in tandem with the EU, to engage all three states of the South Caucasus to a greater degree than before. Congressional support will likely be present as well. The Administration will enter with a fundamentally unified and well-founded suspicion of Russian policy and will be much more committed to strengthening Washington's trans-Atlantic alliances and working together with the EU. One way it can accomplish these goals is to join the EU in making the Eastern Partnership and other programs tailored to the South Caucasus stronger and more relevant to actual conditions on the ground. The three states also have good reason to welcome a genuine show of interest in their agenda from Washington.
All three have ample reasons to look for alternatives to Russian pressure and domination. For Georgia and Armenia, strong Western support for democratizing reforms and economic assistance serves both the democracy agenda and the reduction of Russian leverage. Sustained U.S. support for democratization and economic development in Armenia would help reduce not only Russian but also Iranian influence there and provide a demonstration of what Armenia stands to gain by coming to a final legal settlement with Azerbaijan. That kind of settlement might take years to negotiate and the process of getting there might outlast the Biden Administration's term. Nonetheless, it would be the best and probably the only way to bring genuine peace to the region. Azerbaijan, for its part, could eschew its exclusive dependence on Russian support to bring about a peace with Armenia that would codify in law its recent victories. Furthermore, it should welcome heightened U.S. interest in countering Russian energy shipments to Turkey and Southeastern Europe given its major investments in those markets.
IMPLICATIONS: Support for democratization in Armenia and for reconciliation with Azerbaijan should be one prong of U.S. policy. Washington should also seek to persuade Baku of its interest in reaching a conclusive and negotiated settlement over Karabakh and all the disputed issues: boundaries, refugees, minority rights, cultural preservation, etc. in order to initiate a negotiating process. Only a legal settlement to the issues in question can resolve the Karabakh issue and begin to reduce the prospects for a renewed cycle of violence. A genuine negotiation should provide, through American and EU investments in the area, added "side payments" that graphically demonstrate the advantages of a peaceful settlement.
A third prong should be support for including Armenia in large-scale infrastructural projects to establish normal economic relations between Armenia and all its neighbors, reducing its need to look to Russia and/or Iran for help. These investments would also provide alternatives to China's Belt and Road Initiative (BRI), which has established a substantial presence in the South Caucasus. By competing economically with China, the EU and U.S. will display their commitment to the region as a whole. They will also help ensure a reliable and inclusive channel of energy supplies not only to Armenia and Georgia but also to Turkey and Southeastern Europe, reducing these markets' need for Russian energy.
Enhancing reliable energy flows from Azerbaijan, and if possible from Central Asia through the Caspian Sea, would also strengthen the pro-Western forces in Georgia and should be part of a policy of overall reinforcement of those forces who are under constant pressure from Moscow and its clients in Georgia. Indeed, one of their long-standing goals has been to supplant Azerbaijani deliveries to Georgia at below-market prices with Russian energy that would then serve to launch Moscow's traditional tactics for state capture in its customers. Moreover, support for regional infrastructures builds regional cooperation and creates institutions and interest groups who would have strong interests in a pro-Western orientation. The stalled Anaklia port project is a case in point since the failure to build it will render Georgia dependent on Chinese or other capital. Thus, the creation of regional economic links should parallel and connect with the process of fostering negotiations among warring parties and creating the bases for lasting political cooperation that provides tangible material benefits to all parties.
A coherent long-term strategy needs to consider the different needs of all three states. Western neglect of the South Caucasus only invites more Russian or Turkish troublemaking or imperial designs while Iran has also repeatedly interfered in the troubled Azerbaijani-Armenian relationship. This strategy and its attendant policies also must be conducted with the understanding that this is an inherently long-term project. However, there appears to be no other viable way to reestablish an enduring basis for Western security influence in the region.
The alternatives include unresolved and corrosive political infighting in Georgia that undermines democratization, Westernization, and a solution to its problems, including those of its ethnic minorities. Pro-Moscow elements will gain through the destabilization of Georgian political life and possibly establish access for Russian energy. Antagonism between Armenia and Azerbaijan will fester and provide a strong pretext for continuing Russian military posturing while creating more tensions with Turkey, seeking to raise its permanent profile in the region. The ethnopolitical conflicts that range over the entire Karabakh agenda could easily lead to increasingly dangerous violence in the future, directly threatening Eurasian and European security. Moreover, Moscow's military domination of the South Caucasus offers Russia a jumping-off point for its equally destabilizing power projection into the Middle East, a process that shows no sign of abatement. Disengagement only strengthens the apparent belief in Moscow that Europe does not count for anything as an independent political player and therefore Russia may safely disregard its interests.
CONCLUSIONS: For all these compelling reasons, the new Administration and its allies in Europe should realize that there are still opportunities to improve the West's position in the Caucasus. They must also grasp that failure to take advantage of these opportunities will exact even greater costs upon Western interests, values and allies. In the Caucasus, as elsewhere, time and politics do not wait for Europe and the U.S. to "make the bus." If the Western allies fail to seize this opportunity, they might not get another one for a long time and then it might be too late to undo the damage generated by prior neglect.
AUTHOR'S BIO:
Stephen Blank is a Senior Fellow with the Foreign Policy Research Institute.
Image Source: United States Department of State via Flickr. Accessed 2.8.2021