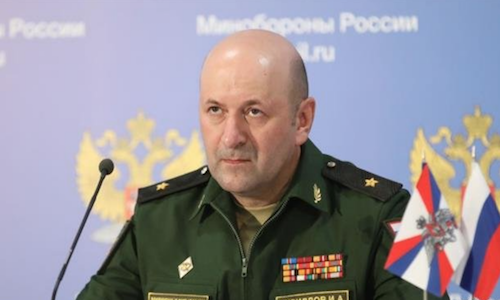 BACKGROUND: Since the U.S. established partnerships in biological studies with several post-Soviet republics in the late 1990s, Moscow has considered such cooperation as a threat. The main targets of Russia's accusations have been the so-called "Lugar laboratories" established in Georgia, Azerbaijan, Ukraine, and more recently in Kazakhstan and Uzbekistan as part of the Nunn-Lugar Biological Threat Reduction Program. The program was established in order to dismantle the USSR's massive infrastructure for biological WMD research, development and production. Moreover, it seeks to prevent the proliferation of expertise, materials, equipment and technologies that could contribute to the development of biological weapons. Under the program, the Defense Threat Reduction Agency (DTRA) has together with local institutions implemented biothreat reduction projects in Russia, Kazakhstan, Uzbekistan, Georgia, Azerbaijan, and Ukraine. In Georgia, the program established the Richard Lugar Public Health Research Center, which was recently upgraded to Biosafety Level-2 with funds from the DTRA.
Moscow has periodically accused the U.S. and the aforementioned republics of conducting "suspected biological activities" in areas close to Russia's borders. Representatives of the U.S. and other accused states have refuted the allegations, yet the dissemination of negative information has intensified in recent years. High level officials of Russia's MFA have accused the U.S. of violating the Biological and Toxin Weapons Convention, whereas the country's former Chief Sanitary Physician, Gennady Onishchenko, claimed that U.S. military microbiologists in Georgia can purposely infect mosquitoes with the Zika virus.
The use of such narratives as a component of information warfare is not new to Russia, but has a strong legacy in the active measures employed by Soviet security agencies against the West during the Cold War. For example, in the 1960s the Soviet propaganda machine embarked on a campaign claiming that the U.S. intentionally infected Eastern Europe with Colorado potato beetles. According to Tamara Eidelman's book "How Propaganda Works," one of the most complex fabrications in this narrative was a massive influx of Colorado potato beetles across the Baltic Sea. In order to strengthen their case, Soviet propagandists "invented" an amphibian Colorado potato beetle. The USSR promoted a similar story in North Korea and China. In the 1950s, a Soviet disinformation campaign claimed that the U.S. sought to infect North Korean people with several diseases through rodents and insects, referring to the groundless "conclusions" of an international commission of scientists established under Soviet control, which were spread globally by left-leaning press. The method applied then was simple and effective: Soviet security organizations paid generously for the services of experts, who turned a blind eye to the absence of facts, and for publications that spread the fake information in North Korea and China.
In 2016, several media outlets in Armenia blamed the Lugar Center in Georgia for the deaths of more than 10 people from swine flu (H1N1), yet the absurdity of these accusations was recognized even in Russian media. Recently, a group of Dagestani journalists led by Mukhtar Amirov alleged that the Georgian laboratory had been involved in the use of biological weapons in Dagestan and Chechnya. He has also petitioned to President Vladimir Putin to initiate "an investigation into the activities of the Lugar laboratory in connection with the threat to biological safety of Russian citizens," and to impose sanctions against individuals and legal entities related to this laboratory.
In April 2018, Russia's MFA stated that "the very fact of the large-scale medical-biological activities of the Pentagon on the borders of Russia" is of particular concern for Moscow. On June 11, 2018, Russia's Foreign Minister informed his Kazakh counterpart of Moscow's concerns over U.S. military logistics planning involving Kazakhstan and biological laboratories in the country.
IMPLICATIONS: According to Moscow, these laboratories are conducting research that could potentially be used for the production of bacteriological weapons, while the transfer of information and samples of pathogens to the U.S. could disclose not only Soviet, but also Russian military and biological secrets. Thus, these activities threaten Russia's military interests. These "military-biological" labs near Russia are described as external threats in Russia's latest National Security Strategy (see CACI Analyst 09/20/18).
Most recently, Giorgadze referred to documents regarding the Lugar laboratory that he claimed to have obtained from Georgia, which allegedly disclose that the U.S. might be developing biological weapons and conducting human experiments in the facility. These accusations were accompanied with a media campaign in Russia, in which pro-government media published articles about the issue. Moreover the main state TV channels, including First Channel, covered his accusation as breaking news. Although Giorgadze stated that the official documents he had obtained contained evidence of his allegations, his claims were ambiguous. For instance, regarding the human experiments, he said, "I do not exclude that they conduct experiments on people." Moreover, he confirmed positive developments in public health in Georgia, including an increase in treatment of hepatitis C. On the other hand, he argued that "strange things are happening," according to 100,000 pages of documents that Giorgadze said he had received from his "friends in Georgia." He called on experts to study the documents and said he is interested in drawing attention to the situation and that an international investigation should be conducted into the issue. Yet he also admitted that "there are not enough materials" for official allegations, and that his sources in Georgia may have "various political aims."
The U.S. and Georgia rejected these claims within a day. Pentagon spokesperson Eric Pahon strongly rejected Kirillov's statement, calling it "an invention of the imaginative and false Russian disinformation campaign against the West" and "obvious attempts to divert attention from Russia's bad behavior on many fronts." The Georgian Prime Minister's special representative for relations with Russia, Zurab Abashidze, termed the allegations against Georgia's National Center for Disease Control and Public Health (NCDC) "a soap bubble, which will be burst very soon." The NCDC, which oversees the Lugar Center, stated that Moscow "categorically rejected" its invitation to participate in an international monitoring exercise of the laboratory. The Russian MFA confirmed the refusal to partake in the exercise, stating that "Russian specialists will not take part in a propaganda workshop on countering biological weapons in Tbilisi."
President Putin also expressed concerns regarding Giorgadze's claims: "these developments – if they are actually taking place – are very dangerous and are related to the latest achievements in genetics." Although Putin did not judge whether the allegations were true, he stated that "it is about finding agents that can selectively affect people depending on their ethnic group, and over two or three generations, allegedly, they have used animals to conduct such experiments." Putin also warned the West and said that "everyone has to be aware that nothing comes from nothing and nothing disappears; every action has a reaction, or rather, an opposite ... if someone is developing this technology, they have to understand that others will be doing so as well. So it is better to sit at the negotiating table beforehand and develop unified rules of conduct in this very sensitive area."
CONCLUSIONS: General Kirillov utilized almost all of Giorgadze's accusations in his press-conference and referred to Giorgadze's documents as facts. In this case, Russian authorities are seemingly using Giorgadze as an "expert" and a main source in accusing the U.S. of developing biological weapons and conducting human medical experiments in former Soviet republics. According to the Independent, Kirillov's press conference was hastily announced, precisely at the moment when Russian authorities likely learnt of the upcoming announcement that four of its citizens had been expelled from the Netherlands after an attempted cyberattack on the OPCW. This sequence of events indicates that the recent intensification of the campaign against the Lugar laboratories is part of a response to investigations into Russia's cyber-attacks and attempted assassinations, i.e. the Skripal case, in several Western countries. The latest developments highlight how the Kremlin uses the "biological" narrative for attack and counterattack in the information war, along with backing its suspicions and grievances over U.S. cooperation with former Soviet republics. While the narrative is currently employed as an information operation, it could also serve as a means for intimidation or even a pretext for military intervention in the future.
AUTHOR'S BIO:
Nurlan Aliyev is a PhD Candidate and Researcher at the Institute of International Relations of the University of Warsaw. He is a receiver of the Visegrad Found Scholarship for 2018-2019. From 2000 to 2017, he worked as an expert at various government, non-government and international institutions. His research focuses on political and security processes in Russia, post-soviet countries and asymmetric warfare threats.
Image source: By: Press TV accessed on 11.27.2018