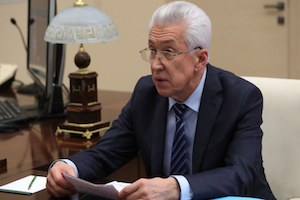 BACKGROUND: A report released by the CCI emphasizes a particularly high increase of protest activity among ethnic minorities in the North Caucasus, the Volga region, Tatarstan and northern Siberian regions. Russia's worsening economic situation has reduced transfers from the federal budget to the North Caucasus republics, which depend on federal funds. In the recent past, one-time transfers of money from Moscow to the regions kept socio-economic tension at bay. This option is becoming increasingly unavailable due to the scarcity of funds, which the federal authorities generally seek to spare for the urban areas of west-central Russia. As a result, unemployment, corruption, and the general frustration of the local population will likely grow as many see the deteriorating socio-economic conditions as a sign of mismanagement by local elites and their lack of interest in their native - non-ethnic-Russian – home republics.
Recently, the federal authorities' initiative to reduce the teaching hours for minority languages across Russia, purportedly for economic reasons, generated a wave of discontent. This initiative was greeted with particular suspicion and disapproval by many in the North Caucasus, where ethnic languages continues to be a sensitive matter. In the Circassian republics of the Northwest Caucasus, a number of symbolic cases have contributed to the rising discontent with the attitude of federal and local authorities. For instance, Ruslan Gvashev, a Circassian elderly (stareishina) was found guilty by the courts in Sochi of organizing events commemorating the losses suffered by hundreds of thousands of Circassians during their 19th century wars with imperial Russia. Simultaneously, local Cossacks commemorating the same events from a different perspective were explicitly backed by the local Russian authorities. Circassians traveling to Sochi to support Gvashev and his cause were detained by Krasnodar police.
In the Volny aul village of Kabardino-Balkaria, protesters wishing to acquire land to build houses were subjected to police violence in late October, and their leader Aslan Iritov was held in custody. As noted by the web server KavkazRealii, many interviewed locals in the Northwest Caucasus expressed concern of turning into strangers in their native republics, a situation that to an extent exists across the region. Particularly in Dagestan, following the unprecedented appointment of an ethnic Russian, Vladimir Vasilyev, as head of this multi-ethnic republic, locals have expressed concern to the authors of this article over the fate of their republic and the decreasing status of its natives.
While the level of protest activity in Chechnya has been recorded at its lowest to date – primarily due to the harsh political repression of Ramzan Kadyrov's regime, the North Caucasian republics of Kabardino-Balkaria, Adygea and Karachay-Cherkessia, along with the largely Muslim Tatarstan region, experienced a growth in protest activity among their populations in 2017. The CCI report emphasizes that in contrast to central-eastern Russian regions, the republics of the North Caucasus have among the highest levels of conflicts between the public and elites.
IMPLICATIONS: Surveys conducted in the region demonstrate that residents of Kabardino-Balkaria, Karachay-Cherkessia and Adygea are notably discontent with appointed officials, who are considered highly corrupt and "disconnected from the people." Both elected and appointed officials are also accused of illegal land sales and redistribution of state assets. Residents denounced state officials for their low interest in matters related to national identity, national languages and local culture. Along with the northwest North Caucasus, Dagestan occupied a leading position among Russian regions in terms of increased political protest activity in 2017.
In contrast to the Central-Eastern regions of the Russian Federation, where political protests targeted the federal government and were often organized by opposition parties, protests in the North Caucasian republics were mostly directed against local administrations, and were organized by local civil groups or grass-roots organizations, most of which are only active in their home republics. This difference is largely due to higher levels of unemployment, corruption and other socioeconomic grievances in the minority republics compared to ethnic-Russian regions. Most of these problems are associated with malfunctioning local administrators, rather than faults in federal governance.
Deteriorating socio-economic conditions are a breeding ground for discontent across Russia. Yet in the North Caucasus, this problem also acquires an ethnic dimension, as many locals appear to be concerned about ethnic discrimination of natives both in their region and in Russia proper. In the North Caucasus, as elsewhere in Russia, governors are appointed directly by the Kremlin, and there is little room for political expression as opposition parties do not exist. For a segment of the frustrated youth eager to bring about political change or channel their discontent with the regime, the only way has been violence, with Salafi-jihadism as the only ideology channelling their desperation.
Until recently, the Syrian civil war and the locally operating jihadi groups figured as a possible way out of the despair of their home area. Yet with the gradual demise of the terrorist organization known as the Islamic State in Iraq and Syria (ISIS), those unhappy with the current state of affairs may turn to violence where they live, joining the still-existing but critically weakened jihadi cells, or creating new ones. The return of Syrian veterans from the Middle East to the North Caucasus could contribute to this likely trend, although only a share of the surviving fighters, dozens rather than hundreds, may actually succeed in entering Russia. Yet even a small number of returnees could pose a serious threat to the security of the North Caucasus and Russia, with the upcoming football championship being a particularly vulnerable target.
In fact, ISIS authorities have on various occasions warned Russia of their planned attacks against the football championship, which will take place in May-June 2018 in three cities in southern Russia (Volgograd, Rostov on Don and Sochi). ISIS released its first threat to attack the sports event on October 17, followed by another promise to target the championship on October 20. This persistence suggests that ISIS followers from the North Caucasus (one of the threats was published in Russian), are possibly preparing to attack one of the championship's venues. Experts have indicated that the risk of a terrorist attack during the 2018 championship is fairly high, but that it would be unlikely to seriously disrupt the event due to a particularly high level of security planned by Russian siloviki for the duration of the games. It has been reported that a number of individuals imprisoned on terrorist charges in Russia's southern regions due to be released this and early next year were given longer sentences extending beyond the championship. Pre-emptive arrests of suspected members of jihadi groups have already started in several of the North Caucasian republics, as reported by human rights activists.
Since Russia's elite counter-insurgency and counter-terrorist units are deployed to eastern Ukraine's Donbas area and Syria, Russian siloviki may face a critical lack of capacity to combat the revived jihadi insurgency. It has been particularly hard for Russian security services to adapt to changing jihadist tactics and their ability to recruit youth from among Muslim communities in the North Caucasian republics, which is due to growing discontent with the socioeconomic situation in the region. A recently uncovered plot by ISIS to attack participants of an international youth festival on October 14 in Dagestan's capital Mahachkala with knives indicates the jihadists' efforts to employ new tactics.
CONCLUSIONS: The socio-political issues affecting the North Caucasian region are likely to accelerate in the wake of Russia's forthcoming presidential elections. As the federal government is less able and willing to invest in the North Caucasus, public discontent with local governments is likely to grow along with the deteriorating socio-economic climate in the region. Although political protests against the Kremlin are currently rare, and often associated by siloviki with jihadism and separatism, Moscow's neglect of local issues may backfire by drawing more North Caucasian youth into radical organizations, such as ISIS. ISIS and other jihadi organizations active in the North Caucasus are in turn keen to capitalize on the region's socioeconomic problems.
AUTHOR'S BIO: Emil A. Souleimanov is Associate Professor at the Department of Security Studies, Institute of Political Studies, Faculty of Social Sciences, Charles University. His recent publications include Iran's Azerbaijan Question in Revolution: Identity, Society, and Regional Security. Huseyn Aliyev is a Research Fellow at the School of Social and Political Sciences, University of Glasgow.
Image source: By en.kremlin.ru, accessed on 2.26. 2018