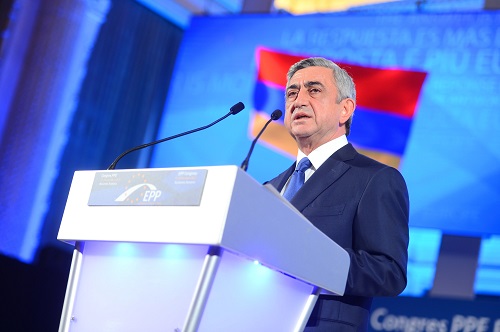 BACKGROUND: Details on the new Comprehensive and Enhanced Partnership Agreement between the EU and Armenia have not yet been made public. However, analysts describe it as a "lighter version" of the Association Agreement (AA) and Deep and Comprehensive Free Trade Agreement (DCFTA), from which Armenia withdrew in 2013. Armenia will have to adopt EU legislation in many sectors, but to a lesser extent than would have been the case when implementing the AA and DCFTA. The new agreement contains many of the crucial political provisions included in the AA and endorses reforms in a broad range of spheres such as human rights, transparency of state institutions, the judiciary and the electoral process. Moreover, the agreement will expand the scope of bilateral economic cooperation across several sectors such as trade and investment, energy and transport, but lacks the crucial free-trade component, distinguishing it from the DCFTA. The economic provisions of the agreement had to be tailored to Armenia's obligations as a member of the EEU and its gas agreement with Russia, which effectively prevent Armenia from deeper economic integration with the EU. On the other hand, the EU rejected Yerevan's request to include an opt-out clause from certain articles of the agreement, which Armenia intended to use in case they collided with new arrangements in its EEU membership.
Simultaneously, Armenia is pursuing closer cooperation with NATO, which was strained after Yerevan diverted from its pursuit of closer ties with the EU and instead decided to tighten its alliance with Russia and the Moscow-led economic block. However, despite its growing military dependence on Russia, which has narrowed the scope of cooperation with NATO, Armenia has decided to retain its contribution to NATO activities such as the peacekeeping missions in Afghanistan and Kosovo and joint exercises. Furthermore, in 2005-2011 Yerevan implemented NATO-endorsed reforms in the security and military spheres. At present, Armenia seeks closer partnership with the alliance. During his meeting with NATO Secretary General Jens Stoltenberg, President Sargsyan sent a signal that Armenia wants to rekindle its relationship with NATO and even enhance the scope of joint activities. Against this backdrop, Sargsyan extended an invitation to Stoltenberg to visit Armenia, which could make headway to a new opening in bilateral relations.
The decision to establish NATO's Trust Fund in Armenia, intended to stabilize the situation in Nagorno-Karabakh, could constitute a first step towards enhanced bilateral cooperation. Furthermore, NATO and Armenia are currently in the process of approving their new Individual Partnership Action Plan for 2017-2019, which will take into consideration Armenia's obligations as a CSTO member. Nevertheless, Russia's overwhelming presence in Armenia's military sphere and the requirements stemming from the country's membership in CSTO will narrow the possibilities for cooperation with NATO, which Moscow will certainly oppose. Furthermore, Russia's military presence in Armenia is growing and includes plans to establish joint Russo-Armenian military forces and the deployment of new advanced military equipment to the Russian military base in Gyumri.
IMPLICATIONS: Armenia's demonstrated intent to boost ties with the EU and NATO after the country distanced itself from the West in favor of the Moscow-led organizations suggests that Yerevan wants to return to a more balanced foreign policy in order to reduce its overt dependence on Russia. While Yerevan is unlikely to alter its strategic alignment with Russia, it seeks to strengthen multiple international linkages. This is particularly true in the security and military spheres which came into focus in April 2016 during the four-day war with Azerbaijan around Nagorno-Karabakh. Security concerns are among Armenia's most important reasons for maintaining close ties with Russia and Moscow is one of the key players involved in the Nagorno-Karabakh peace process. During the April hostilities, Russia unexpectedly refused to provide military assistance to Armenia or condemn Azerbaijani aggression. Moreover, the closer relationship between Russia and Azerbaijan in the military and economic spheres, which has grown closer in recent years, prompts Armenia to question Moscow's security guarantees.
After the eruption of fighting in Nagorno-Karabakh, Armenia failed to gain support from its allies in the EEU and CSTO, including from Belarus and Kazakhstan, which preferred not to endanger their relations with Baku. Another indication that Minsk and Astana prioritize their ties with Azerbaijan over their formal alliance with Armenia was their informal blocking of an Armenian candidate to replace the incumbent CSTO secretary general. Armenia's candidate was finally appointed after a long delay in April this year. Formally, CSTO is intended to provide a collective security umbrella for its members, but contradictions and conflicting loyalties between member states undermine the credibility of its security guarantees.
Economic slowdown is another driver of Armenia's renewed interest in rekindling its relationship with the EU. A lack of economic diversification, coupled with overdependence on Russian financial assistance and access to the Russian market for Armenian goods and its labor force, has caused the country's economy to decline sharply since late 2014. Furthermore, Armenia's membership in the EEU has not so far brought the anticipated economic benefits. At the same time, EEU requirements limit the possibilities for economic integration with alternative markets, which could help mitigate Armenia's economic isolation and attract more foreign investments. While the Comprehensive and Enhanced Partnership Agreement is far more limited in its scope for economic cooperation than the DCFTA, it promotes deeper integration of Armenia's economy with that of the EU, as well as reforms in the business environment, economic development, infrastructure and state governance. Yerevan hopes that overall economic and institutional modernization, access to the new foreign investments and new markets will translate into better economic outcomes.
The announced finalization of the new EU-Armenia partnership agreement and Sargsyan's visit to NATO's headquarters before the April parliamentary elections in Armenia were used as key messages to Armenian voters in the pre-electoral campaign. The ruling Republican Party of Armenia wanted to demonstrate their commitment to the far-reaching socio-economic reforms proposed after the government reshuffle in October last year, in order to soothe rising domestic tension that resulted in several armed confrontations and casualties during the election campaign. Overtures to the West aim to placate the popular frustration with economic and political inertia and the growing disappointment with Russia among large swathes of the Armenian public.
CONCLUSIONS: Its reengagement with the EU and NATO amidst the serious conflict between Russia and the West suggests that Yerevan wants to remind Russia of its significance, yet Armenia is unlikely to stray from its tight alignment with Russia. Yerevan hopes to gain wider political support in case hostilities escalate in Nagorno-Karabakh and to improve Armenia's faltering economy.
Pursuing parallel relations with two blocks who promote conflicting interests can give rise to several complications in Armenia's foreign policy. Obligations stemming from its EEU and EU agreements prevent Armenia from seeking deeper economic integration within either of these structures. Moreover, the new arrangement with the EU requires the Armenian government to introduce far-reaching socio-economic reforms. The rising domestic frustration with the political and economic situation and increasing security concerns could pressure the ruling party in this direction. On the other hand, re-engaging the EU could be a "window dressing" political maneuver in order to soothe domestic tensions without embarking on much needed reforms and to capitalize on the growing pro-Western sympathies among the Armenian public. Similarly, Russia's profound presence in Armenia's military sphere severely limits the scope for cooperation with NATO. Pursuing simultaneous cooperation with NATO and CSTO amidst the current standoff between Russia and the West appears risky and could put Armenia in a difficult position should these tensions escalate.
AUTHOR'S BIO: Natalia Konarzewska is a graduate of University of Warsaw and a freelance expert and analyst with a focus on political and economic developments in the post-Soviet space.
Image source: wikimedia.org accessed on 21.06. 2017