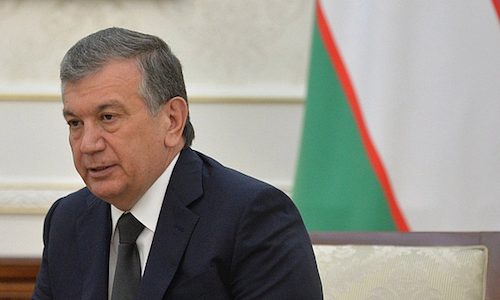 BACKGROUND: Once part of the Soviet Union, both countries host large ethnic Tajik and Uzbek minorities, cut off from their titular homelands by the Soviet border delimitation. Responding to the threat posed by the Islamic Movement of Uzbekistan, which was based in Tajikistan at the time, Uzbekistan started mining the border with Tajikistan in 1999. In 2001, it introduced a visa regime for Tajik citizens.
In recent years, tensions have centered on access to water resources. Seventy five percent of the Amu Darya, Central Asia's largest river, originates in Tajikistan. Uzbekistan, the world's sixth largest cotton producer, relies on water from the Amu Darya to irrigate its land. Agriculture constitutes an estimated 20 percent of the Uzbek economy and employs a quarter of the country's workforce. In its bid to become energy independent, Tajikistan has built dams in the tributaries of the Amu Darya. With the support of Russia, the Sangtuda-1 hydroelectric plant began producing electricity in 2008. The Iranian-backed Sangtuda-2 opened in 2011.
The Rogun dam, which at 335 meters would be the tallest in the world, is the main source of tension with Uzbekistan. If completed, the dam would produce 3,600 megawatts of power. The project, which began during the Soviet Union, is expected to cost US$ 4 billion, around half of Tajikistan's GDP. Rogun has become an important symbol of Tajikistan's independence and lynchpin of Rahmon's plans for developing the national economy. Billboards with slogans such as "Rogun is our national idea" and "Rogun is the key to victory" can be seen across the country. According to Uzbek officials, the reduction in the flow of water whilst the reservoir for Rogun is formed will last for up to ten years and cost the Uzbek economy US$ 20 billion. President Karimov claimed in 2011 that without upstream dams, irrigated land in Uzbekistan would increase from 4.3 million to 10 million hectares.
In the years before Karimov's death, a few signs emerged that relations between the two countries were improving. Karimov visited Dushanbe in September 2014 for the Shanghai Cooperation Organization summit, his first visit in seven years. In June 2015, Uzbekistan's Minister of Internal Affairs Adkham Akhmedbayev visited Tajikistan, becoming the first interior minister to visit since 1998.
Since Karimov's death, additional indications suggest that the relationship is improving. Rahmon was one of only three heads of state to attend Karimov's funeral in Samarkand on September 3. Whereas in previous years Foreign Minister Abdulaziz Kamilov had used his speech at the UN General Assembly to chastise Tajikistan's plans to build Rogun, this year he was more reserved, focusing on the ecological disaster of the Aral Sea instead. Visiting Dushanbe on September 29, Kamilov expressed interest in "resetting" relations with Tajikistan.
IMPLICATIONS: When he became acting president in September 2016, Shavkat Mirziyoyev could have openly provoked Tajikistan in an effort to unite Uzbeks behind him. Instead, he has cautiously offered to improve relations. Uzbek foreign policy decision making remains shadowy and identifying the reasoning behind the friendlier stance is a difficult task. It could be that Mirziyoyev wishes to reduce the country's tensions with its neighbor in order to allow him to prioritize the consolidation of his power domestically.
Although the rhetoric coming from Mirziyoyev's regime is certainly less confrontational, it remains to be seen how relations between Tajikistan and post-Karimov Uzbekistan will develop in the long term. At present, the improvement in relations exists as a series of statements rather than concrete actions. The resumption of transport links and easing of visa regulations would certainly improve the lives of border communities, and benefit Tajikistan's ailing economy in particular. In recent years, Tajikistan's economy has suffered as a result of punitive measures adopted by Uzbekistan's government.
Tajikistan remains dependent on Uzbekistan for energy links and transport – all of Tajikistan's rail connections with the outside world run through Uzbekistan. Uzbekistan's government has used this position to pressurize its neighbor. In 2008, the government of Uzbekistan started seizing railroad cargoes bound for Tajikistan. In late 2011, all railway traffic was halted after what Uzbek officials called a "terrorist" attack damaged the line near the border. Of the 16 border crossings between the countries, just two remain open. As a result, bilateral trade fell from US$ 300 million in 2008 to just US$ 2.1 million in 2014. Responding to the blockades, both sides have started building railroads that avoid each other's territory. In February 2016, Uzbek officials opened the Angren-Pap railway line, running from Tashkent to the Fergana Valley, bypassing Tajikistan. President Rahmon opened a new line between Dushanbe and Qurgon-Teppa in August 2016, bypassing Uzbekistan.
Uzbekistan has also used its position as energy supplier to put pressure on Tajikistan. In 2009, Uzbekistan withdrew from the Soviet-era power grid, through which it had supplied electricity to Tajikistan. In 2012, Uzbekistan stopped supplying natural gas to Tajikistan, claiming it needed to fulfil contracts with China. This compounded the energy crisis in Tajikistan. Dependent on glacial meltwater to replenish its reservoirs, the government of Tajikistan limits electricity supplies to the population during winter months.
Although it is clearly in both parties' economic interests to find an amicable solution to the ongoing disputes, tensions will remain strong so long as both sides maintain their stance on hydropower. Rahmon has made the stakes very clear, stating that "Rogun is a symbol of the life of our nation, a symbol of life and death of the Tajik state!" A 2014 feasibility study conducted by the World Bank found that the dam will fit within international safety norms. The Tajik government is pushing ahead with plans to construct the dam, although it remains unclear how it will fund the project. In July, the government offered the contract to construct Rogun to Italian firm Salini Impregilo. In August, Rahmon visited Rogun, insisting that the dam will serve the Tajik nation "for centuries to come."
Despite the change in leadership, it is unlikely that Uzbekistan will abandon its opposition to Rogun entirely. Such a move would constitute a serious loss of face for a president still consolidating his position in power. Recent diplomatic communications suggest that the disagreements are ongoing. After the government of Tajikistan gave the construction contract to Salini Impregilo in July, then Prime Minister Mirziyoyev sent a strongly-worded letter to his Tajik counterpart Kohir Rasulzoda. In the letter, he stated that the "Rogun hydropower plant is associated with the huge threats to the entire Central Asian region." Clearly not all Tajik officials read the letter closely. A few days after it was sent, the Tajik Minister of Energy and Water Resources Usmon Usmonzoda claimed that Uzbekistan had no opposition to Rogun. The Uzbek Ministry of Foreign Affairs responded with an August 1 statement declaring that, "never and under no circumstances," would they support the project.
A lasting improvement in relations will require a compromise from both sides. Although Tajikistan stands to gain most from improved relations, it has appeared less willing than its Uzbek counterparts to compromise. Uzbek officials have suggested that Tajikistan can become energy independent without drastically altering the water flow and environment of the river basins if it builds more, smaller dams. These plants could be installed more quickly than Rogun and are unlikely to cost more than the mega-dam. Even though the Tajik government has the most to gain from improved relations, it remains committed to building Rogun. The mega-dam has become more than just a dam; it a symbol of the Tajik nation and its achievements. Without a change in attitude, the prospects for a change in policy remain slim.
CONCLUSIONS: Although foreign policy making in Central Asia remains opaque, there is reason to expect a slight improvement in relations between the governments of Uzbekistan and Tajikistan in the coming months. These are less likely to be revolutionary changes than small improvements in areas not directly linked to hydropower, such as the resumption of direct flights between Tashkent and Dushanbe, or the simplification of visa restrictions. In the end, rebuilding energy and transport links is in the interest of both governments. But mistrust and tensions will remain. Neither side looks set to climb down from their entrenched position on hydropower, the primary source of the conflict between the two states.
AUTHOR'S BIO: Edward Lemon is a postdoctoral research fellow at the Harriman Institute, Columbia University.
Image source: www.bultannews.com, accessed on October 18, 2016