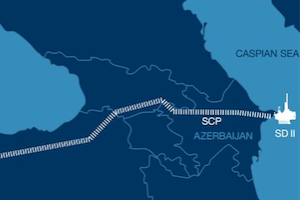 BACKGROUND: For years the West has been grappling with the issue of establishing a reliable pipeline alternative to Russia through the Caucasus and Central Asia. Over the years these projects have taken on different names and iterations: the Southern Gas Corridor, Trans-Caspian Gas Pipeline, and Nabucco. All of them have failed, not least due to Russian countermoves. Despite the efforts to link Central Asian producers, Turkmenistan and Kazakhstan, into these projects, only Azerbaijan is exporting gas to Europe either through the AGRI interconnector that goes through Georgia to Romania and Hungary or by the Transanatolian pipeline (TANAP) that connects at the Greco-Turkish border to the Trans-Adriatic Pipeline (TAP). Once those projects are built, although their throughput of gas will be small relative to Russian exports; Azeri and Caspian gas will be able to flow uninterruptedly to Europe with enormous benefits for Azerbaijan, Georgia as a connecting country and consumer of that gas, Turkey, and Europe.
The new gas discovery in Georgia raises new hope for future gas supplies to Europe. As Ariel Cohen of the Institute for the analysis of Global Security and the Atlantic Council has recently pointed out, even if half of the announced discovery is not conventional gas, and therefore more expensive to exploit, Georgia will have found a deposit the same size as Azerbaijan's Shah Deniz Field no. 2. It is an enormous find, which can provide lasting benefits for Georgia for many years.
The Georgian government recently announced the need to diversify its gas imports but has not explained why, especially as Gazprom is a notorious exploiter of its customers and a corrupting agent of their politics as Ukraine has shown. Moreover, as an arm of the Russian government, Gazprom is entirely complicit in Russia's imperial designs upon Georgia which, if anything, have increased with Moscow's annexation of South Ossetia and Abkhazia. The Georgian government's recent attacks upon opposition media, a classic Putinist tactic, have raised additional questions regarding its motives. Since it cannot explain its decision to move to Gazprom, the announcement of this intention has triggered popular unrest in Georgia and suspicion abroad.
Opting for increased reliance on Gazprom will have serious implications for Georgia's sovereignty and is a questionable move as Georgia is on the verge of energy independence. Moreover, the visible corruption of the present regime, as shown by its attacks on dissidents, raises considerable doubts whether it will be able to use this new windfall appropriately rather than falling into the same pattern of corruption visible in so many other countries.
Azerbaijan has hitherto reliably sold Georgia gas and oil through its pipelines and is certainly interested in doing so in the future. Moreover, it has no designs upon Tbilisi and needs an independent Georgia for its own vital interests, both economic and strategic. Thus the deal with Gazprom could undermine Georgia's democracy as well as Georgian and Azerbaijani security with no apparent net benefits accruing to Tbilisi. Under the circumstances, and especially given this discovery, the Georgian government needs to explain its motives and should move with alacrity to exploit the opportunity now offered along with the ensuing advantages that it would bring.
IMPLICATIONS: The new discovery offers Georgia many advantages, first of all energy independence. This is of utmost importance since Russia has frequently used the energy weapon against Georgia to curtail its independence both before and after the Russo-Georgian war of 2008. This windfall would allow it to reduce Russia's nefarious and corrupting influence in Georgian politics and economics, which in itself would be a very positive and lasting development.
Second, as Cohen points out, this discovery opens up multiple opportunities for export to Europe and the receipt of sizable revenues while also cementing its ties to the EU and NATO members. Cohen cited multiple options. Georgia could use the existing pipeline to Turkey and thus place its gas into the TANAP-TAP pipeline network going to the Balkans and from there to Italy and Central Europe. It could also export the gas to Europe as liquefied natural gas (LNG) either to Romania across the Black Sea or through the AGRI interconnector. Alternatively, Georgia could export the gas to Odessa's port and supply Ukraine with gas. The geopolitical benefits of that option are obvious. Numerous other opportunities exist, including Turkey, Central Europe and the overall European market. In other words, Georgia stands to make a lot of money, enhance its security, improve its connections to Europe, strengthen the Southern Gas Corridor, and reduce Russia's malign influence in its economics and politics while also reinforcing its ties with Baku and their mutual independence from Russian threats.
On the other hand, failure to use this windfall constructively, taken in tandem with the government's bizarre approach to Gazprom and too evident willingness to tolerate anti-democratic activities and corruption at home while appeasing Russia in its bilateral relations, raises many questions as to whether the Georgian government has an ulterior motive that it is not revealing. If this is indeed the case, such devious maneuverings would also undermine Georgia's opportunities for closer affiliation with Western governments and Western security institutions at a time when Russia is being isolated for its aggression in Ukraine.
Based on the experience of other governments who have seen similar windfalls, Georgia clearly stands before a cross roads in both its domestic and foreign policies and we cannot be certain which way it will go. But whatever decision the Georgian government makes will clearly have profound repercussions not only for Georgia but also for the Transcaucasus as a whole.
Though the Caucasus does not get a lot of press coverage abroad, these are perilous times for the region. Demonstrations in Armenia, repressions in Azerbaijan, falling energy prices that are clearly cutting into Azerbaijan's economic plans, and recent major purges in its Ministry of Interior suggest that the many crises plaguing the three Transcaucasian states are not being resolved, whether they apply to internal issues of governance or to foreign and security policies. The new discovery in Georgia offers an opportunity, once the gas will come on line in several years, to alleviate many of those problems by strengthening Georgia's prosperity, democratic governance, economic and political independence, and energy security. Georgia could also substantially improve its ties with the EU and NATO and with neighboring Azerbaijan and Turkey while gaining much greater freedom of maneuver vis-à-vis Russia.
Nevertheless, the government is making unjustified overtures to Gazprom and Russia who have done nothing to deserve such support at a time when they are rightly being ostracized. Indeed, despite the government's new policies toward Russia it has received nothing in return and Moscow has proceeded with its amputation of Georgian territory and sovereignty over Abkhazia and South Ossetia. This policy is bound to raise serious questions not only at home where public unhappiness is already mounting over Tbilisi's policies, but also in neighboring Azerbaijan, Turkey, the EU, and the U.S.
CONCLUSIONS: Indeed, the only beneficiary of the Georgian government's policies stands to be Russia, which would certainly not welcome Georgia's energy independence and links with Southeastern and Central Europe. Thus, as we have observed, the government in Tbilisi could opt for an affiliation with Russia and all that entails: diminished sovereignty, energy insecurity, domestic inclinations towards anti-democratic practices, pervasive corruption and continued vulnerability to Russian pressure. Or it could opt for energy independence, increased prosperity, lucrative and lasting ties to Europe, a stronger affiliation with the West, greater domestic prosperity, democracy, and transparency, and closer ties with its supportive neighbor Azerbaijan. Under the circumstances, this does not seem like a difficult choice. Therefore, we must ask what the government in Tbilisi really wants and whether it will take advantage of this unexpected but bountiful gift.
AUTHOR'S BIO: Stephen Blank is a Senior Fellow with the American Foreign Policy Council.
Image Attribution: www.caspianbarrel.org, accessed on Nov 20, 2015