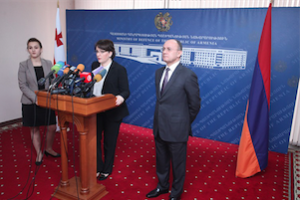 During the media briefing, Khidasheli noted that "having Georgian and Armenian soldiers standing together for world peace and security in Afghanistan, in Mazar-i-Sharif, is one of the best examples of how the countries work together regardless of strategic differences between our states." Khidasheli also stated that "peace and security in the South Caucasus is probably one of the most urgent, most important questions on the agenda that both our countries need to work on together." In his speech, Ohanyan said that despite Georgia's and Armenia's different security strategies, "it will not hamper the cooperation on a common bilateral agenda aimed at the reinforcement of security and stability in the region."
Khidasheli later had a meeting with Armenia's President Serzh Sargsyan. The interlocutors discussed issues relating to the development and strengthening of Armenian-Georgian relations and in this context stressed the importance of high-level visits between the two neighboring states. President Sargsyan underlined that the traditional partnership between Armenia and Georgia and common balanced approaches aiming to maintain regional peace and stability are highly important to Armenia. In turn, Khidasheli stated that Georgia wants to be the guarantor of peace in the South Caucasus, therefore "any kind of destabilization, be it in Nagorno-Karabakh elsewhere, will be a problem for Georgia on the same scale as for the countries involved in the conflict."
On February 2, Khidasheli met with the Speaker of Armenia's National Assembly Galust Sahakyan, who commended Georgia's balanced approach towards the Nagorno-Karabakh issue and noted that despite its strategic cooperation with the Russian Federation, Armenia seeks to maintain a balanced position with regard to South Ossetia.
Sahakyan also emphasized that despite the friendly relations between Armenia and Georgia, international parliamentary cooperation within the Parliamentary Assembly of the Council of Europe (PACE) is not successful. As an example, he mentioned the recent voting (on January 26, 2016) on two PACE resolutions, namely the "Escalation of violence in Nagorno-Karabakh and the other occupied territories of Azerbaijan" and "Inhabitants of frontier regions of Azerbaijan are deliberately deprived of water," in which all three delegates from Georgia voted for.
Sahakyan also raised the issue of Georgia's cooperation with Azerbaijan and Turkey in the military-industrial sphere, opining that it will not undermine military cooperation between Georgia and Armenia. In Yerevan, Khidasheli also reiterated the fact that the cooperation with Turkey and Azerbaijan is of strategic importance for Georgia. Moreover, the minister underlined that the fact that Georgia neighbors Turkey, which is a NATO member, "makes our [Georgian-Turkish] cooperation even deeper and stronger than cooperation with any other country in the neighborhood." During her two-day visit, Georgia's Defense Minister also had meetings with Prime Minister Hovik Abrahamyan, Minister of Foreign Affairs Edward Nalbandian and the Catholicos of All Armenians, His Holiness Garegin II.
Johnny Melikian, a Yerevan-based expert on Georgian studies, stated that by Khidasheli's official visit, Georgia seeks to demonstrate its balanced policy towards its neighbors. Particularly, Melikian believes that the visit can be regarded as "a continuation of the trilateral meeting of the defense ministers of Turkey, Georgia and Azerbaijan" that took place on December 17, 2015 in Istanbul. On the other hand, Melikian stressed the fact that 2016 is a year of parliamentary elections in Georgia. Therefore the ruling Georgian Dream coalition wants to ensure the loyalty of Georgia's Armenian citizens towards the coalition.
Image attribution: www.asbarez.com, accessed on March 8, 2016