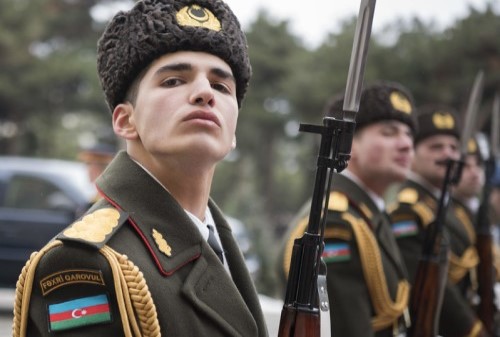 BACKGROUND: After a lightning advance on the northern and particularly southern fronts, the Azerbaijani army has ground to a halt in the Madagiz direction. In the north, where the terrain complicates the offensive into Armenia-controlled territory, Azerbaijani advances appear to be slower. In the south, Azerbaijani forces have taken control over areas along the Araxes river, including the towns of Jabrail and Zangilan. Azerbaijan's advances on the southern flank are described as promising. Yet having thrust deep into enemy territory, Azerbaijani forces have found themselves in a risky position: they could become cut off from their main support lines unless they seize Hadrut (and prospectively Fuzuli) to the north of Jabrail. This would enable Azerbaijani troops to secure their advances and avoid encirclement.

Accordingly, Azerbaijan's war plan appears to have changed. Instead of advancing in the north and east of Nagorno-Karabakh, which Baku also envisaged in earlier planning, aiming to launch a war of attrition on as many flanks as possible, Azerbaijani forces are now concentrating on advancements in the Hadrut-Khojavend direction. The landscape enables Azerbaijani forces to thrust deeper into Nagorno-Karabakh's heartland. Hadrut and Fuzuli are critical to Azerbaijani forces in order to access Nagorno-Karabakh. The importance of Hadrut is not just strategic, but also psychological. It is the first town of Nagorno-Karabakh proper where Azerbaijani forces have managed to gain a foothold. For about a week, bloody fighting has been ongoing in the outskirts of Hadrut and adjacent villages. Participants describe the fighting around Hadrut over the last few days as the most destructive.
Losses are considerable on both sides. According to an Azerbaijani source, hundreds of Azerbaijani soldiers lost their lives on October 13 alone. According to Armenian sources close to the Ministry of Defense, the Armenian side has suffered similar losses – 200-250 men during fighting on October 13 in the south of Nagorno-Karabakh. The Armenian side seems willing to sacrifice even more lives in order to prevent Azerbaijan from gaining control of Hadrut. If the Azerbaijani military succeeds in seizing this town, this is likely to have an immense impact on the continuation of warfare in Nagorno-Karabakh. While Baku maintains its policy of non-disclosure of battlefield fatalities, the Armenian side continues to underreport its losses, as many of its fallen soldiers remain on territory that it no longer controls. Moreover, neither side is willing to admit that battlefield losses are higher than expected.
IMPLICATIONS: A high-level source in Baku admitted that Azerbaijani forces initially failed to advance deep into Armenian-controlled territory, with the specific exception of areas south of Nagorno-Karabakh. Yet he also stressed that the advance plan was not a frontal attack on Stepanakert, but a massive attack along the perimeter of the line of contact aiming to capture some key areas and borderline towns. Taking control of the entire Nagorno-Karabakh region may be a long-term objective of several years, but was never in the cards for this operation.
In fact, Baku appears to have planned to combine military advances with pressure politics to force Yerevan into important concessions. If Baku succeeds in controlling Hadrut and some adjacent areas as well as substantial territory along the line of contact, it could reject the already-discussed plans of granting Nagorno-Karabakh de facto independence in exchange for Armenia's return of the seven occupied provinces to Baku. Azerbaijan would then likely lay claim to all occupied territories, with the best-case scenario involving a gradual "de-occupation" of Nagorno-Karabakh. This, according to our Azerbaijani interlocutors, would from President Ilham Aliyev's perspective accomplish three important objectives. First, it would allow the government to consolidate control over the republic's political life. Second, it would help avoid the massive loss of life associated with a frontal attack (while some reports of up to 3,000 dead Azerbaijani soldiers may be exaggerated, losses are very significant). Third, it would cement Azerbaijan's relationship with Turkey, which would come under severe pressure if a frontal attack on Nagorno-Karabakh would incur Russia to either back Yerevan or interfere in order to stop Baku's advances.
Yet the reality on the ground appears to have exceeded the expectations of the Azerbaijani top brass. Thanks to technological advantages, better equipment, and air superiority, Azerbaijani forces have in the last days alone thrust deep into enemy territory, crushing a poorly planned and executed Armenian counteroffensive to the north of Zangilan, intending to get hold of the Lachin corridor that bridges Armenia with Nagorno-Karabakh. In the meantime, Azerbaijani forces continue to harass the northern perimeter of the Karabakh-Azerbaijani frontline, preparing a parallel offensive in the Hadrut-Khojavend direction. The attrition implied by waging a defensive war in three directions appears to be unaffordable for the Armenian forces. If the Azerbaijani army succeeds in acquiring control over the Lachin-Kelbajar area, with simultaneous offensives underway from the south and south-east, the war might be over within several weeks or months as Armenian supplies would be critically weakened.
Moscow has so far appeared willing to accept Azerbaijan's advances. One Azerbaijani source, however, claims that Moscow is not likely to tolerate an Azerbaijani takeover of Nagorno-Karabakh itself. It is also the prevalent understanding in Baku political circles that Moscow is prepared to accept only minor Azerbaijani victories, with the status quo unchallenged. However, since Russia has so far remained reluctant to intervene on the side of its ally Armenia, speculation has grown that Moscow and Baku have come to some form of unwritten agreement even before the start of large-scale fighting in Nagorno-Karabakh. Whether or not this is the case will become clearer with time.
There are sources that suggest that Turkey and Russia may be interested in establishing a joint peace operation in Nagorno-Karabakh. While Baku may accept such a plan, it is very unlikely to find support in Yerevan, Russian pressure notwithstanding. Therefore, the future of peace talks on Nagorno-Karabakh will likely be determined by the outcome of the ongoing fighting in the region and particularly by Baku's ability to establish control over strategic heights in the southern direction of the frontline.
CONCLUSIONS: Moscow's response as well as Yerevan's and Baku's interest in engaging in peace talks will be heavily influenced by developments on the frontlines. If Azerbaijani forces succeed in sustaining their offensive into Nagorno-Karabakh, Baku's demands will increase and the question is whether it will still be willing to discuss a special status for Nagorno-Karabakh within Azerbaijan. Azerbaijan's advances will also further reduce Yerevan's opportunities to declare independence for Nagorno-Karabakh. While the fighting is raging, Moscow continues to keep its distance and refrains from openly supporting either side. The Kremlin can nevertheless be expected to increase its efforts to mediate a peace deal – as implied by the most recent high-level trilateral talks in Moscow – in order to prevent a complete Azerbaijani victory.
AUTHOR'S BIO: Emil A. Souleimanov is a research fellow with the Prague-based Institute of International Relations (IIR). Huseyn Aliyev is a Lecturer and Research Fellow in Central and Eastern European Studies (CEES), University of Glasgow.
Image Source: 170216-D-PB383-026 by Chairman of the Joint Chiefs of Staff is licensed by CC BY 2.0 / resized from original