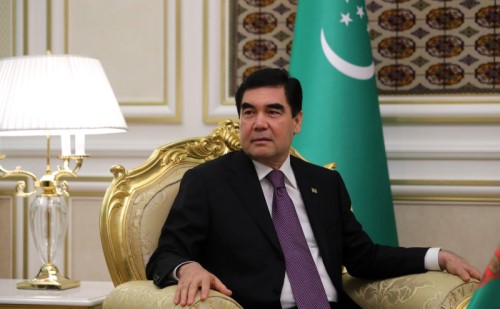 BACKGROUND: Since the 1991 disintegration of the USSR, Turkmenistan has, first under its own "president for life" Saparmurat Niyazov and since 2006 his successor Gurbanguly Berdimuhamedov, pursued a nationalist and isolationist policy. The country has declined participation in post-Soviet political, economic and military groupings, including full membership in the Commonwealth of Independent States (CIS), the Collective Security Treaty Organization military alliance (CSTO), the Eurasian Economic Union (EAEU) and the Shanghai Cooperation Organization (SCO).
Amid the Covid-19 pandemic, the Turkmen government pursued an initial policy of denial, followed by a growing awareness of the need for international assistance. The country's two other crises, plummeting natural gas prices and rising international concern about a seemingly inevitable Taliban victory in Afghanistan are both predicaments that the Turkmen government cannot unilaterally resolve, further increasing pressure on the administration to reassess its formerly isolationist inclinations. This deviation is not insignificant; on December 12, 1995, 185 members of the UN General Assembly adopted a Special Resolution, "On the Permanent Neutrality of Turkmenistan," asserting that contemporary international law is the law of peace and that a neutral state must constantly adhere to its status not only in wartime, but also in peacetime. Crises unimaginable 25 years earlier are now prodding the Turkmen government to reassess its unique international neutrality status.
IMPLICATIONS: The most visible sign of the erosion of Turkmenistan's neutrality policy was its decision to participate in Russia's Kavkaz 2020 multinational military exercise held in southern Russia's Astrakhan region on September 15-26, alongside Russian, Chinese, Pakistani, Kazakh, Kyrgyz, Tajik, Uzbek, Mongolian, Syrian, Iranian, Egyptian, Belarusian, Turkish, Armenian and Azerbaijani contingents. Turkmenistan, along with Azerbaijan and Iran, also participated in the exercise's Caspian naval components.
Beyond participating in post-Soviet regional military exercises, Turkmenistan is also to improve national security by making efforts to upgrade and improve its Caspian-based navy. Geography limits Turkmenistan's naval forces, as the Caspian is an endorheic sea that it shares with Azerbaijan, Russia, Kazakhstan and Iran. Having previously acquired warships overseas from the U.S., Turkey, Ukraine and Russia, in 2018 Turkmenistan launched a new seaport in the city of Turkmenbashi and its first naval shipyard, Balkan, designed to build up to six naval vessels and carry out maintenance and annually repair 20-30 ships at a combined cost of US$ 1.5 billion. In August, Russia's United Shipbuilding Corporation (USC) announced that it would help Balkan construct warships to modernize its fleet. The same month, representatives of Turkmen Sea and River Lines (Türkmendenizderyaellary) and St. Petersburg's Committee for External Relations tentatively agreed on the construction of ships for Turkmenistan in St. Petersburg.
If Turkmenistan is seeking enhanced national security through increased regional military cooperation, combating the Covid-19 pandemic requires global cooperation. On September 22, this awareness prompted Turkmen President Berdimuhamedov to devote much of his speech at the online session of the UN General Assembly to the Covid-19 pandemic, even though he stopped short of saying whether the coronavirus has spread in Turkmenistan and whether the country kept records of those infected or the dead.

Despite the Turkmen government's reticence to discuss the impact of the Covid-19 pandemic in international forums, the Turkmen Railways agency Demirellary announced on September 30 that the suspension of train traffic in Turkmenistan, begun on July 16 as a measure to prevent the spread of coronavirus, would be extended until November 1. Government officials undertook this measure despite official denials of cases formally recorded in Turkmenistan. A number of highways are also blocked. As a result, internal flights are the sole means of travel within the country and Turkmens forced to utilize flights have to "negotiate" with cashiers, who inflate the price of tickets 15 to 17 times. According to the Turkmen opposition press, the excess extorted from passengers is enriching a "ticket mafia" composed of Turkmen Airlines (Türkmenhowaýollary) employees.

If strict national and international policies can help contain the impact of Covid-19, the potential regional destabilization emanating from Afghanistan is another matter. On October 13, NATO's Senior Civilian Representative to Afghanistan, Stefano Pontecorvo, observed that despite the U.S.-fostered Doha talks between the Taliban and the Afghanistan government negotiators, Taliban rigidity was impeding progress while Taliban-driven violence surged to a 10-year high. As the general international consensus is that the political situation in Afghanistan will continue to deteriorate, Turkmenistan may choose to build upon its previous contacts with both CSTO and the SCO. Both organizations play close attention to events in Afghanistan. In May, CSTO Secretary-General Stanislav Zas announced that in 2021, CSTO participants' armed forces would hold scheduled large-scale training exercises along the Tajikistan-Afghanistan border, while the SCO Foreign Ministers Council continues its joint efforts within the SCO-Afghanistan Contact Group.
Another international issue affecting Turkmenistan's domestic policy is plummeting natural gas prices, as 91 percent of its income is derived from exports. Turkmenistan's infrastructure projects to reduce the country's isolation remain expensive and problematic. These include building the Afghan section of the Turkmenistan-Afghanistan-Tajikistan railway and its new US$ 1.5 billion Caspian Turkmenbashi Sea Port, along with promoting the construction of both the Turkmenistan–Afghanistan–Pakistan–India Pipeline (TAPI) and a proposed subsea Trans-Caspian Gas Pipeline between Turkmenistan's Turkmenbashi port and Baku. Compounding the problems of these projects, neither pipeline has attracted significant foreign investment, the railroad construction is stalled, and the port has barely any maritime traffic.
On the plus side, Turkmenistan could soon broaden its export portfolio to include Iran, as on August 24 the head of the National Iranian Gas Company (NIGK) Hassan Montazer Torbati stated that Iranian imports of Turkmen natural gas, suspended since 2017 when Iran defaulted on paying for previous imports, could resume. The revival of Turkmen gas exports to Iran would help stabilize the Turkmen economy, as China, which currently buys almost 80 percent of Turkmenistan's exports, in June cut its imports of Turkmen gas to 3.032 billion cubic meters (bcm), a 23 percent decline compared to June 2019. While natural gas exports are critical to the national economy, the Turkmen government sees diversification of export markets as increasingly important to stabilizing the economy.
This growing diversification is also extending to Turkmenistan's relations with its post-Soviet neighbors. On October 17, Turkmenistan's Foreign Minister Rashid Meredov took part via videoconference in the third meeting of the Foreign Ministers of the "Central Asia + Russia" format with his Kazakh, Uzbek, Kyrgyz, Tajik and Russian colleagues. The participants discussed pressing political, diplomatic, trade, economic, cultural and humanitarian issues, with a separate topic session on the global pandemic and developing plans to overcome the economic and social consequences of Covid-19.
CONCLUSIONS: The Covid-19 pandemic and rising violence in neighboring Afghanistan are international threats that have combined to impel the Turkmen government to reconsider its "go it alone" policies. Resolving these issues and the country's unsettled economy will require stability, which Turkmen authorities are coming to realize can be more easily accomplished with international assistance, as witnessed by recent military, economic and political developments. Whether any of the crises facing Turkmenistan have a definitive resolution remains to be seen.
AUTHOR'S BIO: Dr. John C. K. Daly is a Nonresident Senior Fellow of the Central Asia-Caucasus Institute; current work includes monographs on the development of Eurasia's railways and the dissolution of the Soviet Navy.
Image Source: Gurbanguly Berdimuhamedow (2017-10-02) by www.kremlin.ru is licensed by CC BY 4.0 / resized from original