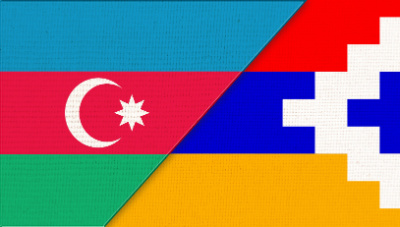 BACKGROUND: On September 19, Azerbaijan launched a military offensive that Baku termed "local anti-terrorist operations aimed at restoring constitutional order." Officially, the operation was a response to alleged Armenian military and mining activities in the separatist region, which killed two Azerbaijani civil servants and four police officers in the early morning of September 19. However, Azerbaijan had been amassing troops along the Nagorno-Karabakh line of contact and the border with Armenia since early September, and had purchased large quantities of weaponry from Israel, indicating that the operation was prepared well in advance. Also, starting from December 2022, Baku imposed various forms of blockades on Nagorno-Karabakh.

On September 20, Nagorno-Karabakh de facto authorities surrendered to Baku to avoid further bloodshed and agreed to start negotiations on the region's integration into Azerbaijan. Soon after Nagorno-Karabakh Defense Forces were disarmed and disbanded, the de facto government agreed to dissolve itself and announced that the unrecognized Nagorno-Karabakh Republic will cease to exist in January 2024. Following the capitulation of the local military forces, Armenians started to flee from Nagorno-Karabakh en masse, sparking widespread accusations in Armenia that Azerbaijan is responsible for ethnically cleansing the local Armenian population.

IMPLICATIONS: In reaction to the latest military offensive in Nagorno-Karabakh, Pashinyan vehemently denied that Armenia was maintaining its troops and military hardware in the region. Pashinyan also concluded that Armenia should not partake in any military operation in the region and that Azerbaijan's military assault on Nagorno-Karabakh aimed to drag Yerevan into war. Moreover, Armenian authorities publicly expressed concerns over possible Azerbaijani attacks on Armenian territory under the pretext of establishing the so called "Zangezur Corridor" – a transport and transit corridor intended to link Azerbaijan with its exclave Nakhchivan Autonomous Republic through Armenia's southern provinces.

Prioritizing Armenia's security and sovereignty, Pashinyan's government decided to support Nagorno-Karabakh only through diplomatic and humanitarian means. Yerevan embarked on a diplomatic offensive towards its Western partners France, the U.S. and the European Union to highlight the plight of Karabakh Armenians and gain support for the Nagorno-Karabakh cause. The government also offered to help transporting and accommodating Armenian refugees from the region. However, despite widespread concerns over the safety of local Armenians under Azerbaijani rule, Pashinyan made multiple public appeals that Armenians should stay in Nagorno-Karabakh despite Azerbaijan's takeover since they were not directly threatened.

Fearing the consequences of remaining in the region after it came under Azerbaijani control, more than 100,000 Armenian inhabitants – the vast majority if not the entire Armenian population living in Nagorno-Karabakh – fled to Armenia in less than a week.

The country was put under immense pressure to accommodate a large number of refugees in a short timeframe. Among those arriving were many vulnerable and elderly people, as well as people in need of urgent medical care. Despite assistance from international donors and humanitarian organizations, the government struggles to provide for the refugees, especially when it comes to temporary housing.

The situation in Nagorno-Karabakh resulted in massive protests across Armenia, with protestors gathering to show support for the region and demand the prime minister's resignation for surrendering it. Small protests were also staged outside Russia's embassy in Yerevan. The Pro-Russian part of the political opposition immediately sought to take advantage of the social discontent and anti-government sentiment. On September 20, a national committee comprised of senior politicians and activists from the Republican Party, HayaKve Initiative, Hayastan and Pativ Unem was appointed to coordinate protests and civil disobedience across the country with the aim of ousting the government. Demonstrations initially gathered thousands of people but started to culminate by the end of September. Residents of Yerevan and other Armenian cities did not support the opposition en masse. Despite widespread disappointment over the Pashinyan government's abandonment of Nagorno-Karabakh and its declining popularity, many Armenians regard the ruling party as the only democratic option and are wary of supporting the compromised opposition.

Pashinyan's government took the threat of a coup d'état very seriously. Anti-government protestors were frequently beaten and intimidated by the police, while dozens were arrested including opposition figures such as Andranik Tevanyan, chairperson of the Mother Armenia Alliance and former candidate for mayor of Yerevan.

Azerbaijan's military offensive in Nagorno-Karabakh coincided with a low point in Armenia-Russia relations and exacerbated the existing crisis. In recent months, relations between Moscow and Yerevan have grown increasingly tense. Pashinyan has on several occasions deplored Moscow's inability to ensure Armenia's security against Azerbaijan's incursions, due to Russia's preoccupation with Ukraine and its growing ties with Turkey and Azerbaijan. In early September Pashinyan openly stated that Armenia's dependence on Russia as a guarantor of its security was a strategic mistake. Moreover, Russia has yet to fulfill contracts for arms sales that it concluded with Armenia in 2021, a delay with adverse effects on Armenia's military capabilities.

During the September 19-20 military operation in Nagorno-Karabakh, Russian peacekeepers stationed in the region did nothing to prevent the breach of the November 2020 ceasefire agreement, which caused widespread disappointment in Armenia. Pashinyan blamed Moscow for not informing Armenia about Azerbaijan's upcoming offensive in Nagorno-Karabakh and stated that Russian peacekeepers failed to protect the local Armenian population who were thus forced to flee their homes. The Russian contingent in Nagorno-Karabakh focused mainly on humanitarian assistance and from the outset had an unclear mandate that prevented them from intervening when one of the conflicting parties breached the ceasefire agreement. Along with the fact that Russian security guarantees did not extend to Nagorno-Karabakh, Russia used this as rationale not to intervene. In the past few years, Moscow has largely accepted Azerbaijan's actions in Nagorno-Karabakh and has failed to honor its security commitments to Armenia.
Pashinyan also reiterated that neither Russia, nor the Collective Security Treaty Organization (CSTO), can ensure Armenia's national security and interests. On October 3, the Armenian parliament voted to ratify the Rome Statute of the International Criminal Court (ICC), a move that Moscow termed "extremely hostile" since ICC has issued an arrest warrant for Russia's President Vladimir Putin for alleged war crimes in Ukraine.

Simultaneously, Armenia has received support from its Western partners, especially from France and the EU, which expressed a readiness to enhance relations with Yerevan. France recently announced that it plans to deepen defense cooperation with Armenia, including sending a military attaché to its embassy in Yerevan and providing Armenia with military equipment. In turn, Moscow engaged multiple Kremlin loyalists and its propaganda apparatus to blame Pashinyan for losing Nagorno-Karabakh because of his pro-Western turn, with Russian key propagandists openly calling on Armenians to join the anti-government rallies. Russia thus seized on the opportunity to further weaken Pashinyan's position and undermine his pleas for Western support.

CONCLUSIONS: Pashinyan's government will likely be able to remain in power for now, despite its declining popularity, since many Armenians regard the ruling party as the only existing democratic option in Armenian politics. Nevertheless, the government will face exceptional challenges in the coming months since it will have to tackle a serious refugee crisis. Yerevan seems poised to continue distancing itself from Moscow and build closer ties with the West. However, this should not be interpreted as a major pro-Western shift in Armenia's foreign policy. Rather, Yerevan seeks to expand its security and diplomatic options because it perceives Russia and the CSTO as unreliable partners. A fundamental international reorientation will be difficult for Armenia given its many fundamental economic and energy dependencies on Russia, which will continue to grant Moscow substantial leverage on Yerevan.
Natalia Konarzewska is an analyst for the South Caucasus at the Centre for Security Studies, War Studies University in Warsaw, Poland. The views and opinions expressed in this text are those of the author and do not reflect the official policy or position of the War Studies University or Centre for Security Studies.