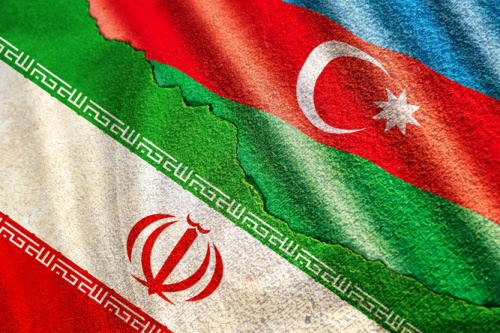 BACKGROUND: Iranian-Azerbaijani relations have been notoriously complicated since Azerbaijan gained independence in 1991-1992. There are two predominant reasons for this: the self-identifying Turcophone Azeri population in northwestern Iran, directly on the border with Azerbaijan; and clashes between Iran's and Azerbaijan's foreign policy objectives, largely centered around delimitation of the Caspian Sea and Baku's exploitation of its oil and natural gas-rich national sector of the sea.
The Islamic Republic has long been concerned over prospective irredentism among Iran's Azeri minority. This is not an insignificant minority; there are more Azeris in Iran than the total population of Azerbaijan, and Iranian Azeris form this multiethnic nation's largest ethnic minority. Since the 1990s, Iran's Azeri minority has grown increasingly aware and proud of its identity. However, with the exception of a small minority, secessionism has not gained much traction in Iran's northwest.
Yet a recent statement by Azerbaijan's president Ilham Aliyev, accompanied by similar statements from Azerbaijani officials, has led many in Iran to argue that Baku is returning to the rhetoric of the early 1990s. In November 2022, Aliyev specifically stated that "we had to conduct military exercises on the Iranian border to show that we are not afraid of them. We will do our best to protect the secular lifestyle of Azerbaijan and Azerbaijanis around the world, including Azerbaijanis in Iran. They are part of our people." These statements, along with Baku's increasingly bold policies following its victory in the 2020 war, Azerbaijan's increased importance as an energy exporter following the Western-imposed sanctions on Russia, and Baku's ongoing collaboration with Israel have all made Iran uneasy as to Baku's possible engagement with Iran's Azeri minority.
Baku's victory in the Armenian-Azerbaijani war over Nagorno-Karabakh in 2020 provided Azerbaijan with significant momentum. The blockade of the Lachin corridor despite the ceasefire is indicative of Azerbaijan's enlarged room for maneuver in the South Caucasus. Iran has been caught off guard by Baku's military and political successes. Many in Tehran appear to view this development as a critical disruption to the balance of power in the South Caucasus, which has now come to favor Baku. The war in Ukraine, diverting Russian resources from the South Caucasus, has also created a power vacuum that is benefiting Baku, aided by its close partner Turkey. The recent rapprochement between Armenia and Iran is part of a strategy to counter this. In the decades following the dissolution of the Soviet Union, and being aware of its limited influence in the South Caucasus, Tehran largely relied on Moscow to keep Baku in check. As this crucial alignment is becoming obsolete, Iran now perceives the need to play a more assertive role in the South Caucasus in general and vis-a-vis Baku in particular.
While it is difficult to establish the reason behind the attack against the embassy, the laxity displayed by Iranian authorities in terms of defending the object could be interpreted as a warning signal toward Azerbaijani authorities. The attack was likely instigated by anti-Azerbaijani sentiments that have gained momentum in Iran, with an individual acting on his own.
IMPLICATIONS: Regardless of who carried it out and why, and whether or not it was directly sanctioned by Iranian authorities, the attack represents an almost unprecedented rise in tensions between Azerbaijan and Iran. Yet it is highly unlikely that this kind of attack or similar incidents will become regular occurrences. The elites and leaderships in Baku and Tehran are both pragmatic and seek to avoid escalation.
However, the Azerbaijani regime will likely utilize the attack in its strategic communication, in order to reinforce international and domestic support. This is especially important for Azerbaijan given its central foreign policy objective of assuming a key position as an energy supplier to Europe. Given Iran's hostility towards the EU, the U.S. and other associated powers, this is where Azerbaijan will be looking for international backing against its large neighbor.
Iran remains a powerful force in the region, however, as Baku and Ankara fill the void in the South Caucasus that Russia is leaving behind, Iran is left with Armenia as its key regional partner. While Iran has little to gain from open confrontation with Azerbaijan, the implied message of the failure to stop the embassy attack is that the wider Azerbaijani position must respect Iran's interests and take Tehran's concerns over contested issues seriously.
Nevertheless, escalation could also emerge as an unwanted consequence of the heightened tensions between the two states. The recent rather provocative statements from Baku likely serve to reinforce Iran's preexisting fears regarding potentially irredentist minorities, particularly in northwestern Iran. While Iran has many minorities, of greatest importance to regime stability are Azeris, Turkmens and Kurds.
The Kurds are in a latent rebellion while the Azeris and Turkmens have remained relatively pacified. While Turkmenistan neither has the will, nor the position to fuel irredentist sentiments among Iran's Turkmen population, Iranian authorities remain suspicious regarding potential Azerbaijani designs vis-à-vis its kin in Iran. Adding to this are the irredentist actions of Azerbaijani officials up to and including Aliyev – from the President declaring support for the rights of Iranian Azeris, to lower officials making outrageous claims on Iranian land, not just including "South Azerbaijan" but land all the way to Tehran itself.
Yet Iran also has several reasons to avoid taking a hard line on the issue at present. The country is already going through civil unrest, although not irredentist in nature. It is also suffering considerable economic damage due to international sanctions, while Baku enjoys considerable support from Ankara. This support is unlikely to end – both major candidates in Turkey's May 14 elections have expressed support for Azerbaijan. Furthermore, Israel, Iran's main enemy in the region, has maintained a level of support for Azerbaijan throughout the recent tumultuous years in the country's domestic politics.
CONCLUSIONS: While a military escalation between Azerbaijan and Iran is unlikely, the fact that Iran, whether directly or indirectly, allowed the attack to happen, and the manner in which it is currently being investigated, suggest that the episode is utilized as a warning to Azerbaijan, also indicating that more dramatic measures are possible if required.
Baku is strongly supported by two other regional powers and this is unlikely to change in the current circumstances. This support, however, could also serve to delimit escalation. Ankara is preoccupied with its elections and Israel prefers to keep its maneuvering against Iran covert and informal. This, coupled with the fact that Baku is unlikely to emerge victorious from a military confrontation, could play into Iranian opportunism and Azerbaijani fears.
However, in reality Tehran is in no position to escalate given internal unrest in Iran, its ongoing economic crisis, and Russia's gradual withdrawal from the South Caucasus following its costly invasion of Ukraine. Iran's pursuit of its foreign policy objectives have caused it to overreach – given the choice between strengthening a diminishing position in the South Caucasus and pressing forward with foreign policy successes in the MENA region, it is unlikely that Iran would choose the former.
Alexander Yeo is a PhD candidate at the University of Glasgow. Emil A. Souleimanov is a professor at Charles University.