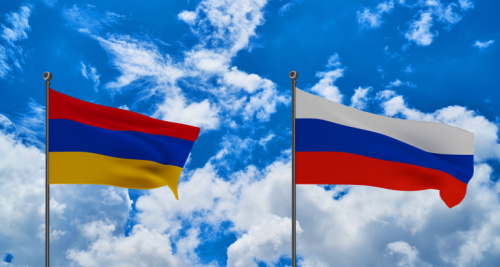 BACKGROUND: While Moscow has predictably denied Grigoryan's claims, there would be no reason to make this astonishing statement out of the blue. Armenian Parliament member Andranik Kocharyan, a member of the ruling Civil Contract party and chairman of the Parliamentary committee on security and defense, refused to confirm the story but conceded that pressure for such a decision has waxed and waned since the 1990s and is therefore not completely unexpected.
Nevertheless, Moscow's move appears to have been both unexpected and resented by Yerevan, since it does not address Armenia's urgent security challenges. Indeed, if solicited by Armenia, Grigoryan's public statement would not have presented it in such negative terms. Membership in a union state will almost certainly initiate a process leading to the truncation or gradual termination of Armenia's real sovereignty as has happened to Belarus. It might also lead to the stationing of more Russian soldiers on Armenian territory for a long time.
Armenia's security dilemma and what Russia evidently perceives as its vulnerability to pressure derive from the outcome of the 2020 war with Azerbaijan over Nagorno-Karabakh. Azerbaijan's victory has not led to peace, due to a combination of Baku's ongoing efforts to impose a territorial settlement giving it all of Nagorno-Karabakh through coercive diplomacy backed by Turkey, and Armenian popular refusal to allow the government to make peace and popular resistance in Nagorno-Karabakh proper. The postwar situation in this province remains tense and unresolved. Meanwhile, Armenia is confronting by itself an apparently unbreakable and solid Turco-Azerbaijani alliance, while its attempts to negotiate a treaty with Turkey have yet to bear fruit.
Thus, Armenia, as has frequently been the case, is on its own. Historically that has invariably led to a situation where Armenia has had to rely on Russian power to protect it from the threats that it discerns from Azerbaijan and/or Turkey. Indeed, Russia intervened to stop the war in 2020 and insert its peacekeeping forces into Nagorno-Karabakh. It also attempted to launch a mediation process with itself as the mediator, which has also foundered and apparently only earned the distrust of both Azerbaijan and Armenia. Furthermore, Moscow has failed to act through the Collective Security Treaty Organization (CSTO) when Armenia requested it to take action against Azerbaijan or to display any pressure on Baku despite its visibly coercive activities in Nagorno-Karabakh. Unsurprisingly, Moscow's failure to act on behalf of Armenia and uphold the CSTO's mandate has also undermined Armenian faith in Russian security assistance.
IMPLICATIONS: Armenia's current isolation and vulnerability to Azerbaijani and Turkish pressures might possibly explain Russia's attempt to reverse its declining standing in Yerevan by pressuring Armenia to join the union state. Armenia's agreement to this outcome might eventually have led to a stronger Russian investment in its security, however, the price for this is unacceptable to Armenia. Russia has eroded Belarus' sovereignty to the vanishing point and the country may now be dragged into a war with Ukraine that it clearly does not want. The same awaits Armenia if it succumbs to Russian pressure. Certainly, its program of domestic democratizing reform that Moscow regards with suspicion would also be eviscerated in a union state.
However, if Moscow is unwilling to empower its peacekeepers to hold the line or resist Azerbaijan's encroachments on Armenia, why would it now suddenly spring this proposal, which could ultimately entail greater formal Russian responsibilities to defend Armenian interests and even territory? Arguably the answer to these questions resides in Russia's visibly diminished standing and power across the Caucasus and Central Asia due to its incompetent prosecution of the war against Ukraine.
This is much more than a question of Moscow withdrawing sizable troop contingents from the Caucasus to fight in Ukraine. As a result of the war, Moscow cannot afford to become engaged in potentially high-risk military operations elsewhere, least of all against an ally of Turkey whom it cannot under any circumstances afford to antagonize at present. Indeed, Russia has reduced its forces in the Caucasus and Central Asia, declining its overall regional military capacity and ability to act decisively in these regions. As a result of the war in Ukraine, the trends that became visible in the wake of the 2020 war to internationalize the Caucasus as an area of regional competition have intensified. Turkey's presence in the region has clearly become stronger, while Iran is becoming increasingly involved on behalf of Armenia and against Azerbaijan. In fact, rumors of war between Baku and Tehran since 2020 have become more frequent, testifying to the deterioration of relations between these two states and the intensification of their threat perceptions as a result of the 2020 war.
This ongoing increase in foreign presence along with Russia's failure to facilitate a peace process, instead antagonizing both Azerbaijan and Armenia, has also encouraged both the EU and the Biden Administration to play a role as potential mediators. Thus, we see a decline in both Russia's military capability and its readiness, willingness, and capacity to play a leading political role in the region. This opens up possibilities for foreign governments to assert their own interests and prerogatives.
Russia's pressure for Armenia to join the union state is directed towards recapturing some of the ground it has lost in the Caucasus by promoting a solution that increases its leverage over Armenia and presumably Azerbaijan with regard to Nagorno-Karabakh. Beyond this, it also represents an attempt to retrieve a neo-imperial position as a regional security manager in the Caucasus as a whole. In turn, it illustrates Moscow's failure to grasp Armenia's mentality and psychology, just as it has utterly misread Ukraine. It is quite unlikely that Yerevan will yield to this pressure, surrender its sovereignty further, and forsake its democratization process.
Yet perhaps more importantly, Russia's efforts to pressure Armenia into accepting a likely diminution of its sovereignty in return for a dubious protection highlights just how little Russia has learned from the failure to date of its imperialist war of aggression against Ukraine. It is clear from Moscow's increasingly hysterical rhetoric about the war and about world politics in general that it remains completely enthralled by its supposedly foreordained imperial role, not only in Ukraine but throughout the former Soviet Union. Indeed, only on this basis could Moscow assume that this proposal is a legitimate answer to the erosion of its position in the Caucasus, that Yerevan would surely capitulate to its pressure, and that it still has the unchallenged capacity to enforce a quasi-colonialist order in the Caucasus and beyond.
Indeed, we see the same thinking at work in Moscow's concurrent proposal to Uzbekistan and Kazakhstan for a gas union. In numerous other cases e.g. in Bulgaria and Serbia, Russia has utilized its ability to gain leverage in a country's energy sector to capture influence in other key sectors of their economy and politics. Whatever the merits of the proposed gas union, it would undoubtedly grant Russia leverage over Uzbekistan's and Kazakhstan's energy programs and because of that sector's importance to them, over their general economy and politics. The same dynamic is at work in Armenia as in Central Asia and in Ukraine.
CONCLUSIONS: These proposals, along with the war in Ukraine, point to the fact that after thirty years of post-Soviet history in these regions, Moscow remains unable to regain even the semblance of empire and the pretense, let alone the reality, of legitimate authority in these territories except by using or threatening to use of force. As Ukraine shows, that is a dwindling asset providing fewer and fewer returns at ever higher costs. Likewise, Armenia's inclusion in a union state might produce a temporary gain in security and satisfy Moscow's eternal "lure of something erotic in the peripheries" to quote the Tsarist statesman P.A. Valuev. However, the longer-term price of accepting this misconceived proposal is too onerous for Armenia, Belarus, and even Russia to bear. If nothing else, the war in Nagorno-Karabakh, and certainly the war in Ukraine must drive home the point that a Russian empire is no longer sustainable unless the solution to regional security dilemmas is perpetual war or the threat thereof.
Stephen Blank is a Senior Fellow with the Foreign Policy Research Institute, www.fpri.org.