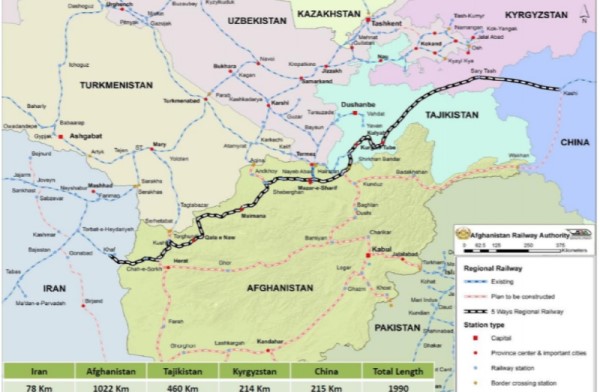 BACKGROUND: In December 2020, Iran and Afghanistan inaugurated the first cross-border railway link between the two countries. Work on the 225–kilometer railway line, which links Khaf in eastern Iran with Herat in western Afghanistan began in 2007. Of this line's four sections – two are in Iran and the rest in Afghanistan – one section, an 85-km-long stretch running between Ghurian and Herat remains to be completed. A train carrying 500 tons of cement made the inaugural run between Khaf and Ghurian, a route that will carry both freight and passenger trains. The US$ 75 million railway line linking Iran with Afghanistan has been funded by Iran as part of its development assistance to Afghanistan.
Iran's trade with Afghanistan is growing; Teheran has replaced Pakistan as Afghanistan's top trade partner since 2017. Improving overland connectivity, including the India-built Delaram-Zaranj highway or Route 606 connecting Afghanistan's cities via the Garland Highway to the Iranian border, has facilitated the growth of this trade. Afghan cargo is currently being carried by road to Chabahar port and other Iranian cities via the Iranian road network. The Khaf-Herat railway will boost this trade further – it will carry an estimated 6 million tons of cargo and a million passengers per year. Trainloads of Afghan goods instead of mere truckloads will gain access to Iran's railway network to reach not only Iranian cities but also seaports in the Persian Gulf, the Gulf of Oman and the Caspian Sea and land-ports in western and northwestern Iran from where they will access world markets.
However, the Khaf-Herat railway will not only boost Afghanistan's trade with Iran or the Afghan economy. It also has immense value for Iran and for an array of countries beyond, including Tajikistan, Kyrgyzstan, China and India. As Iran's Foreign Minister Mohammad Javad Zarif recently observed on Twitter, the Khaf-Herat railway's real significance is for "the greater region."
IMPLICATIONS: The implications of the Khaf-Herat railway line will likely be felt way beyond the two cities, even the two countries that it links. Indeed, this stretch of railway track is a key component of the US$ 2 billion Five Nations Railway Corridor (FNRC) project. The FNRC project envisages the construction of a railway line running through China, Kyrgyzstan, Tajikistan, Afghanistan, and Iran onward to Turkey. It will link these countries not only to each other, but also to Europe. An estimated 1,148 kilometers of the proposed 2,000-km-long rail corridor will run through the Afghan provinces of Kunduz, Balkh, Jowzjan, Faryab, Badghis, and Herat. The Khaf-Herat railway track is the part of the FNRC project where trains will cross from Afghanistan into Iran.
The FNRC project will boost travel and transportation capacity among member countries and energize their national economies, but will also provide the landlocked Central Asian states with access to the Persian Gulf and the Gulf of Oman. For Central Asian countries, this is a shorter and less expensive route to the sea than for instance the Kazakhstan-Uzbekistan-Turkmenistan-Iran rail corridor.
In particular, Tajikistan and Kyrgyzstan can look forward to additional gains from the railway line via Afghanistan and Iran, since they will be able to access maritime trade routes as well as Europe through connections with Afghanistan. Previously, poor bilateral relations among Central Asian countries, low regional integration and inefficient border transit have stood in the way of intra-regional and inter-regional trade. The railway will reduce their dependence on Turkmenistan and Uzbekistan, as well as on Russia.
While trade between Herat and Khaf in itself could help Herat emerge as a trading hub, should the FNRC project take off the city could become a regional hub for loading and unloading goods headed to China, Central Asia or Iran. Afghan analysts project that the city could emerge as Iran's gateway to Central Asia and Central Asia's gateway to Iran.
As for Iran, development of the Khaf-Herat railway line is part of its larger strategy in Afghanistan. Tehran is keen to create more jobs and reduce poverty in western Afghanistan in order to stem the flow of Afghan migrants into Iran. In this regard, connectivity projects like the Khaf-Herat and the Chabahar-Zahedan-Mashhad railway lines will improve economic development in the eastern provinces of Sistan-Baluchistan, South Khorasan, Razavi Khorasan and Kerman.
The Khaf-Herat railway is an important victory for Iran. Its construction was achieved despite U.S. sanctions on Iran's economy. Tehran's determined pursuit of trans-border railway networks has helped Iran integrate into the regional economy and has weakened the impact of U.S. sanctions. According to Iranian analysts, Iran's strategy could enable the rise of a new, Iran-led cultural and economic community.
However, important obstacles remain to Iran's and Afghanistan's realization of the full potential of the Khaf-Herat railway. Kabul is lagging behind on implementing the project and difficulties in finding funding partners are delaying the progress on the Afghan leg of the FNRC project. Moreover, the Ghurian-Herat railway line is yet to be completed. The fragile security situation in Afghanistan will affect the safety of trains traversing its soil.
Competition from other actors and their connectivity projects could also reduce the prospects for Iran's and Afghanistan's interconnectivity. Like Iran, Pakistan hopes to emerge as a major transshipment hub and seeks to draw the exports of Central Asian States towards its own ports. The FNRC project is also likely to face stiff competition from the Middle Corridor rail network, which runs from Turkey through the South Caucasus and Central Asia to China, rather than transiting Iran and Afghanistan.
CONCLUSIONS: The Khaf-Herat railway will provide a boost to trade and travel between Iran and Afghanistan. However, this is only a small part of the benefits that could accrue to the two countries from this rail link. Upon the completion of the FNRC project, of which the Khaf-Herat railway is part, the rail link between Kabul and Tehran will be a key part of a regional transportation network. Nevertheless, to realize this vision and to tap the full potential of the Khaf-Herat railway link, Iran and Afghanistan will have to overcome serious challenges and fight off stiff competition from rivals.
AUTHOR'S BIO:
Dr. Sudha Ramachandran is an independent researcher and journalist based in India. She writes on Asian political and security issues. Her articles have been published in The Diplomat, China Brief, etc. She can be contacted at This email address is being protected from spambots. You need JavaScript enabled to view it. .