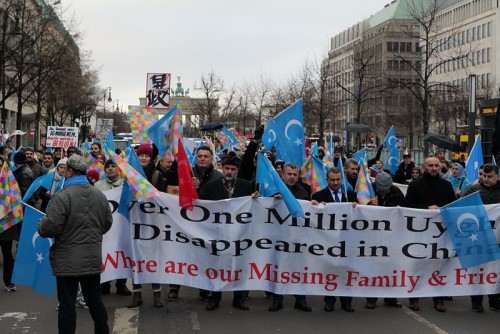 BACKGROUND: China's incarceration of large swathes of the region's largely Uyghur population for offenses such as unusual beards, wearing headscarves or long dresses, giving their children Islamic names, or giving up smoking, was explained away by the government as a mercy, to cure those contaminated by the "incurable malignant tumor" and "ideological illness" of Islam. Chinese state media dismissed anything more serious as "preposterous lies." This was part of the global War on Terror and Beijing expected the world to be on board.
Xinjiang province itself became a virtual open prison. Mass surveillance, disappearances, house-to-house searches and terror instilled in anyone who still prayed were de rigeur. Academics, writers, poets and singers were rounded up, and vanished, and children of detainees were removed to state orphanages.
Elimination of the Uyghur language was accelerated, and significant numbers of women of childbearing age up to 59 were marshalled en masse by their neighborhood committees for compulsory IUDs and sterilization. The resultant fall in birth rates of 84 percent has led Adrian Zenz, the foremost researcher on the Uyghur plight and a Senior Fellow in China Studies at the Victims of Communism Memorial Foundation, to suspect a "wider control campaign to subjugate the Uyghurs."
The year 2018 saw the billeting of 1.1 million Communist Party cadres in Uyghur homes in the "pair up and be family" scheme. Billed as a cultural exchange program, in some cases it became little more than institutionalized prostitution and always an opportunity to spy on Uyghur lives. Complaints or resistance were met with immediate detention or worse.
Happy Uyghurs were paraded in front of international journalists but this was at odds with camp survivor tales of 24/7 surveillance, overcrowded, unsanitary conditions and starvation rations. They confirmed torture, forced confessions, DNA harvesting and tissue typing, giving rise to fears of organ harvesting, systematic rape of both sexes, mass sterilizations and coercive birth control.
In recent weeks, the courageous testimonies of camp survivors Tursunay Ziawudun, Gulbahar Haitiwaji, Sayragul Sauytbay, and Qelbinur Sedik, have added weight to new revelations by Zenz that the CCP is in fact on a sinister path towards depopulation and assimilation of the Uyghurs. His most recent report has confirmed intent on behalf of Beijing to forcibly displace ethnic minority populations from their heartlands, intentionally reduce their population density, and tear apart homogeneous communities.
Zenz concluded that not only Crimes against Humanity but that also genocide was being carried out against the Uyghurs. He added in an interview with Aljazeera that his findings represented "the strongest evidence yet that Beijing's Xinjiang policies met one of the criteria cited in the UN genocide convention, namely 'imposing measures intended to prevent births within the [targeted] group'."
IMPLICATIONS: Calling out genocide, however, is proving a leap too far for many states, wary of falling foul of Beijing and the inevitable fallout they would surely incur. Although genocide was defined after the Second World War, there was no mechanism to bring perpetrators to justice until the establishment of the International Criminal Court under the Rome Statute in 2002, where individuals of member states could be referred for prosecution.
Given that China is not a signatory, has inoculated itself against the Genocide convention through putting reservations on key elements, and vetoes any moves in international courts and the United Nations Human Rights Council to censure itself, some countries have taken it upon themselves to declare genocide unilaterally.
The U.S. was the first to step up to the podium. Canada's parliament followed suit although Prime Minister Trudeau's cabinet has abstained from the term genocide, and the Netherlands too have braved the furnace of CCP disapproval. Turkey resoundingly said "yes" to genocide in 2009, but about-turned in mid-March this year with a "no," as has Australia. New Zealand continues to hover on the sidelines. UK Prime Minister Boris Johnson has restated his determination to press on with China trade despite "occasional political difficulties," but is at loggerheads with backbenchers who have been risking political careers to campaign against trading with genocidal states. The UK consistently refuses to use the G word.
A UK "People's Tribunal" to examine the evidence on Uyghur genocide headed by Geoffrey Nice QC, deputy prosecutor in the Milosevic trial in The Hague, embarked upon collecting witness statements last fall and will start proceedings this June. In the meantime, two separate legal enquiries have also been commissioned for a definitive verdict.
The UK's Essex Court Chambers legal examination of the evidence in February 2021, led to a finding of "crimes against humanity and the crime of genocide" exemplified by a range of crimes covered by Article 7 of the Rome Statute of the International Criminal Court.
Jointly sponsored by the Global Legal Action Network (GLAN) together with the World Uyghur Congress (WUC) and Uyghur Human Rights Project (UHRP), the team headed by Alison McDonald QC, detailed evidence of crimes of enslavement, extra-legal imprisonment, torture, rape, coerced sterilization to reduce the population, and enforced disappearance.
Regarding genocide, the authors uncovered proof of an intent to destroy the Uyghur population on the direct orders of the Chinese State, which included the intentional infliction of serious physical and mental harm to Uyghur people in detention, measures to prevent births within the Uyghur community and forcible transfer of Uyghur children outside of their communities.
A second investigation by the Washington think tank Newlines Institute for Strategy and Policy (NISP), published in March 2021 and compiled by more than 50 China experts and legal brains, has also judged overwhelmingly in favor of genocide. Concluding that every single provision of the 1948 UN Genocide Convention has been violated by the Chinese government's actions in Xinjiang, Dr. Azeem Ibrahim, Director of Special Initiatives at NISP, said he believed the conclusions were "clear and convincing."
According to the 25,000-word report, all five of the genocide indicators are present. These include killing members of the group; causing serious bodily or mental harm to members of the group; deliberately inflicting conditions of life calculated to bring about its physical destruction in whole or in part; imposing measures intended to prevent births within the group; and forcibly transferring children of the group to another group. Of these, the presence of one single indicator would be enough for a genocide verdict and the totality point to an overall targeted "intent to destroy the Uyghurs as a group, in whole or in part."
The report states that by launching the "People's War on Terror" in 2014, President Xi Jinping gave his seal of approval to "rounding up everyone who should be rounded up … wiping them out completely ... destroying them root and branch," and "breaking their lineage, their roots, their connections, and breaking their origins." He ordered "absolutely no mercy" in the "struggle against terrorism, infiltration and separatism." Mass birth control policies ensured that Uyghur women are "no longer baby making machines."
Combined with large-scale forced hard labor schemes that parallel the mass internment, the report concluded that "China is deliberately inflicting collective conditions calculated to terminate the survival of the Uyghurs as a group," adding, "China bears State responsibility for an ongoing genocide against the Uyghurs, in breach of the Genocide Convention."
CONCLUSIONS: The hands of the UNHRC and ICC are tied, but momentum is growing around the world to see the perpetrators of crimes against Turkic people in Northwestern China face justice.
Although the Newlines report made no specific recommendations, GLAN has advocated a tranche of measures designed to hold culprits to account. Given the potential criminal liability of individuals, it concludes that there is a credible case of crimes against humanity and genocide against President Xi Jinping; Zhu Hailun, Party Secretary of the Xinjiang Political and Legal Committee from 2016 to 2019 and now Deputy Secretary of the Xinjiang People's Congress; and Chen Quanguo, Party Secretary of Xinjiang Uyghur Autonomous Region (XUAR) since 2016, as well as potentially others.
GLAN urged that ongoing commercial dealings with factories in the region despite clear evidence of the vast numbers of Uyghurs trapped in forced labor at such factories must be addressed and businesses held to account.
During 2020, both GLAN and World Uyghur Congress, WUC, petitioned the UK and U.S. customs authorities to ban imports of cotton from the region given the likelihood that goods produced there are tainted by forced labor. The Coalition to End Uyghur Forced Labour also submitted a petition to the U.S. authorities. In January 2021, the U.S. Customs and Border Protection (CBP) issued a region-wide Withhold Release Order on all cotton (and tomato) products produced in, or produced with cotton from, the XUAR. President Trump signed the Uyghur Human Rights Policy Act of 2020 into law and new bills in the U.S. Congress may lead to a region-wide ban on goods from Xinjiang altogether.
A coalition of thirty governments worldwide, including the EU, U.S., UK and Canada has recently imposed Magnitsky sanctions on four officials and one entity in China and more are likely to follow.
Rahima Mahmut, UK Director of the World Uyghur Congress urges global action to prevent further erosion of her people. Peter Irwin, Senior Program Officer for Advocacy & Communications at the Uyghur Human Rights Project, exhorts governments to reconsider the 2022 Winter Olympic venue and business dealings "in a time of genocide."
Xi Jinping made his own trade terms crystal clear at the World Trade Forum in Davos recently, when as the key note speaker he declared that "abandoning ideological prejudice" was a pre-requisite to jointly following a path of "peaceful coexistence, mutual benefit and win-win cooperation."
Baroness Altmann, addressing the UK House of Lords recently amidst fierce debate on an amendment to the post Brexit trade bill to ban trade with genocidal states, cautioned that business as usual with states that commit atrocities might reap short term profits, but "in the long run it will damage us all … Trade cannot take preference over genocide." She warned of the long term consequences of continuing to turn a blind eye.
AUTHOR'S BIO:
Ruth Ingram is a freelance researcher who has written extensively for The Guardian Weekly newspaper, the Diplomat, the CACI analyst, the Institute of War and peace Reporting, Private Eye, Bitter Winter, and other publications. She has researched Central Asia for 30 years and has first-hand background knowledge of the region.