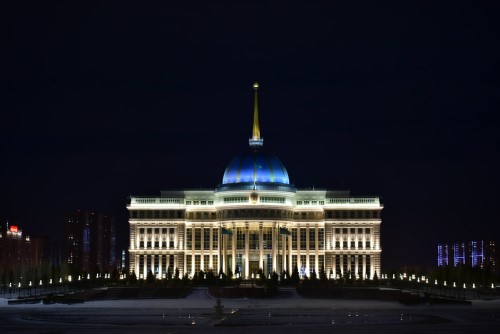 BACKGROUND: It is by now commonplace to observe the gradual decline of the norms and institutions upholding international peace and security. This has been a central vector of the criticism of the Trump Administration's "America First" policy. While this decline has accelerated rapidly in the past four years, it predates the Trump Administration by almost a decade.
A key moment was the Russian invasion of Georgia in 2008. Moscow proved able to change international boundaries by force, and faced few consequences for it. This in turn informed its takeover of Crimea and Eastern Ukraine six years later, which nevertheless forced a more substantial western response.
Russia is not the only state to have discovered the benefits of acting unilaterally. As Robert Kaplan observes in The Return of Marco Polo's World, Eurasian great powers increasingly behave not like nation-states in a functioning international system, but like "empires of yore" that do what they think they can get away with.
Aside from grabbing selected parts of its neighbors' territory, Moscow has developed an entire toolbox for interfering in other countries' affairs, famously using these "hybrid" tactics against western democracies as well. China, for its part, engages in systematic electronic espionage against western targets, while subjecting entire minority populations, like Uyghurs and Kazakhs, to "re-education" camps aiming to eradicate their separate identity. Iran, the world's leading state sponsor of terrorism, is building a sphere of influence from the Lebanon to Yemen, while murdering dissidents in Europe at will. Turkey has abandoned its traditionally cautious foreign policy and is now building military bases abroad, in places like Somalia and Qatar, while actively taking part in foreign wars like those in Syria, Libya, and between Armenia and Azerbaijan.
While these developments have been widely covered, there is less interest for the fate of the countries of Central Asia and the Caucasus that are surrounded by these great powers. These landlocked states are highly dependent on the surrounding powers for both their economic development and their security. This makes the increasingly unfettered behavior of those powers a nearly existential issue for these young nations.
IMPLICATIONS: The way they have dealt with this situation merits further attention. Twenty-five years ago, these states were poor and weak, leading former National Security Advisor Zbigniew Brzezinski to write a book on the region entitled The Grand Chessboard. This image largely remains the prism through which outsiders view the region's geopolitics: smaller states as pawns in a game between the great powers. While that may have been largely true in 1997, today they have gained substantial agency to influence the future of their region.
In the past decade, the two larger states of Central Asia – Kazakhstan and Uzbekistan – have begun to take on, in tandem, a role as the region's informal leaders. They have initiated efforts to build regional cooperation, but have also increasingly taken an interest beyond their own borders. Uzbekistan, for example, has played an active role in the Afghanistan peace talks, and worked to facilitate a dialogue between the Afghan government and the Taliban.
Kazakhstan, however, has played an even more conspicuous role on the international scene. Aside from chairing the OSCE and taking a seat at the UN Security Council from 2017 to 2019, it has emerged as an important mediator among great powers. This started in 2013, when Kazakhstan took the initiative to host talks about the Iranian nuclear program. While these talks were not conclusive, they paved the way for the negotiations in Geneva that led to the Joint Comprehensive Plan of Action (JCPOA). In 2014, Kazakhstan inserted itself into the Ukrainian crisis. The country's first president, Nursultan Nazarbayev, capitalized on his role as one of few world leaders with a proven record of reasoning with Vladimir Putin. Kazakhstan's initiative did not resolve the Ukraine crisis, but it did succeed in ensuring that dialogue between European powers and Russia did not collapse.
The very next year, Turkey and Russia came to blows after Turkey shot down a Russian jet fighter over the Turkish-Syrian border. It was Kazakhstan that succeeded in mediating between the two powers, by helping to find the modalities that led them to bury the hatchet. And as is well known, since 2017 Kazakhstan has hosted multiple rounds of "Astana Talks" on the Syrian civil war that have kept a dialogue going between Russia, Turkey and Iran.
Why this level of activism? We are accustomed to small, neutral European countries like Switzerland playing the role of mediator – but not the relatively young nations like Kazakhstan or Uzbekistan. It turns out that because of its stability and close ties to all regional powers, Kazakhstan has convening power in Eurasia that European countries are unable to muster.
In all the cases where Kazakhstan has inserted itself into a conflagration, its goals have been realistic. The country's leadership has had few illusions that they would resolve these difficult conflicts once and for all. However, they have aimed to ensure that the conflicts do not escalate to larger armed confrontations between Eurasian powers. The added value for Kazakhstan has been to convince those powers, especially Russia, that it is a more useful asset as an impartial mediator than as a vassal simply bandwagoning to Russian priorities.
This new significance of Central Asia has not gone unnoticed. The leaders of Japan, South Korea and India recently toured the region, and upgraded their relations with Central Asian states. In 2019, the EU released a new, improved strategy for Central Asia. Earlier this year, the U.S. followed suit, launching a new strategy document.
CONCLUSIONS: Going forward, the instability surrounding Central Asia is unlikely to abate. The need to manage relationships among great powers will remain, as will the need to avoid localized conflicts turning into large proxy battles, as has happened in Syria and Libya.
The incoming Biden Administration has many priorities at home and abroad. While Central Asia is not on the top of its list, it should be cognizant of the new realities in the region. Central Asian states are no longer simply "consumers" of security, as they were twenty years ago. Today, increasingly, they are contributors to regional and international security that view positive relations with the United States as an important priority. That makes them valuable partners for the United States – and in particular for a Biden Administration that seeks to rebuild international norms and institutions that have been allowed to slip. As the incoming administration seeks to rebuild America's approaches to Afghanistan and the strategic competition surrounding Central Asia, it should not underestimate how countries of the region like Kazakhstan and Uzbekistan align with American priorities and can help the U.S. navigate these troubled waters.
AUTHOR'S BIO: Svante E. Cornell is Director and S. Frederick Starr Chairman of the Central Asia-Caucasus Institute & Silk Road Studies Program, Joint Center, affiliated with the American Foreign Policy Council and the Institute for Security and Development in Stockholm.
Image Source: Public Domain. Accessed 12.22.20