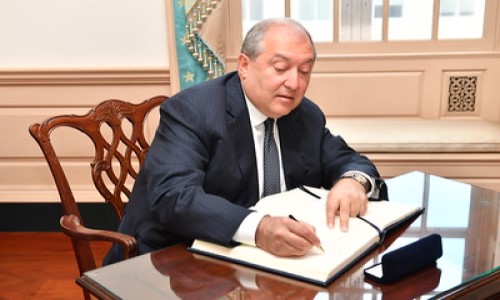 BACKGROUND: Expansion of Israel's bilateral relations with Armenia, which contrary to those with Azerbaijan and Georgia have always been at a lower level of intensity, is among the most important developments impacting Iranian foreign policy towards the South Caucasus in past months. Among Iran's fifteen neighbors, Armenia is the only Christian country, serving as a gate to the Christian world. On the other hand, while Armenia's borders with Azerbaijan and Turkey are closed, Iran, in practice, constitutes a gate to the Islamic world for Armenia.
Iran was among the first countries to recognize Armenia's independence in December 1991, and embassies were opened shortly thereafter. In the heat of these difficult early years of independence, Iran was among the first to extend political and economic backing to Armenia. Despite pressures for total and unilateral Iranian support for the Republic of Azerbaijan over the Nagorno-Karabakh conflict, Iran, in line with its balanced approach in the arena of foreign policy and expansion of ties with all its neighbors, endeavored to establish peace, security and stability across the region through mediation between disputing parties.
In the past three decades, Iran-Armenia ties have been close, and contrary to Iran's links with other neighbors that have undergone ups and downs at various junctures, Yerevan-Tehran ties have always been stable and positive. It is noteworthy that Armenian-Iranian relations is the rare issue that has never been disputed by different Armenian political parties. Indeed, Armenian political parties have disagreed on nearly every issue, including approaches towards sensitive and challenging foreign policy issues like the Armenian government's attitude towards international recognition of massacre of Armenians as genocide, the Karabakh issue, and Armenian relations with Turkey, the West and Russia – but not Iran.
Against this background, the improvement of bilateral relations between Armenia and Israel – a state that the Islamic Republic of Iran has been in hostile confrontation with for more than four decades – has drawn the attention of numerous observers and raised concerns in Iran.
Following the demise of the Soviet Union, due to historical differences between the Armenian church and the Jews as well its strong economic and geopolitical reliance on Iran, Armenia has always been cautious vis-à-vis Israel. In this vein, despite establishing diplomatic relations with Israel in 1992, Yerevan did not open an embassy in Tel Aviv, or appoint an ambassador. This is why the opening of an Armenian embassy in Tel Aviv and the appointment of an ambassador three decades after the collapse of the Soviet Union can be considered a significant turning point.
Armenia's accredited ambassadors to Israel had resided outside Israel – mainly in Paris, Cairo and Yerevan. However, this changed in late 2019, when the ambassador's residence was moved from Yerevan to Tel Aviv. That said, Armenia opposed the recognition of Jerusalem as the capital of Israel in December 2017. One should not forget that Israel too, is yet to recognize the massacre of Armenians in 1915 as genocide. Despite all these differences, the expansion of bilateral ties between the two and its potential aftermaths are inherently important especially for Iran.
IMPLICATIONS: One consequence of this development is the advancement of Israel's traditional periphery doctrine in Central Asia and the Caucasus. According to the doctrine, Israel pursued the expansion of ties between Israel and any non-Arab Muslim states to break the siege exerted by Muslim Arab states. The collapse of the Soviet Union and the independence of six Muslim and non-Arab states created a useful opportunity for the formation and expansion of ties between Israel and Muslim states of the region, with Israel giving priority to relations with Azerbaijan. However, out of two Christian states in the Caucasus, Israel established close ties with Georgia, especially following the 2003 Rose Revolution. But because of Armenia's severe economic and geopolitical reliance on Iran, Yerevan was always cautious in dealing with Israel and hence, for three decades, Armenia had the lowest and most limited relations with Israel. For Israel, any expansion of relations with Iran's neighbors is an accomplishment.
But this also heightens Iranian security and defense concerns in the region. This concern emanates from the possibility that the scenario of Baku-Tel Aviv ties is repeated between Yerevan and Tel Aviv. Iran has been particularly concerned of growing security cooperation between Azerbaijan and Israel. Still, in recent years and especially under Hassan Rouhani's presidency, Iran-Azerbaijan ties have expanded considerably. Iran would not like to experience similar issues in its relations with Armenia. Iran has repeatedly indicated how sensitive it is concerning any type of Israeli presence and influence on its periphery, considering its presence as a "red line" with regard to its national interests and security.
The expansion of Armenia-Israel ties has raised criticism within Iran. A group of Iranian students have held a protest against Armenia's decision to open an embassy in Israel near the Embassy of Armenia in Tehran on June, 09, 2020. At the conclusion of the protest rally, the students read a statement calling on the Armenian government to reconsider its decision to open an embassy in Israel. Indeed, Special Aide to the Speaker of Parliament of Iran on International Affairs, Hossein Amir-Abdollahian, condemned Armenia's decision to open an Embassy in Israel, and stated that it contradicts the interests of the people of Palestine. The Iranian official also noted that the opening of an Armenian Embassy in Tel Aviv will affect regional security negatively, in spite of Armenian officials and experts' efforts to ease Iranian concerns. The Armenian ambassador to Iran, Artashes Tumanian, assured a senior Iranian Foreign Ministry official that his country remains committed to its "friendly" relationship with the Islamic Republic despite its desire to improve Armenian-Israeli ties. Indeed, Armenian expert in Iranian studies Armen Israyelyan gave an interview to Armenpress on the topic and noted that Iran has been aware of Armenia's decision to open an Embassy in Israel, emphasizing that Yerevan is working transparently with all its partners, and Armenia's regional policy priorities have been clearly presented at the highest level of leadership.
A third consequence is the exacerbation of Iran's confrontation with the U.S. and Israel in the Caucasus. Iran basically views any Israeli activity as tied to goals and plans drawn by the United States, a perspective that does not account for any fundamental difference between Israeli and American policies. In particular following the 2018 Velvet Revolution that brought Nikol Pashinyan to power, relations between Armenia and the West have expanded considerably, leading a group of Iranian officials and experts to maintain that the boosting of Yerevan-Tel Aviv links materialized as a result of the Trump Administration's coordination and persuasion. This is seen in the analysis given by Mehr News Agency, which argued that "the official decision and sending the ambassador to occupied Palestine comes into effect after the visit of the then-White House National Security Advisor to Yerevan." It is also observed in Tehran that this step is taken at a time when Tehran-Washington relations undergo their worst conditions since the 1979 Islamic revolution, and the sudden expansion of Armenia-Israel relations is construed in Tehran as part the Trump Administration's "maximum pressure" policy.
CONCLUSIONS: At this phase, Iran views the boosting of Armenia-Israel ties with sensitivity and concern, and while stressing the maintenance of close bilateral relations between Tehran and Yerevan, is warning the Armenian government that the expansion of its ties with Israelis not only threatening Iranian national security, but it also puts the Armenian security at stake.
AUTHOR'S BIO: Dr. Vali Kaleji is an expert on Central Asia and Caucasian Studies in Tehran, Iran. His recent publications (in Persian) include The Shanghai Cooperation Organization (SCO): Goals, Functions and Perspectives (2010), South Caucasus as a Regional Security Complex, (2014), Political Developments in the Republic of Armenia, 1988- 2013 (2014), Iran, Russia and China in Central Asia, Cooperation and Conflict with US Foreign Policy in Central Asia, (2015), US Foreign Policy in Central Asia: Process and Perspectives (2015) and Iran and the South Caucasus Republics (2017). E-mail address: This email address is being protected from spambots. You need JavaScript enabled to view it.
Image Source: U.S. Department of State via Flickr 6.29.2018