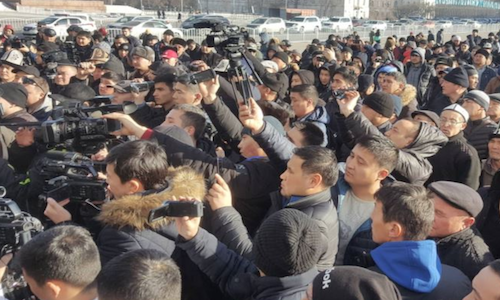 BACKGROUND: Chinese companies and labor migrants started to arrive in the former Soviet republics after the collapse of the USSR, contributing to the popularization of perceptions of a "Chinese invasion" in these states. These sentiments have their antecedents in Soviet propaganda promoting a negative image of China between the 1960s and 1980s. After 1991, huge and socialist China was perceived with fear or suspicion among elites and societies of the newly established independent republics. A lack of knowledge about Chinese culture and society, language and religious differences also influenced the public mood. Although the thesis of a Chinese invasion has little factual support, the topic has been a common theme in Russian and Central Asian media. Moreover, China's increasing economic involvement in the region and especially the increasing number of Chinese farmers renting land in Central Asia amplified these perceptions.
According to Kazakh sinologist Konstantin Syroezhkin, the problem of Chinese migration has seriously strained relations between China and the regional states. Particularly migrants' use of land is perceived as a threat to national wealth and sovereignty, and mass protests have frequently targeted land rents for extended periods of time. For instance, the initiative of the authorities of Russia's Nizhny Novgorod region to lease wasteland to Chinese farmers faced the resistance of citizens, media and even local parliamentarians in 2006. Similar initiatives triggered protests in Kazakhstan between 2009 and 2016.
In Kyrgyzstan, conflicts have played out between local residents and representatives of Chinese companies engaged in the development and exploration of various industry fields in recent years. However, anti-Chinese protests intensified in 2018, for two main reasons. First, data and information were published on the misuse of funds for modernization and infrastructure projects, acquired through Chinese loans. Moreover, over 40 percent of Kyrgyzstan's public external debt was provided by China's EximBank. Kyrgyzstan, like Tajikistan, has reached the threshold of financial security in terms of the public external debt to GDP ratio. Kyrgyzstan's national debt to China is 24 percent of GDP and has increased two hundred times over the past ten years. For long, Kyrgyzstan's main creditors were Russia and the West. However, China gradually increased its loan portfolio and has now become the country's largest creditor. In 2007, Kyrgyzstan's debt to China was only US$ 8.5 million, but reached US$ 1.115 billion in 2014 and more than US$ 1.7 billion in 2017. Fears are increasing among the population that China will take over land or natural resources in exchange for its loans, contributing to the unrest in 2018. Second, publicized information about China's "counter-extremism centers" in Xinjiang, where ethnic Kyrgyz are being held together with other Muslims from indigenous ethnic communities, became the last straw.
IMPLICATIONS: In November 2018, relatives of detainees in China appealed to President Sooronbai Jeenbekov, stating that ethnic Kyrgyz were unlawfully detained and sent to so-called educational camps, including detainees holding Kyrgyz passports. According to them, among the detainees were Professor Mambetturdu Mambetakun and historian Askar Dzhunus. In early December, they organized a protest in front of the UN representation in Bishkek. After several days, President Jeenbekov stated that Kyrgyzstan cannot interfere in China's internal affairs and that Bishkek prefers to use diplomatic channels. According to Jeenbekov, claims of China's expansion are unconfirmed and aim to foment public unrest.
According to the State Registration Service, in 2018 permits for temporary residence were issued to 11,966 Chinese citizens (compared to 18,312 in 2017), of which 9,498 persons received a permit for temporary labor activity (11,593 in 2017). According to the data, from 2010 to 2018, only 60 Kyrgyz citizens officially married Chinese citizens. From 2010 to 2018, 268 Chinese citizens received Kyrgyz citizenship, including 171 Kyrgyz, 72 Uyghurs, 9 Uzbeks, 6 Han, 9 Dungans and 1 Kazakh.
On December 20, a rally voicing demands to suppress Chinese migration took place close to China's embassy in Bishkek. The rally was led by the nationalist organization Kyrk Choro, known for its anti-Chinese sentiments and violent attacks on migrants. During the most recent rally, several participants were fined and participant Guljamilya Safaralieva was arrested for two months.
Kyrgyz authorities face the dilemma of either harshly suppressing such activities or finding a solution that will reduce the protest potential. China is an important economic partner for Bishkek and the political elite naturally prefers to retain pragmatic relations with China. The trade turnover between the two countries fluctuates around one to one and a half billion dollars annually. Between 2004 and 2015, China's share in foreign direct investment in Kyrgyzstan increased from 0.6 percent to 22.4 percent. Moreover, between 2013 and 2017, China's financial support for road infrastructure was US$ 1.21 billion. However, the volume of Chinese direct investment in Kyrgyzstan decreased in 2018 by 31 percent, from US$ 503 million in 2017 to US$ 345 million in 2018. For Beijing, Kyrgyzstan is an important gateway to Central Asia, permitting the flow of Chinese products into the region and beyond, while China also has an interest in extracting Kyrgyz natural resources.
Revealed corruption cases involving Kyrgyz authorities related to the spending of Chinese funds has increased public dissatisfaction. In 2018, several people involved in the modernization of Bishkek thermal power plant were detained, including former Prime Ministers Sapar Isakov and Jantoro Satybaldiev and a representative of the Chinese company TBEA, Musazhan Makelek.
CONCLUSIONS: Several theories have been presented regarding the role of external powers in igniting the protests. One version highlights U.S. influence amid its trade war with China, another Russian meddling. Since China's increasing presence in Kyrgyzstan and across Central Asia runs against Russia's long-term strategy regarding the region, Moscow may be interested in promoting anti-Chinese protests. Moreover, suggestions have recently been raised to revoke the official status of the Russian language in Kyrgyzstan's constitution. The deputy head of the State Committee for National Security Asylbek Kozhobekov stated that the organization has preliminary information about those who are behind the protests. Kozhobekov also noted that anti-Chinese rallies are taking place "in other CIS countries and, apparently, some forces are clearly interested in this." At the same time, he noted that there is no evidence about the intervention of external forces.
However, blaming external intervention is also a way for the authorities to evade responsibility for local problems. Despite speculations on subversion, which in many cases resemble conspiracy theories, the main reason for the increasing anti-Chinese attitudes is the country's social-economic shortcomings. Corruption, mismanagement by the government and public dissatisfaction pave the way for radical nationalistic tendencies, while infighting among the political elite adds to the public dissatisfaction. Moreover, political radicalization is increasing especially among the young generation. According to survey data from the Central Asian Analytical Network, feelings of injustice is the most important factor explaining the radicalization of youth (56 percent of the respondents did not consider Kyrgyzstan to be a fair state).
Protests, regardless of their context, should ring alarm bells for the ruling elite in face of the upcoming parliamentary elections in 2020. However, the authorities seem satisfied to discourage protests by warning of potential political instability and the influences of "external forces." For Beijing, the continuation of social engineering policies, such as "re-education camps," clearly have a negative effect on China's image in Central Asia.
AUTHOR'S BIOS:
Nurlan Aliyev is a PhD Candidate and Researcher at the Institute of International Relations of the University of Warsaw. He received the Visegrad Fund Scholarship for 2018-2019. From 2000 to 2017, he worked as an expert at various government, non-government and international institutions. His research focuses on political and security processes in Russia, post-soviet countries and asymmetric warfare threats.
Image Source: public domain accessed on 4.16.2019