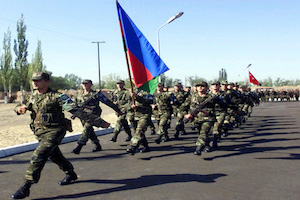 BACKGROUND: After successful meetings of the AGT tripartite foreign ministers in Turkey (2012), Georgia (2013) and Azerbaijan (2014), the military dimension of this cooperation commenced with meetings of the defense ministers in Nakhchivan, Azerbaijan (2014), Tbilisi, Georgia (2015) and Gabala, Azerbaijan (2016), aimed at developing relations between the defense structures and armed forces of the three countries. The meetings of the defense ministers paved the way for cooperation in military education, cyber security, development of military technology and organization of joint seminars, as well as joint military exercises for the purpose of protecting energy transport infrastructure. The three defense ministers agreed in Nakhchivan (2014) on tripartite exercises to enhance the combat capability of the three countries' armed forces to protect oil and gas pipelines, which was a noteworthy step in this regard.
Georgia initiated the military dimension of the trilateral cooperation, under former Defense Minister Irakli Alasania. The three countries then established a bilateral working group to enable cooperation on the production of defense-related products. Georgia has invited Azerbaijan and Turkey to attend the Noble Partner military exercises in the Vaziani military base in 2017. After the reorganizations of the ministries of defense in Azerbaijan (2013), Georgia (2014) and Turkey (2016, following the military coup attempt), the importance of the trilateral cooperation has only increased. The preliminary steps of cooperation were merely focused on military preparedness to protect energy-transport infrastructure in emergency cases. Turkey plays a key role in boosting Georgia's and Azerbaijan's cooperation with Euro-Atlantic structures through NATO's Partnership for Peace Program and in training the two countries' armed forces, and enables Azerbaijan to participate in NATO's military missions abroad under Turkish flag.
IMPLICATIONS: Although Azerbaijan partakes in other trilateral cooperation formats (Azerbaijan-Iran-Russia; Azerbaijan-Turkey-Turkmenistan; Azerbaijan-Iran-Turkey), the AGT tripartite is the only one that comprises a military dimension. The military dimension has so far been conducted on an intergovernmental basis, and lacks an institutional body of its own. The intergovernmental nature of the trilateral military cooperation neither implies integration of the participants' military structures, nor the establishment of a regional military alliance in the traditional sense. It is merely a manifestation of the three countries' common interest in protecting themselves against both conventional and unconventional threats. Therefore, they have hitherto pooled their efforts to build capacity through exchange of military experience, defense consultations and joint exercises to secure energy infrastructure.
All three countries avoid portraying their military cooperation as an institutionalized military alliance in order not to irritate other regional actors antagonized by the military presence of alternative powers in the region. The establishment of a trilateral military alliance remains unlikely, due to the differences in bilateral relations between each of the three countries and their neighbors. Indeed, AGT's military dimension does not contradict existing bilateral military cooperation with other neighboring states – with Iran and Russia in the case of Azerbaijan and Turkey, and with Armenia in the case of Georgia.
Azerbaijan is located in an unstable neighborhood and all three countries are directly or indirectly involved in armed conflicts. The internationally recognized territories of both Azerbaijan and Georgia are under occupation, while Turkey is combating terrorism on its soil. Therefore, all three countries perceive cooperation in the security and defense domains as necessary. Despite its growing military buildup and defense budget (which has surpassed Armenia's entire state budget), Azerbaijan's reliance on AGT's military dimension is rational. The country's membership in the Non-Alignment Movement stipulates non-membership in military blocs (NATO or the Collective Security Treaty Organization, CSTO), and precludes the collective defense granted within these alliances. The combined military expertise of all three countries will grant a "hybrid military capability" to each country's defense structures and armed forces. Yet, exchanges of expertise and trainings should also be expanded to the domains of cyber-terrorism, air-defense, military-[counter] intelligence, military-civilian dialogue, and other areas.
Azerbaijan also conducts separate military cooperation with Turkey and Georgia on a bilateral basis (as well as within the framework of NATO) in the military-technical sphere, as well as military education and intelligence sharing, and participates in military exercises with various branches of the armed forces. The scope of Azerbaijan's military cooperation with Turkey is wider than that with Georgia, and has since the early 1990s encompassed joint exercises, the military-technical sphere, and a joint-defense industry. Bilateral military relations shifted from the military-technical sphere to the military-strategic level following the agreement between Azerbaijan and Turkey on "Strategic Cooperation and Mutual Support" in 2010. Georgia's defense and military cooperation with Turkey does not contain such an assistance agreement stipulating security support in case of military aggression from abroad, but is limited to military-technical assistance. Neither is there any similar agreement between Azerbaijan and Georgia. In recent years, the armed forces of Azerbaijan and Turkey have established a long track record of joint tactical military exercises. No such bilateral exercises took place between the armed forces of Azerbaijan and Georgia, whose cooperation mostly encompasses the areas of military education, trilateral military exercises, and working meetings.
The motivating drivers of the AGT format are Turkey's energy demand, Azerbaijan's energy capacity, and Georgia's geographical location allowing secure transportation of Caspian hydrocarbons to European markets. Cooperation in the area of critical infrastructure protection (pipelines, railways and power lines) is therefore vital. The oil and gas pipelines have earlier been targeted on Turkish territory by the PKK. Georgia experienced an illegal expansion by Russia of the South Ossetian demarcation line encompassing a segment of the Baku-Supsa oil pipeline in the summer of 2015, as well as the risk that both the BTC and Baku-Supsa pipelines could be targeted by bombings during the Russia-Georgia war in August 2008. Finally, separatist forces in Nagorno-Karabakh have threatened Azerbaijan to target the country's strategic energy infrastructure.
Armenia has voiced concern over the strengthening trilateral cooperation format between these countries, and considers the military dimension of the AGT format as forming a "military belt" around the country. Armenia is subjected to an embargo by Azerbaijan and Turkey due to its occupation of Azerbaijan's territories and this cooperation format contributes further to Armenia's isolation in the South Caucasus. On May 26, three days after the Batumi meeting and before the Caucasian Eagle training, Armenia hosted the Cobalt 2016 joint exercises of divisions within CSTO's Collective Rapid Reaction Force, composed of the internal affairs agencies of the CSTO member states.
CONCLUSIONS: Despite the changing political systems and domestic reshuffles in these countries, as well as external pressures and their diverging relations with their neighbors, all three have managed to preserve the pragmatic spirit of this format. The motivation for trilateral cooperation has increased, since the three countries benefit from stable political systems and economies in their partner states. Both the AGT format and Azerbaijan's bilateral military ties with Turkey and Georgia also enable Baku to diversify its military policy of modernization and specialization by conducting trilateral military drills, cooperating in military education and participating in NATO trainings in Georgia. The promotion of a joint military industry with Turkish military companies will contribute to harmonizing Azerbaijan's military capacity with NATO standards, as well as modernizing its military equipment. Currently, 85 percent of Azerbaijan's military hardware originates in Russia, implying a need to diversify imports. However, instead of building the military dimension of cooperation exclusively on energy security, the AGT format should include new types of joint military exercises in the field of military-engineering, air-defense, rescue-search operations, cyber terrorism and others.
AUTHOR'S BIO: Ilgar Gurbanov is a research fellow at the Centre for Strategic Studies (Azerbaijan).
Image source:https://en.wikipedia.org/wiki/File:Azerbaijani_soldiers_at_CENTRASBAT_02.jpg#file accessed on 18.07. 2017