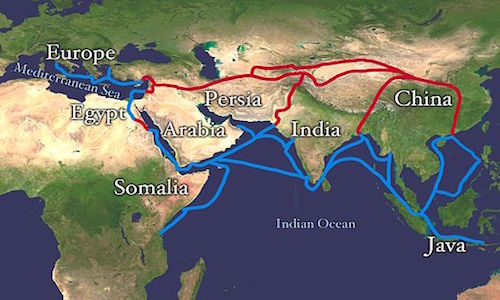 BACKGROUND: Xinjiang's geopolitical position at the crossroads of Eurasia, ethno-cultural dominance of Turkic peoples and economic under-development has always made Beijing vigilant about the region's security. To overcome this anxiety Beijing has pursued a muscular strategy of integration defined by tight political, social and cultural control and encouragement of Han Chinese settlement.
This has been augmented by a state-led economic modernization program designed to re-make Xinjiang into a major hub of trans-Eurasian economic connectivity. The core assumption has been that economic development will ultimately overcome Uyghur aspirations for greater political autonomy. This has been amplified under BRI which, according to the blueprint published by China's National Reform and Development Commission (NRDC) seeks to exploit Xinjiang's "geographic advantages" to facilitate China's "westward opening-up".
This strategy has seen Xinjiang's GDP growth rate surpassing the national average since 2003. However, it has not only displaced Uyghur communities and encouraged Han migration but "also been accompanied by aggressive attempts to assimilate Uyghurs into Han culture through targeted educational and work programs that incentivize the learning of Mandarin and integration into the Chinese state's vision of modernization", according to Sean Roberts and Kilic Bugra Kanat.
One consequence of this has been increased outbreaks of violence and terrorism. Marc Julienne and Moritz Rudolf have noted that between 2010 and 2014 terrorist attacks either in Xinjiang or linked to the region – such as the 1 March 2014 Kunming railway station attack - claimed the lives of 468 people and injured 548. High-profile incidents like that in Kunming have also been paralleled by a wave of localized violence by groups of "knife-wielding terrorists".
Such incidents have spurred authorities to institute an expanding "security state" in Xinjiang whereby the region's society is increasingly penetrated by the state's various apparatuses of political and social control.
Since 2013 Xinjiang has seen the implementation of measures to ensure the "comprehensive supervision" of the region via increased police patrols of Uyghur neighborhoods, installation of China's "Skynet" electronic surveillance system, installation of GPS trackers in all motor vehicles, and provision of DNA samples and biometric data for passports.
The continued centrality of Islam to Uyghur identity has also been identified as a core obstacle to "stability". Religion is now being more systematically monitored through the promulgation of new regulations for the monitoring and education of imams and religious institutions, new guidelines for the identification of potential "deviant" behaviors amongst believers, and new restrictions on the wearing of burqas, niqabs or hijabs.
This expanded system of surveillance has also been backed with force, displayed most overtly through the conduct of mass "anti-terrorism" rallies by security personnel and enhancement of the capabilities of security forces including the deployment of drones.
Beyond Xinjiang the threat of Uyghur terrorism has also been instrumentalized in China's foreign policy. After 9/11 Beijing consistently blamed two externally-based militant groups – the "East Turkistan Islamic Movement" (ETIM) and "Turkistan Islamic Party" (TIP) – for this. ETIM had established a marginal presence in Taliban-controlled Afghanistan but was dealt a major blow when its leader was killed by the Pakistani military in Waziristan in October 2003. TIP emerged as a successor organization in 2005 closely aligned with Al Qaeda. ETIM and TIP both however appear to have had limited capacity to mount operations beyond the "Af-Pak" frontier in this period.
China leveraged the threat of terrorism to establish a leading role the Shanghai Cooperation Organization (SCO) (comprised of China, Russia, Kazakhstan, Kyrgyzstan, Tajikistan, and Uzbekistan). China has worked to embed a "statist multilateralism" based on the shared interests of the member states in the protection of state sovereignty and regime security.
IMPLICATIONS: Despite these efforts the threat posed by Uyghur terrorism has arguably increased. It is clear that TIP now has a significant presence in Syria where it fights alongside al Qaeda's affiliates Jabhat al Nusra and Jabhat Fateh al-Sham. The group also appears to have enhanced its capabilities to mount operations beyond this geographic base and was implicated in the suicide attack on the Chinese embassy in Bishkek, Kyrgyzstan, on August 30, 2016 and the 2016 New Year's Eve Istanbul nightclub attack. Additionally, Uyghur militants have also been recruited by the terrorist organization known as the Islamic State in Iraq and Syria (ISIS).
There is thus something of a self-fulfilling prophecy at play here whereby Beijing's instrumentalization of the threat of terrorism within its domestic governance of Xinjiang and its foreign policy has correlated with both an increase in terrorist attacks in Xinjiang itself and the threat posed by groups such as TIP. Indeed, it is possible that the pervasiveness of the "security state" in Xinjiang and the dynamics of the Syrian crisis have converged to provide the necessary conditions for the consolidation of such trans-national links between Uyghur militants and like-minded groups beyond Xinjiang.
This should give pause to Beijing on a number of fronts. The instruments of the "security state" have arguably reinforced long-standing perceptions of marginalization amongst Uyghurs in Xinjiang, increasing the potential for the radicalization that Beijing has long feared. Meanwhile, BRI's focus on enhancing trans-Eurasian connectivity promises to make China's foreign policy interests truly global in scope. It will do so by enmeshing it in regions and security dilemmas – such as those in the Middle East and South Asia – in which it has historically had both a limited role and a limited capability to influence events.
CPEC - a 3,000 kilometer, US$ 46 billion initiative to develop a network of roads, railways and pipelines to connect the deep-water port of Gwadar in Pakistan's Baluchistan province with Kashgar in Xinjiang – provides an excellent example here.
Both Beijing and Islamabad hope that CPEC will consolidate the Sino-Pakistan "all weather friendship". However it also holds the potential to generate unintended consequences. Most obviously, CPEC will exacerbate India-Pakistan and Sino-Indian relations given New Delhi's reading of the corridor in almost purely geopolitical terms and CPEC's traversing of disputed territory in Kashmir and Gilgit-Baltistan. Within Pakistan there is also growing domestic political disquiet about the siting of core CPEC projects in Punjab and Sindh, suggesting the corridor will primarily benefit the political and economic elites in these provinces at the expense of the rest of the country.
CPEC may also open Chinese personnel and investments in Pakistan to attacks from Uyghur or other Islamist militants. This threat has been underlined with the abduction and subsequent execution of two Chinese nationals by an ISIS-affiliated group, Lashkar-e-Jhangvi al-alami, in Baluchistan on 8 June and comes despite Pakistani commitment to establish a "Special Security Division" to protect CPEC.
CONCLUSIONS: Beijing conceives of BRI as a regulated, structural interconnectivity between participating states with China at the center. This centrality will be facilitated not only by China's position as the hub of six "economic corridors" linking it to Central Asia, South Asia, the Middle East and Europe but also via Beijing's underwriting of supporting multilateral financial institutions such as the Asian Infrastructure and Investment Bank (AIIB) and Silk Road Fund (SRF).
This vision thus places China on a par with the US as a great power that is capable of providing leadership to the international system. BRI, and its associated components such as the AIIB and SRF, in this respect portray China as a provider rather than "free-rider" of international public goods and suggest that its rise will in fact be beneficial rather than detrimental to regional and global security.
Yet, as demonstrated by the evolution of both the "security state" within Xinjiang and the increase in the relative threat posed by Uyghur terrorism, the core challenge for Beijing is that such transnational connectivity will not only create opportunities for the transmission of unregulated currents antithetical to its core goal of integrating Xinjiang but also unforeseen consequences for its foreign policy.
AUTHOR'S BIO: Dr. Michael Clarke is Associate Professor at the National Security College and Director of the ANU-Indiana University Pan-Asia Institute at the Australian National University. He is the author of Xinjiang and China's Rise in Central Asia: A History (Routledge 2011) and editor of China's Frontier Regions: Ethnicity, Economic Integration and Foreign Relations (I. B. Tauris 2016).
Image source:https://commons.wikimedia.org/wiki/File%3ASilk_route.jpg accessed on 18.07. 2017