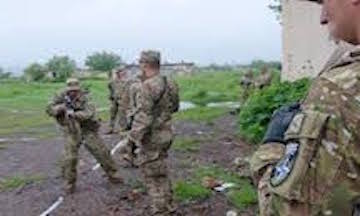 BACKGROUND: Along with Georgia's efforts to integrate with NATO's Black Sea security architecture, the two main rivals of the South Caucasus – Armenia and Azerbaijan – push to revitalize their relations with NATO. Both Yerevan and Baku are long-standing NATO partners and cooperate closely with the Alliance since joining the Partnership for Peace (PfP) initiative in 1994. Both have benefited from security sector reforms within the PfP and Individual Partnership Action Plan (IPAP) frameworks, and realized a number of structural goals. In order to utilize the respective mechanisms of monitoring and evaluation efficiently, the South Caucasus nations enlarged their PfP packages in 2005 by adopting the Planning and Review Process concept (PARP). Both Yerevan and Baku continue to make significant contributions to NATO-led missions.
Unlike Georgia, both Yerevan and Baku have kept NATO membership off the agenda, instead seeking a significant scope for military interoperability, in conjuncture with a strong emphasis on institutional reforms.
Aside from its membership in the Russia-led Collective Security Treaty Organization (CSTO) and Eurasian Economic Union (EEU), the sustained incorporation of Armenia's armed forces into Russian military structures constitutes an almost insurmountable obstacle to deepening its partnership with NATO. While NATO Deputy Assistant Secretary General James Appathurai noted in Yerevan on June 9 that neither Armenia's CSTO membership, nor its alignment with Russia complicate the country's ties with NATO, several political factors still raise questions regarding the future of the partnership.
Beyond the political implications, Russia maintains and periodically reinforces its 102nd military base in Armenia since 1992. The base is considered an essential asset for power projection in Moscow's hands, and a precondition for its political and military dominance in the region. This has left Armenia in a difficult position and its profound vulnerability in relation to Russia affects the resilience of Georgia as well as Azerbaijan. Considering the experience of "Little Green Men" during Russia's annexation of Crimea, the Russian troops in Armenia pose clear security risks for all South Caucasus countries. Furthermore, the creation of Russian-Armenian joint forces reinforces Russia's military prowess in the region, leaving Yerevan little room for maneuver.
IMPLICATIONS: Hoping to rebalance Armenia's relations with NATO, President Serzh Sargsyan visited Brussels on February 27-28. Regardless of Russia's predominant role in Armenia's security architecture, the visit of Armenia's president to NATO's headquarters could be a warning to Moscow that Yerevan retains its relations in Brussels and that despite Armenia's current constraints; it is not just a Russian puppet in the Caucasus. Inviting NATO's Secretary General Jens Stoltenberg to Armenia, Sargsyan stressed the pending new Individual Partnership Action Plan for 2017-2019, which was subsequently approved on April 20. Yet the new IPAP package differs from previous ones with a more relaxed attitude towards democratic reforms.
For Azerbaijan, participation in multiple NATO-related activities serves as an important indicator of Baku's will to step up its engagement with NATO while pursuing non-bloc neutrality. Initially Baku had sought greater U.S. military support, even offering military basing rights and implicitly expressing an interest in NATO membership. However, by the mid-2000s and especially in the aftermath of the Russia-Georgia war in 2008, the Azerbaijani government modified its position, taking a more cautious line and seeking not to antagonize Russia. In particular, facing a shift in its security environment amidst Moscow's rising opposition to NATO's Partnership policy, Azerbaijan formalized its neutrality by joining the Non-Alignment Movement in 2011. Baku has instead deepened its ties with Turkey – its main military ally that plays a significant role in staff training and education of Azerbaijani army personnel. The accord titled "Agreement on Strategic Partnership and Mutual Support" ratified in 2011 institutionalized bilateral cooperation in security, providing increased scope for wide-range joint activities. As a result, practical professionalism has been boosted in all segments of the Azerbaijani armed forces including the air force and Special Forces through constant joint trainings.
In parallel, Baku managed to keep the high level of NATO-Azerbaijan relationships intact. In so doing, the NATO Partnership and Cooperative Security Committee convened a meeting on May 2 in NATO HQ Brussels through the NATO+Azerbaijan format. Reportedly, the meeting's agenda was to discuss and renew the PARP document for Azerbaijan for 2017-2018. During a visit to Azerbaijan on May 20, a NATO delegation led by NATO's assistant secretary general for public diplomacy and deputy assistant secretary general for defense policy and planning carried out activities within the framework of the Operational Capabilities Concept (OCC). Coupled with the Evaluation & Feedback program, OCC is a practical and multipurpose tool to complement the PARP process in order to achieve a higher level of interoperability with NATO forces. In other words, it serves as vehicle for training, evaluation and feedback to guarantee the preparedness of partner states' military units to meet NATO's criteria. In the longer term, through OCC, Azerbaijan plans to train and equip a brigade that can sustain an entire infantry battalion on operations including full combat support.
Although both Armenia and Azerbaijan seek further engagement with NATO, they regularly face the dilemma of whether to participate in NATO-backed military exercises and particularly in the Noble Partner initiative.
Primarily designed as a bilateral effort focused on enhancing U.S. and Georgian NATO Response Force interoperability, the exercise Nobel Partner evolved into a platform for multinational engagement. The initiative includes annual exercises in the Vaziani Training Area, a NATO-modernized facility representing an integral element of the Vaziani Military Base where the joint NATO-Georgia training centers codenamed JTEC are stationed. Following the first bilateral U.S.-Georgian performance in 2015, Noble Partner has attracted additional NATO allies and partners. Georgia hosted troops from the United Kingdom for Noble Partner-2016, featuring heavy equipment including U.S. M1A2 Abrams Main Battle Tanks, Bradley Infantry Fighting Vehicles and M119 Light Towed Howitzers.
According to the official reports, Noble Partner-2017 will be performed under the motto "Strength through Partnership", and will be larger than the previous two. It will demonstrate NATO's determination to sustain its practical and political support to partners affected by Moscow's belligerence. Armenian and Azerbaijani units are also expected to participate, along with British, German, Turkish, U.S., Ukrainian, Slovenian Spanish, Romanian and Georgian troops.
While both Armenia and Azerbaijan have repeatedly declared their intention to join the military exercises, Azerbaijan seemingly vacillates over its participation, whereas Armenia has displayed an ambivalent posture towards NATO-backed exercises since 2008. In particular, Armenia announced its participation in NATO's PfP multinational drills in Georgia in 2009, however, facing tough pressure from Moscow, Yerevan revoked its participation without meaningful explanation literally a day before the launch of the exercises.
Russia holds significant influence in Armenia's defense and security sphere, which has on several occasions prompted impulsive decisions from Yerevan that contradict the officially declared agenda. In turn, this has led to a steady erosion of Armenia's credibility as a NATO partner.
CONCLUSIONS: Armenia's and Azerbaijan's involvement in the forthcoming Noble Partner-2017 multinational drills is of crucial importance as the future character of their partnerships with NATO is at stake. In light of the mounting Russia-West friction, participation in platforms such as Noble Partner can be viewed as an investment in regional cooperation between NATO's valued partners - Armenia, Azerbaijan and Georgia.
Likewise, participation in Noble Partner-2017 serves, to a degree, as an evaluation of their partnerships with NATO. However, it cannot be ruled out that Armenia will reverse its initial decision to dispatch troops for joint military maneuvers in Georgia, which could place Armenia under the category "nominal partner."
Moreover, joint participation in NATO-sponsored drills is of particular importance given the simmering conflict between Yerevan and Baku over Nagorno-Karabakh. The reengagement of all South Caucasus nations with NATO incentivizes a certain military-to-military dialogue on common threats, which could potentially serve to reduce the risk of renewed fighting between Armenia and Azerbaijan. Finally, NATO can help establish effective channels of communication between military commanders based in Baku and Yerevan using the framework of multinational exercises to defuse tensions in the conflict zone.
AUTHOR'S BIO: Eduard Abrahamyan is a defense policy and regional security analyst with emphasis on the Black Sea, South Caucasus and Central Asia. He is a CACI Spring 2017 Rumsfeld Fellow and a Doctoral Research Fellow at University of Leicester, UK.
Image source: https://commons.wikimedia.org/wiki/File:VAZIANI,_Georgia._NATO_Response_Force_(17418588939).jpg accessed on 11.07. 2017