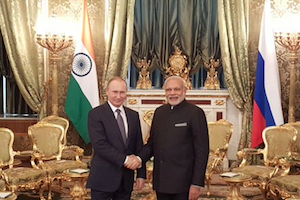 BACKGROUND: TAPI has come a long way after its initial conceptualization in 1995, promoted by the U.S. Yet the 1998 bombing of the U.S. Embassies in Kenya and Tanzania, the establishment of Taliban rule in Afghanistan, and later the U.S. and ISAF operations in Afghanistan following the 9/11 attacks put this project on the backburner. The long delay testifies to how insecurity in one country affects regional security in a much broader sense and even inter-regional security in the long-term. The project's viability was only seriously considered after the signing of a tripartite agreement among India, Pakistan and Afghanistan in 2008 and the resulting agreement on a uniform transit fee and gas purchases among these countries in 2012.
Other proposals aiming to involve India in the Eurasian energy market have included the Russia-China-India (RCI) pipeline – an ambitious project linking Russia, Turkmenistan, Uzbekistan, Kazakhstan, Xinjiang and Ladakh (India) in 2003, bypassing Pakistan and Afghanistan, whose feasibility was nevertheless a problem. Another project was discussed during a visit of Kazakhstan's Foreign Minister to New Delhi in March 2013, aiming to bring gas from Russia to India through a pipeline covering Kazakhstan, Uzbekistan, Afghanistan and Pakistan. OVL showed an initial interest in the project, but it could not be finalized due to the regional security situation and the resultant apathy of international energy companies. Russia has also supported the Iran-Pakistan-India (IPI) pipeline, intended to prevent Turkmenistan from entering the South Asian market, and as a counterweight balance to the U.S.-backed TAPI. However, the project fell under the U.S. sanctions against Iran and serious doubts existed regarding its feasibility. While India lost interest in the project (now transformed into an Iran-Pakistan-China pipeline project), it could potentially reconsider its participation after the lifting of sanctions against Iran.
On the other hand, it should be noted that India has already entered the Eurasian energy market through the 2001 Rosneft-OVL deal for a 20 percent stake in Sakhalin-1 and OVL'S 2009 acquisition of Imperial Energy for fields in the Tomsk region, while the company in 2011 obtained a 25 percent stake in Kazakhstan's offshore Satpayev field in the Northern Caspian Sea.
IMPLICATIONS: With an expected annual economic growth of over 7 percent, it is calculated that by 2030, India's dependence on imported fossil fuels will exceed 53 percent of India's total energy consumption. India therefore needs alternative energy suppliers, aside from its traditional ones in the Middle-East and North Africa. Simultaneously, Eurasian suppliers are in search of alternative markets to tackle diminishing demand in the EU and their over-dependence on China as a market. Indeed, diversification of sources and markets is essential to ensure the future energy security of both producers and markets.
Notably, PM Modi's insistence during his visit to Turkmenistan on searching for multiple options for supply routes to make TAPI successful, including the land-sea route via Iran, demonstrated India's renewed interest in Eurasia as a viable energy source. And for Turkmenistan, access to India, which displays the second fastest growing energy market in South Asia, would be highly beneficial. TAPI also promotes the idea of establishing energy interdependence between countries like India and Pakistan, which share a history of animosity, and with Afghanistan, with a troubled past and a struggling present. This project promotes sharing of economic benefits among the participants, and the gas volumes and the amount of transit fees from the pipeline assist economic restructuring in all the participating countries. A dedicated guard force for TAPI, seminar to that established for the BTC pipeline, should be organized by the partner countries to guarantee TAPI's security, and thus, its viability.
This experimental venture, if successful, could open up new possibilities for energy cooperation, involving other Central Asian states like Kazakhstan and Uzbekistan in petro-energy and Tajikistan and Kyrgyzstan in the hydro-energy spheres. A mechanism for energy cooperation already exists in the form of CASAREM in South Asia, but it is imperative for this organization to go beyond the geopolitics of exclusion and to include India in the venture for the long-term viability of the project.
The recent Indo-Russian oil deals, such as Rosneft's sale of a 10 percent stake in Vankorneft to OVL for US$ 1.3 billion, are modest in monetary terms, especially if compared to Russo-Chinese energy agreements. But they remain significant in the current international energy scenario. Energy prices have dipped to a record low in international energy markets; demand is falling in the EU market; new energy suppliers have emerged like Iran and the U.S. after its historic decision to export shale gas; and Russia is reeling under the western economic sanctions after the Ukrainian crisis. All this provides strong incentives for countries depending on energy exports, like Russia, to engage India's energy market, not least to balance its over-reliance on China.
These moves could also enable India, now a full member of the SCO, to choose more freely between pipeline projects and energy fields through the SCO Energy Club. But this also requires India to demonstrate much more resolute political will, suave diplomacy and strong economic prowess to prove its capability as a rising energy power in the region. To date, India has repeatedly been prevented from gaining stakes in Central Asia's energy fields (most importantly in Kazakhstan's Kashagan field in September 2013), in favor of others.
Significantly, geopolitics is at play at Eurasia's grand energy chessboard. China, Japan and the EU compete for favorable deals and suitable routes, while Russia, Kazakhstan and Turkmenistan vie for their share of existing and new markets. Interestingly, the SCO Energy Club, hoping to be a formidable energy alliance in Eurasia, does not include Turkmenistan. India therefore needs to engage in a delicate balancing of competing interests, a game that China has been playing well for a long time, to make any inroad into the Eurasian market. This task is made all the more difficult by the security situation in South Asia. Any pipeline project from Eurasia to India would have to cross a neighborhood whose instability was most recently underlined by the simultaneous attacks against the Pathankote air base in India and the Indian Consulate in Mazar-e-Sharif in Afghanistan in early January 2016. TAPI therefore still has a long way to go, and India also needs to consider optional pipeline routes and their cost-benefit ratio. India can only satisfy its growing energy needs through multiple options involving competing producers like Russia and Turkmenistan. For these producers, India in turn provides the option for balancing China.
CONCLUSIONS: India so far has a very limited presence in Eurasian energy sphere, which does not match the potential it possesses and the options it offers. Recently, the changing international energy scenario has opened up several opportunities for India to fuel and sustain its growth. Mutual recognition of the fact that sustainable energy security is not a choice but an imperative for both India and Eurasia is the need of the hour. In a long-term perspective, energy diplomacy will constitute India's main claim to influence in Eurasia – it will lead the way for India to become actively engaged in the region and to develop a strategy to sustain its rise as an alternative great power.
AUTHOR'S BIO: Dr. Sreemati Ganguli is a Fellow at the Institute of Foreign Policy Studies, University of Calcutta, India. She is the author of two books; "Indo-Russian Relations 1992-2002: The Making of a Relationship' (2009)" and "Russia and the Central Asian Republics: Post-Soviet Engagements" (2012). She also edited the volume "Strategizing Energy: An Asian Perspective" (2014).
Image Attribution: www.defence.pk, accessed on Feb 5, 2016